Denali Backcountry Explorer – Tour 3BS
Denali Backcountry Explorer – Tour 3BS
Denali Backcountry Explorer - 3BS Itinerary
CALL 1.888.425.1737 FOR AVAILABILITY
From the Golden Heart City of Fairbanks, feast your eyes on Alaska's endless beauty as you travel aboard a luxurious Alaska Railroad train to the famous backcountry of Denali National Park and Preserve. Your two-night stay in the park, noted for its vast scenery of snowy mountains, forests and tundra, as well as its abundant and varied wildlife viewing opportunities, will provide you with much more than any standard park tour. Beneath the awe-inspiring 20,320-foot peak of Mount McKinley, take advantage of the knowledge and experience of our naturalist guides who will share with you their fascinating stories and encounters in the park. You will also have the opportunity to enjoy historical and cultural presentations offered at the lodge in the evenings or to spend some time exploring the natural history library and video collection. Following your extensive park visit, return to the Denali park entrance area to overnight at a nearby hotel. Continue your exciting vacation with optional excursions in the area, like flightseeing, river rafting or an ATV adventure. Say a last goodbye to Denali as you board the train for your scenic southbound journey to Anchorage.
Included in your Tour:
Included in your Tour:
1 night hotel accommodations in Fairbanks
2 nights hotel accommodations at Denali Backcountry Lodge
1 night hotel accommodations near Denali National Park entrance
1 night hotel accommodations in Anchorage
Travel on the Alaska Railroad route aboard luxury railcar
3 breakfasts, 1 lunch, 2 dinners at Denali Backcountry Lodge
Airport, hotel and rail transfers
---
Please note that deposit requirements and cancellation policies for this tour may differ from those of Gray Line Alaska. Luggage restrictions apply on the bus to Denali Backcountry Lodge – due to limited bus space guests are only allowed one 35-pound SOFT SIDED piece of luggage. Other luggage can be stored at a nearby Denali hotel and retrieved on your arrival back to the park entrance on day 4.
Unless noted, tour is not escorted and does not include meals, sightseeing or home city air.
Please call our Alaska Reservation Specialists for more information.
Day 1: Fairbanks
We'll provide a transfer from the airport to your hotel. Take advantage of your free afternoon and evening hours to explore Alaska's second-largest city. Fairbanks weather can be surprisingly warm in the summer so an evening walk can stretch pleasantly into the night. Optional activities such as a visit to Chena Hot Springs for a soak under the midnight sun or dinner at the Alaska Salmon Bake are highly recommended. Overnight in Fairbanks.
Day 2: Fairbanks - Denali (123 miles)
Departs From:
Fairbanks, 8:15 AM (Train Departs Fairbanks Depot)
Arrives At:
Denali, 12:15 PM (Train Arrives Denali Depot)
Transfer from your hotel to the Fairbanks rail depot where you will climb aboard the historic Alaska Railroad. Enjoy breakfast on the train during your trip to Denali. A representative from the Denali Backcountry Lodge awaits you upon your arrival at the Denali National Park rail depot. From there, embark on a nature-lover's dream ride along the 95-mile restricted Denali Park Road through the park to your beautifully rustic hideaway. Have your cameras handy as chances are high you will see plenty of Denali's permanent residents along the way: moose, caribou, bears, Dall sheep and wolves. The lodge is situated in a lovely valley carved by Moose Creek as it winds to meet the Yukon. Overnight at Denali Backcountry Lodge.(B) (D)
Day 3: Denali Backcountry Lodge
This is your day to really engage in the Alaska experience as you choose from exciting optional activities such as panning for gold, mountain biking, guided nature hikes or hopping a shuttle to spectacular viewing areas. On clear days, the photo opportunities for capturing wildlife or the majesty of Mount McKinley are a photographer's dream. Toward evening hours, naturalist guides will join you to chat about Denali while you enjoy some gourmet appetizers in the lodge. End the day in the dining and lounge areas of the spacious two-story lodge, and if you are up for it, you can even take an evening shuttle to glimpse the spectacular views from nearby Wonder Lake. Overnight at Denali Backcountry Lodge.(B, L, D)
Day 4: Denali Backcountry Lodge – Denali
Traveling back to the park entrance provides you more opportunities to capture snapshots of wildlife and stunning scenery. Upon arrival there is still plenty of time to participate in complimentary park activities or choose a thrilling optional adventure such as whitewater rafting on the Nenana River, a self-drive Jeep tour, a jet boat ride or helicopter flightseeing for amazing views of Mount McKinley. Visit the tour desk at the hotel to purchase these optional tours. Overnight at a Denali-area hotel.(B)
Day 5: Denali – Anchorage
Departs From:
Denali, 9:15 AM (Train Departs Denali Depot)
During your final morning at the park, enjoy a bit more of Denali's wild charm with a walk in the area or a visit to the park gift shops for some mementos. Then board our luxury railcars for your trip to Anchorage. Sit back and enjoy the beautiful scenery along the route, relax with a cocktail in the dome car or purchase dinner onboard for a unique dining experience. Comfortable accommodations await you in Anchorage. Overnight in Anchorage.
Day 6: Anchorage
We'll transfer you to the airport, where you can still fit in some last-minute shopping or view the life-sized wildlife displays on the lower level before leaving for home with some wonderful stories of your once-in-a-lifetime Alaska adventure!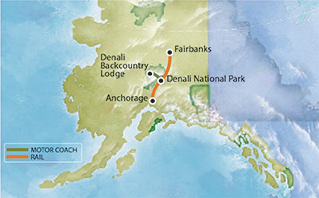 Prices (per person)
Save $400 per Couple:
Double: $1,999.00
Peak Rate:
Double: $2,199.00
Save $400 per Couple:
Double: $1,899.00
Value Rate:
Double: $2,099.00
Availability
Check Dates:
Daily departures.
Please call for availability:
1 (888) 425-1737
← Back to Tours