Denali-Prince William Sound Explorer – Tour 3PN
Denali-Prince William Sound Explorer – Tour 3PN
Denali - Prince William Sound Explorer - Northbound - 3PN Itinerary
Experience the majestic wilderness and wildlife of Alaska on this 7-day tour package that takes you along the Alaska Railroad route to Denali National Park, home of the highest peak in North America. Cruise to ice-blue glaciers and explore the thriving hubs of Anchorage and Fairbanks where you will learn more about the culture and history of the Great Land. With deluxe accommodations and breathtaking views, this tour guarantees an unforgettable Alaska adventure.
Included in your Tour:
6 nights hotel accommodations
Prince William Sound Glacier Cruise with lunch
Guided tour into Denali National Park
Travel on the Alaska Railroad route aboard luxury railcar from Anchorage to Denali.
Travel aboard Alaska Railroad's Adventure Class (picture window) from Denali to Fairbanks (upgrade available)
Gold Panning in Fairbanks with lunch
Riverboat Discovery Sternwheeler Cruise
Airport, hotel and rail transfers
Available at check-out:
Upgrade your rail experience from Denali to Fairbanks for $100 per person. The standard tour features Alaska Railroad's Adventure Class for this rail component of the tour. When you choose the upgrade, you will travel aboard Alaska Railroad's GoldStar service instead. Adventure Class railcars do not feature a dome and meals are available for purchase. GoldStar service is aboard Alaska Railroad's domed railcars and dinner aboard the train is included.
With the standard option, rail travel from Anchorage to Denali is aboard our own luxury, glass-domed rail service (meals not included, but available for purchase) and the upgrade option applies only to the portion of the trip from Denali to Fairbanks.
---
Unless noted, tour is not escorted and does not include meals, sightseeing or home city air.
Day1: Anchorage
We will greet you at Ted Stevens Anchorage International Airport and transport you to your hotel. Relax and enjoy your first night in downtown Anchorage, where you can enjoy world-class entertainment, fine dining and excellent shopping alongside views of snow-capped mountains and the sparkling waters of Cook Inlet. Stroll along the Tony Knowles Coastal Trail under the midnight sun, keeping an eye out for urban wildlife that includes moose, fox and more. Overnight in Anchorage.
Day2: Anchorage – Whittier – Anchorage
Start the day by driving through a mountain as you travel through North America's longest shared rail-vehicle tunnel on your way to the port of Whittier and the stunning Prince William Sound. There, you'll embark on a 5-hour cruise excursion and glacier tour, coming face to face with glacier-carved fjords and the dramatic tidewater glaciers of College Fjord, Harriman Fjord and Barry Arm. Bring along binoculars and watch for the resident whales, sea otters and seabirds while enjoying a hot lunch onboard. Return to Anchorage and overnight. (L)
Day3: Anchorage – Denali
Departs From:
Anchorage,9:15 AM (Train Departs Anchorage Depot)
Arrives At:
Denali,4:50 PM (Train Arrives Denali Depot)
Travel along the Alaska Railroad route north from Anchorage while enjoying stunning views of the Alaska and Talkeetna mountain ranges through the glass-domed ceiling of your luxury railcar. Keep your eye out for beaver dams, bald eagle nests and trumpeter swans, and marvel at the bridge over Hurricane Gulch. One of the Alaska Railroad's many engineering marvels, the Hurricane Gulch Bridge stretches 296 feet above the floor of a dramatic canyon. Arrive at the historic Denali rail depot and transfer to your hotel at the park entrance. Spend the afternoon and evening exploring the area independently, or taking advantage of optional outdoor excursions. Overnight at a Denali-area hotel.
Day4: Denali
Immerse yourself in grandeur of Denali National Park on a guided tour. Keep your eyes peeled for Denali's "Big Five" – Dall sheep, caribou, grizzly bears, moose and wolves. Bring along binoculars to spot distant animals and have your camera ready. Later, choose from optional activities or just relax at your lodge. Overnight at a Denali-area hotel. (S)
Day5: Denali – Fairbanks
Departs From:
Denali,4:00 PM (Train Departs Denali Depot)
Arrives At:
Fairbanks,8:00 PM (Train Arrives Fairbanks Depot)
Enjoy a relaxing morning before boarding Alaska Railroad's Adventure Class to travel north through Alaska's Interior to the city of Fairbanks. With a rich gold rush past, a thriving arts and culture scene and natural beauty that includes rivers, tundra and midnight sun, Fairbanks is the perfect place to cap off an amazing Alaska vacation. Upon arrival, put your feet up and settle into your accommodations for the night. Overnight in Fairbanks.
Day6: Fairbanks
Learn more about the rich gold rush history of Fairbanks on a visit to Gold Dredge 8, where you will pan for gold and learn about modern-day gold mining. Additionally, you will have the opportunity to view the Trans-Alaska Pipeline up close and attend a presentation about its construction and operation. Your adventure continues after a motor coach ride at Steamboat Landing, where you will enjoy a hearty lunch on the banks of the beautiful Chena River. Spend the afternoon aboard the Riverboat Discovery, an authentic sternwheeler, exploring the Chena and Tanana Rivers. Visit an authentic Chena Indian village and watch a bush floatplane take off alongside the boat. Overnight in Fairbanks. (L, S)
Day7: Fairbanks
We will transfer you to the airport where you will bid farewell to an unforgettable adventure.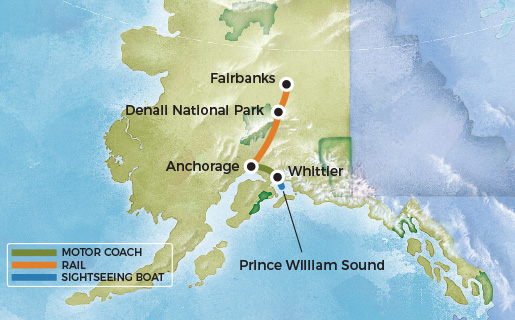 Prices (per person, double occupancy)
Save $400 per Couple (May Value):
$1,949.00
Value Rate:
$2,149.00
Peak Rate:
$2,249.00
Save $400 per Couple (Peak):
$2,049.00
Save $400 per Couple (Sept Value):
$1,949.00
Availability
Check Dates:
Book Now
← Back to Tours