Gray Line Tours
Portage Glacier Cruise Only - 3:00 pm (Self Drive)
Portage Glacier Cruise Only - 3:00 pm (Self Drive) - AC4 Itinerary
Get up close to Portage Glacier aboard the mv Ptarmigan. The one-hour cruise includes narration from the National Forest Service. This sightseeing tour is a perfect option for vacationers and visiting friends & family since it is only a one hour drive from Anchorage.

mv Ptarmigan Highlights:
mv Ptarmigan is the only boat operating on Portage Lake
Fully-narrated tour by an on-board representative of the U.S. Forest Service
Fully-enclosed, heated cabin
Expansive windows for the best views
Topside view deck offers a great vantage point for watching Portage Glacier "calve," and for visitors to enjoy the fresh, glacial air
Holds up to 149 passengers
80-foot vessel was built on site at Portage Lake to U.S. Coast Guard specifications
6.5-foot draft for minimal environmental impact
Operates on national Forest Service lands of the Chugach National Forest and is operated under a special-use permit from the USDA Forest Service
The mv Ptarmigan's sound system cannot be heard from the shore, ensuring preservation of this naturally peaceful setting for wildlife and for other visitors
Hull designed for safety in ice-filled waters
Driving Directions to Portage Glacier:
Take the Seward Highway south from Anchorage.
Turn left on Portage Glacier Road (milepost 78.9) approximately 48 miles out of Anchorage.
Travel 5 miles to fork in road, take the right-hand fork, travel a 1/2 mile, and turn left for the Portage Glacier Cafe (401 Portage Lake Loop).
Address: 1500 Byron Glacier Road, Girdwood, AK 99587
Special Note:
All bookings must be made at least 5 days in advance.
Portage Glacier Cruise
Enjoy a one-hour cruise on Portage Lake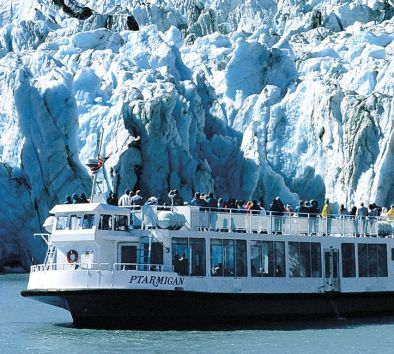 Prices (per person, double occupancy)
Adult: $45.00
Child: $25.00
Availability
Check Dates:
Book Now
← Back to Tours