Gray Line Tours
Portage Glacier Cruise Tour (Transportation Included)
Portage Glacier Cruise Tour (Transportation Included) - APG Itinerary
Approximately 5½ hours. Daily departures at 1:30 PM.

Venture on a spectacular cruise across Portage Lake, home to Portage Glacier, on this half-day tour. Before your breathtaking cruise, you'll drive to the Alaska Wildlife Conservation Center where you'll tour this great wildlife sanctuary. Next, board the mv Ptarmigan, the only boat operating on Portage Lake, for an unforgettable one-hour cruise across an iceberg-dotted landscape. Standing just 300 yards from a relic of the Ice Age, you'll watch for fractures of ice break off the glacier and crash into the water below. Portage Glacier is Alaska's second most visited attraction and once you see the pristine views in person, you'll understand why.
mv Ptarmigan Highlights:
mv Ptarmigan is the only boat operating on Portage Lake
Fully-narrated tour by an on-board representative of the U.S. Forest Service
Fully-enclosed, heated cabin
Expansive windows for the best views
Topside view deck offers a great vantage point for watching Portage Glacier "calve," and for visitors to enjoy the fresh, glacial air
Holds up to 149 passengers
80-foot vessel was built on site at Portage Lake to U.S. Coast Guard specifications
6.5-foot draft for minimal environmental impact
Operates on national Forest Service lands of the Chugach National Forest and is operated under a special-use permit from the USDA Forest Service
The mv Ptarmigan's sound system cannot be heard from the shore, ensuring preservation of this naturally peaceful setting for wildlife and for other visitors
Hull designed for safety in ice-filled waters
Departure Location: This tour departs from the Westmark Anchorage Hotel, located at 720 W. 5th Avenue, Anchorage, AK 99501. Please check in for this tour at the Westmark Anchorage 15 minutes prior to departure.

Special Note:
All bookings must be made at least 5 days in advance.
Itinerary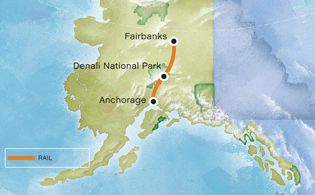 Prices (per person, double occupancy)
Adult: $89.95
Child: $49.95
Availability
Check Dates:
Book Now
← Back to Tours