Alaska FAQs: Gray Line Answers Seven Burning Questions About the Last Frontier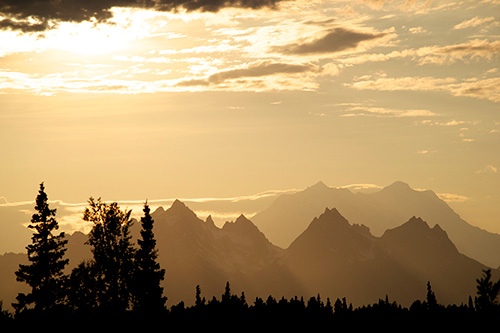 What do you think of when you imagine Alaska? Ice? Glaciers? Igloos? Did you know that Alaska has its own sand dunes, and that there are areas of the state that get so warm in the summer you could jump and swim in a lake? Here are some answers to seven common questions about the Last Frontier.
How far away is Alaska? 
Of course this would depend on your starting point, but chances are it's not a day trip. Anchorage, Alaska, is 1,436 miles (three-plus hours) from Seattle, Washington, and 3,365 miles from New York City. Regardless of where your starting point is, you'll be clocking some serious travel time so plan a day for this on both ends of your trip. Trust us, it'll be worth it.
How long has Alaska been a part of the United States? 
Alaska achieved statehood on Jan. 3, 1959, after spending 47 years in territory status. Upgrade achieved!
How many people live in Alaska?
As of a 2014 census, Alaska's population is 736,732. Nearly half of Alaska residents live in Anchorage, the state's largest city. Alaska is the largest state with the lowest population density, which makes for some serious wilderness adventures.
What's the deal with the midnight sun? 
It's no joke — Alaskans really do have a reason to wear their sunglasses at night. In June, you'll see the sun rising around 4 a.m. and setting close to midnight in the Anchorage area. Travel farther north to Barrow in Alaska's North Slope and you're looking at 24 hours of sunlight!
Will I see the northern lights? 
It all depends on when you're visiting, plus several other factors. Chances are somewhat slim in the summer, which isn't to say the northern lights take a summer break, but there is simply too much light to see them. If you have a winter vacation in the works, cross your fingers for a clear night and an active solar wind forecast. Aurora activity varies and usually gets stronger the farther north you go. A night in Fairbanks with minimal cloud cover is a recipe for a great light show.
Should I be concerned about bears and moose? 
Don't be concerned, but stay alert and aware! We're all just sharing one big backyard. Chances are you'll be perfectly fine if you keep a respectful distance from any wild animal you come across. With that said, a little bear spray never hurts (as long as you don't mistakenly spray it at your travel companions). Find out more about moose and bear safety here and here.
What should I pack? 
Alaska's motto might be "north to the future," but sometimes it feels like it should be "prepare for any type of weather." Travelers should pack for warm sunny days, cold sunny days, cloudy days, rainy days and everything in between. The weather here can be unpredictable, but that's just part of the fun. Check out our ultimate Alaska packing list and maybe use a few of our packing tips to fit everything in your suitcase. If you forget everything else, remember this word: layers!
We're sure you have plenty of other questions about Alaska. Feel free to ask us in the comments section, or better yet – book a trip and we'll tell you in person!
Back to Blog