A History of a Road Well Travelled – The Story of the Alaska Highway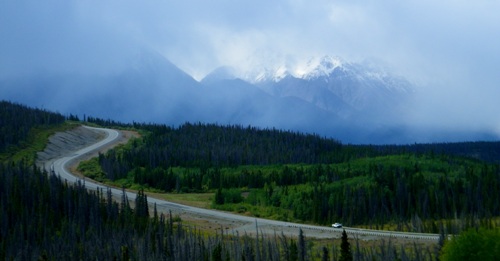 The Alaska Highway, once a single-lane, bumpy dirt road, celebrated its 70th anniversary in 2012. Now a modern highway ideal for long summer road trips and coach rides, several of our multi-day tours travel on the Alaska Highway around the Yukon and Alaska. So here's a little bit of history on one of the most famous highways in the world.
Prior to the construction of the Alaska Highway, completed on March 8, 1942, continuous travel by land between the Lower 48 states and Alaska was impossible. The idea for a trail connecting Alaska to Canada had been raised two decades earlier, but it wasn't until the tragic bombing of Pearl Harbor on December 7, 1941, that the governments of both countries agreed there was an immediate need for greater military presence around Alaska's coast and the Aleutian Islands, making the road a reality.
From its official starting point in Dawson Creek, British Columbia, the highway's 1,387 scenic miles lead travelers through the Yukon and Northwest to its official end point in Delta Junction, Alaska. It took nearly 11,000 U.S. Army engineers working in the harshest of conditions – below-freezing temperatures, snow, ice, mosquitoes, mountains and vegetation – to blaze this road. And they only had a year to do it. In 1942, the Japanese seized two small islands at the edge of the Aleutian Chain in Alaska, forcing the Army engineers to accelerate their work. The highway was miraculously completed in less than eight months, and it served as a vital supply corridor and line of defense in World War II.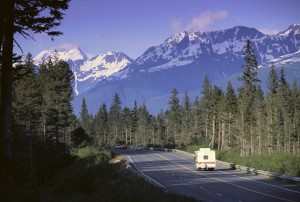 The route, chosen for the highway linked the airfields of the Northwest Staging Route, from which aircrafts were launched to assist the Soviet Union in its fight against Germany. It was anything but a smooth ride, and it wasn't until 1943 that general vehicles were able to traverse its many obstacles.
The highway, which was birthed out of necessity, continues to be highly used by travelers today thanks to its breathtaking vistas and one-of-a-kind experiences. In 1948, the Alaska Highway was opened for public use and was considered a tough drive at the time as it was mostly gravel. But many improvements have been made since. Now, hordes of travelers in motor homes, cars, two-wheeled vehicles enjoy the ride. Summer's extra-long days provide travelers with plenty of daylight hours to enjoy the recreational destinations along the highway, and winter offers a completely different and equally magnificent view.
To read more about our tours that travel along the Alaska Highway, visit www.graylinealaska.com.
Back to Blog