Behind the Wheel with the Bus Drivers of Gray Line Alaska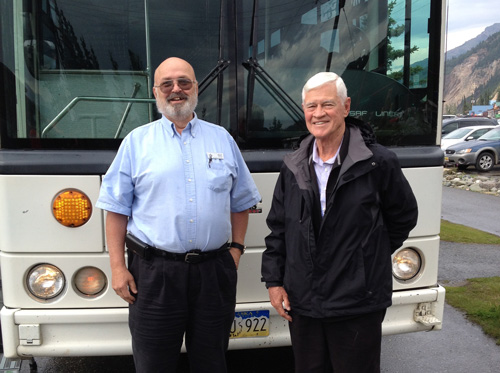 Bob Phillips and Stuart Rogers won't hesitate to tell you they have the best job in the world. Stuart has been driving tour buses out of Denali National Park and Preserve for 11 years, and Bob for three.
"If I'd have found this bus-driving thing 45 years ago, I'd have been doing it for 45 years," said Bob, who came to Alaska to be a tour bus driver after his wife passed away.
A typical day for Bob and Stuart starts in the evening, when they get their dispatch for the next morning. This might take them anywhere from Denali to Fairbanks, Anchorage, Whittier or even Seward. For a little perspective, there are about 363 road miles between Denali and Seward. The drivers are the guests' tour guides throughout the entire trip and use Alaska's highways as a jumping-off point to discuss history, politics, geography and wildlife.
"The highway is one of the most spectacular classrooms in the world," says Stuart.
Bob mentions that the most successful drivers are the ones who really study what Alaska is about. Every mile and every trip is different. Still, they say the top sights guests are always hoping to see are Denali and moose.
For Bob and Stuart, the long trips are the ones they enjoy most.
"My favorite part of the job is spending time with the guests," Stuart said. "On the highway, you might be with them for eight or 10 hours. You really get entertained with the guest exchanges, and by the end, it becomes more personal than just a trip."
"It's amazing how you find people you connect with really quick," Bob said. "They want to connect with you, too. The people that come here are absolutely fabulous. I always get excited when I do a long trip because it means I'll be spending a good long time with the group."
They both say tourists frequently ask, "Why are you here?" Their answer is always, "Well, why are you here?"
"They want to see Alaska and so do we," Stuart said. "Living in a place, you get to know it the way you don't in a short visit."
One of Stuart's favorite Alaska experiences this summer was watching a beaver while out on a hike with some friends. They watched the beaver chew at a tree for about 25 minutes before it stepped back to admire its handiwork… and the tree came crashing down. It was something you don't get to see every day; almost a reward for spending so much time in the outdoors. Bob recounts seeing a mother grizzly bear with her three cubs just off the road this summer. He says that whenever he finds out he has a day off, he schedules a tour for himself in the park.
"What's there not to like about this job? That's what I always ask myself," said Bob.
Bob and Stuart are both "snowbirds," meaning they call Alaska home in the summer and fly to warmer climates in the winter. Bob spends the off-season in Las Vegas, Nevada, while Stuart works as a ski instructor at Taos Ski Valley in New Mexico. They love Alaska, but are more than happy to head south as the colder weather moves in.
"I never imagined myself driving a coach," Bob said, "but I plan to keep coming back until I can't walk anymore."
Back to Blog