Celebrate the Centennial Anniversary of the First Ascent of Denali with Gray Line Alaska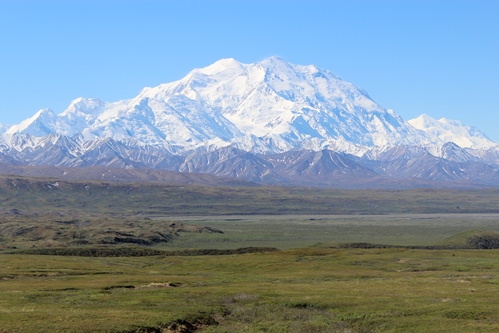 On June 7, 1913, four brave adventurers accomplished what, until that day, seemed like an impossible feat. Long before GPS trackers were invented or extreme weather gear was developed, these men – Walter Harper, Harry Karstens, Hudson Stuck and Robert Tatum – secured their spots in history by stepping foot on the summit of Mount McKinley, the highest peak in North America. Several attempts to conquer the 20,320–foot peak were made before the inaugural ascent, including an alleged successful ascent to the lower of McKinley's two peaks as well as an earlier expedition that came just several hundred yards short of the highest peak before climbers were forced to turn back due to harsh weather.
Since that momentous achievement a century ago, nearly 32,000 people have attempted to summit Denali, but only about 50 percent succeed in reaching the top. Though it's not considered to be as technically difficult as the famed Mount Everest, Alaska's Mount McKinley has claimed the lives of many mountaineers, and climbers experience extreme weather and altitude challenges that often hinder their ascent.
In celebration of the centennial anniversary of the Denali ascent, there will be several events taking place around Alaska in 2013. On June 7, a group of bloodline descendants of the original successful expedition's members will attempt to retrace their forefathers' footsteps up Denali in a mission coined "Denali 2013." The University of Alaska Fairbanks Museum of the North will host a special exhibit "Denali Legacy: 100 Years on the Mountain," which will open in May. Also, Denali National Park and Preserve, in partnership with Alaska Geographic, will produce a new exhibit about the climb, "First Ascent of Denali 1913-2013." This exhibit will be displayed at the park's Eielson Visitor Center, near the base of Mount McKinley at Mile 66 of the Denali Park Road, from June 1 to Sept. 16. To find out more about all the events commemorating the ascent, click here.
Mount McKinley is the crown jewel of Denali National Park. On a clear day, the majestic peak that towers over 6 million acres of untamed parkland can be seen from as far south as Anchorage and serves as a stunning backdrop for a significant section of the ride to and around Denali National Park.
There are many other ways to see the mountain without climbing its treacherous slopes. Gray Line Alaska specializes in tours to and into Denali National Park and offers a variety of Denali sightseeing day tours from which guests can choose, including sightseeing around the mountains and the many glaciers surrounding it; hiking or whitewater rafting in the park. Any one of Gray Line's Denali rail tours offers the opportunity to explore the park, see the wildlife and learn about the fascinating history of this spectacular destination and its famous mountain.
Back to Blog