Gold Rush Days Alaska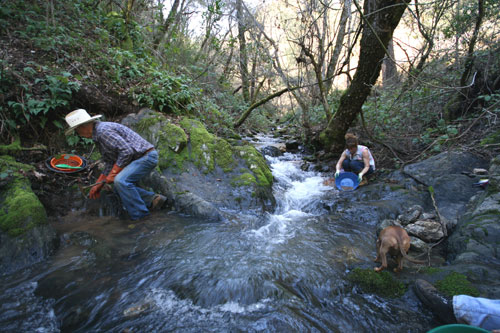 Alaska is a state filled with rugged beauty – and with a rugged past. To help celebrate the state's historic migration roots, Gold Rush Days are held during fun-filled summer weekends, giving you and your family the chance to get to know Alaska, learn about the great westward movement and just have a fun time all around.
Valdez Gold Rush Days
America was struggling through a depression following the Panic of 1893. With the discovery of gold in 1896 at Rabbit Creek, the Klondike Gold Rush drew up to 100,000 hopeful fortune-seekers to Alaska and Canada. Many of those travelers passed through the city of Valdez in 1898 on the way to the Copper River Valley, causing a boom of mining, logging and building. To celebrate this hardscrabble history, Valdez Gold Rush Days is held for five days each summer in this coastal town near the Chugach National Forest.
The event is not only a great way to learn about Alaska history and enjoy fun activities, it's a way to get to know a small Alaska community while you're visiting the state from Outside.
Gold Rush Days each year donates money to local charities focused on children and city improvement. At the event's Open Air Market, watch for the Quick Draw event, during which area artists create works of art in an hour. The pieces are auctioned off and the proceeds go for scholarships.
For the history buffs, Gold Rush Days sponsors daily hikes through historic gold rush routes including the Thompson Pass Pack Trail of '98 and the Keystone Canyon Pack Trail of '99. Check out the U.S. Forest Service demonstrations of pioneer skills such as Dutch Oven cooking, gold panning, and soap carving. There are even children's pioneer games for the kids.
More for kids
Gold Rush Days also hosts a Pet-a-Palooza Pet Show that includes all pets (not just the fancy ones). Fish and lizards are welcome. If you brought your dog or cat along in your RV, enter Fido and Fluffy for a chance to win Best Tail Wagger or Prettiest Kitty. Kids can dive for gold in the community pool or join a scavenger hunt. A build-a-boat competition lets you and your kids put your engineering skills to the test. Gold Rush Days ends with a fun-for-all community parade.
In 2015, the Valdez Gold Rush Days are from July 31 to Aug. 2.
If you're planning a visit to Alaska in 2016, you can hit Gold Rush Days from Aug. 3 to Aug. 7.
Juneau Gold Rush Days
If you're visiting Southeastern Alaska in early summer, stop by the two-day Juneau Gold Rush Days, a 25-year-old, competition-focused event developed to showcase the region's logging and mining community. Watch men and women compete in tough and exciting outdoor events like log rolling, spike driving and ax throwing.
The event also includes crafts, food and lots of fun activities for kids.
Get your hands dirty
No visit to Alaska is complete without trying your hand at gold panning! Learn about the Gold Rush from Prospector John in Cooper Landing, or ride a narrow-gauge railcar to your gold panning site. Along with your unforgettable Alaska memories and photos, you might even head home with some gold in your pocket.
Back to Blog