Happy 100th Birthday to the National Park Service!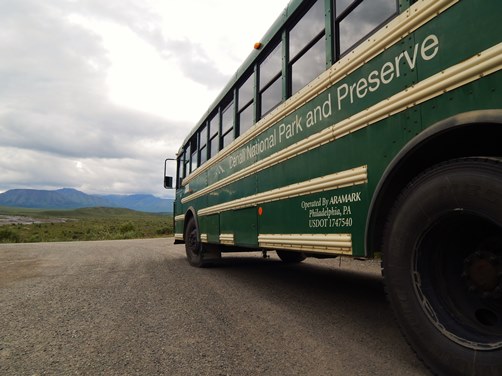 The National Park Service turns 100 this August, and with eight national parks to its name, Alaska is the perfect destination to commemorate this centennial. The Great Land is known for its towering mountains, breathtaking glaciers and incredible wildlife, and visiting one – or more – of its national parks is a perfect way to see all of these. In honor of this exciting milestone, we put together a list of some of the amazing experiences you can have with Gray Line in Alaska's national parks.
Denali National Park
There has never been a better time to visit the home of North America's tallest peak! These tours include passage on a luxury railcar from Anchorage to Denali National Park and an overnight stay in a nearby hotel. One of the most popular destinations in the state, Denali National Park boasts more than 200 different species of animals, 1,500 species of plants and six million acres of land.
Kenai Fjords National Park
Join one of our Alaska National Parks Self-Drive Tours and visit the glacial paradise of Kenai Fjords National Park. The Harding Icefield, the park's most prominent feature, feeds 40 different glaciers. If you're an avid hiker, head out on the 8.2-mile round-trip Harding Ice Field Trail for breathtaking, seemingly endless views of the ice field, mountains and lush forests.
Wrangell-St. Elias National Park
If it's mountains and wildlife you're after, look no further. Our Grand Circle Self-Drive Tour is one of the best ways to experience the wonder of the Chugach, Wrangell and St. Elias mountain ranges in the country's largest national park, spanning an enormous 13.2 million acres. You will find one of the highest concentrations of Dall sheep on the continent here, with a population of around 13,000, along with plenty of black bears, brown bears and caribou.
Katmai National Park and Preserve
We love Katmai National Park and Preserve, where guests can watch brown bears feast on salmon at the famous Brooks Falls. Even if you can't visit in person, there are so many bears at Brooks Falls that you can usually spot one on the Brooks Falls live webcam between June and September.
Glacier Bay National Park
Another one of our favorites is Glacier Bay National Park in Southeast Alaska. It will come as no surprise that this park is rich with glaciers! It also boasts miles of beautiful coastline, magnificent mountains and temperate rainforest.
Each one of Alaska's national parks offers a unique opportunity for an unforgettable adventure. They say that everything is bigger in Alaska, and the state's national parks are testament to that!
Cheers to another century of pristine Alaska wilderness!
Back to Blog