Holiday Fun Around Alaska and the Yukon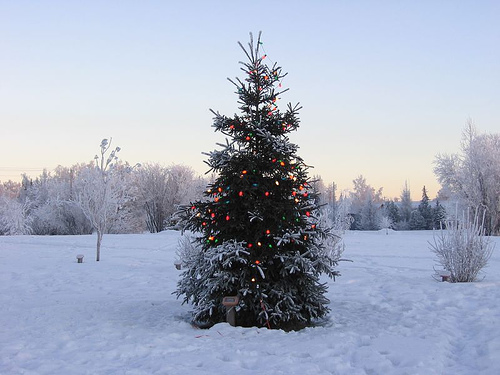 This photo is used under a Creative Commons license by LizMarie_AK.
Everyone has a favorite way to celebrate the holiday season. The fresh coat of snow on the ground here in Alaska is all the excuse we at Gray Line Alaska need to cozy up to a mug full of hot chocolate or apple cider and share with you all the fun ways Alaskans like to spend their time during winter months. If you happen to be planning a ski trip up this winter or just need some ideas for a future winter getaway, these events and traditions in different places around the state are sure to inspire some holiday spirit in everyone.
Santa Claus House – Santa and his crew of elves work tirelessly each year, and for the past 60 years, part of this work has included sending letters from the Santa Claus House in North Pole, Alaska, to children around the world. Printed on custom stationary unique to Santa Clause House, these letters are personalized and can be tailored to each individual child. They even have an actual return address, right at the doorstep of Santa's house in North Pole, a community of just over 2,200 residents near Fairbanks. Open Nov. 3 to Dec. 31, the Santa Claus House features an amazing assortment of Christmas decor and ornaments, apparel, collectibles, made-in-Alaska items, as well as a selection of unique toys. Families can warm up to a hot espresso drink from Santa's Coffee Cache while the children enjoy everything this magical destination has to offer, including a once-in-a-lifetime photo opportunity with a 40-foot Santa, a life-size nativity scene and the Christmas in Ice theme park (see below).
Christmas in Ice – Located next to the Santa Clause House in North Pole, Christmas in Ice is a winter ice park featuring themed ice art competition pieces, ice slides, a maze, indoor kids' crafts and educational ice sculpture demonstrations. The seventh annual Christmas in Ice event kicks off Nov. 30, 2013, and runs through Jan. 7, 2014. Each year the North Pole community starts off the holiday season with a Winter Festival including fireworks, a candle-lighting ceremony, Christmas in Ice ribbon-cutting ceremony and a community tree-lighting event.
Annual Christmas Bird Counting – Certainly not your average traditional holiday event, but rooted in tradition nonetheless, "Counting Birds" has been a Christmas tradition in several communities of Southeast Alaska and Yukon since 1900. Every December, thousands of "citizen scientists" take part in the annual event, from Alaska to Ecuador. Run by the National Audubon Society and Bird Studies Canada, the bird-counting festival is a fun way to celebrate birds and bird watching enthusiasts. The findings also help track bird populations and can indicate where species could be in decline or in trouble from habitat changes or damage.
Reindeer Farm in Palmer – It's always a good time visiting Rudolph's relatives at the Reindeer Farm in Palmer. But for just a few days in the winter season, from Dec. 21 to Dec. 24, the Reindeer Farm offers some extra fun for the family with their special Christmas package. For just $7 for an adult and $5 for children, the Christmas package includes a special tour of the reindeer area, wagon rides, visits with Santa and his elves, craft workshops, a special holiday light show set to music, holiday games for the kids, a bonfire to warm up at and reindeer sled rides. Just an hour's drive north of Anchorage, visiting the reindeer farm is a great tradition for Alaskans through summer and fall as well, with special events taking place around fall harvest time and Halloween.
Alyeska Resort holiday events  – Looking for a little more action during the holiday season? Check out Alyeska Ski Resort's full calendar of events, including night skiing; the Coca-Cola Holiday Classic Alpine Ski Race Series; Winter Solstice party at the legendary Sitzmark pub; New Year's Eve Torchlight Parade and Fireworks; and other exciting events for all ages and skiing and snowboarding levels to enjoy. Nestled in the small town of Girdwood, about a 40-minute drive south of Anchorage along the scenic Turnagain Arm, Alyeska Ski Resort has attractions for everyone year round, including a tram ride up the mountain that can be paired with a gourmet meal at the Seven Glaciers Restaurant, or a beautiful hike nearby.
Fire and Ice New Year's Eve Celebration – Since the Alaska sun still shines high in the sky in the evening on Fourth of July, New Year's Eve fireworks displays are always a much-anticipated event. This annual NECA/IBEW Fire and Ice New Year's Eve Celebration is a favorite among Alaskans living in and around Anchorage. From 5 p.m. to 8 p.m. on Dec. 31, Town Square Park in downtown Anchorage comes to life with live music, lights, fire dancers, street performers and a spectacular show of fireworks. The center of Town Square Park converts into an ice rink for everyone to enjoy and nearby vendors and cafes serve up hot drinks and a place to warm up.
Back to Blog