Late Season Fares Equal the Perfect Opportunity for Touring Denali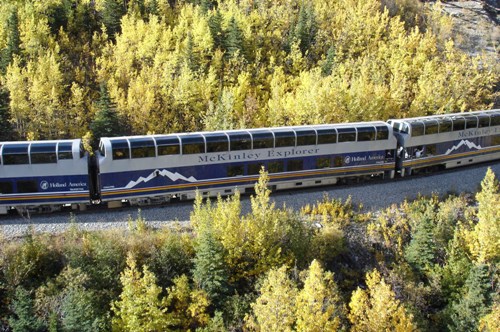 Tired of fanning your face and wishing for some respite from the sweltering heat? Now may be the time to look into an impromptu trip to Alaska's Denali National Park and Preserve.
While temperatures in the Lower 48 states hover in the 90s, here at Gray Line Alaska we are enjoying some cool, refreshing summer days. High season is still in full swing, and with September just around the corner, there are a slew of special deals on Denali tours and attractions within the state.
A trip to Alaska doesn't have to involve a long, drawn-out planning process and two weeks of vacation time. Though there is enough to see and do around the state to justify a long trip, you can also choose one region of the state to focus your attention for a long weekend or to add onto an existing itinerary.
Late Season Tour Deals
It's not too late to book a trip and go on that coveted vacation at a reduced price. Browse the Gray Line Alaska Web Specials, and let your imagination run wild as you picture yourself on board a glass-domed rail car cruising through the Alaska wilderness as glistening lakes and glaciated peaks take the place of highways and city congestion. Follow that up with a meal of fresh salmon or halibut and accompanied by a refreshing local brew and an enchanting late-night sunset for dessert. Does this sound like something you might enjoy?
Late August and early September are the perfect time of year for Denali tours. Take the train from Anchorage to Denali National Park and Preserve. The park is best known as the home of Denali – the tallest peak in North America. Less well known is the brilliance of its fall season. By now the mosquito population has substantially dwindled, and the leaves and tundra are about to turn a vibrant palette of reds, yellows, oranges and purples.
Denali Tours
The Anchorage to McKinley rail tours leave from Anchorage and travel through the Matanuska-Susitna Valley before stopping in the town of Talkeetna for the night. Talkeetna is situated at the junction of three rivers – Talkeetna, Chulitna, and Susitna – and serves up the feeling of old Alaska with an eclectic, artistic atmosphere.
Spend the following day or two in and around Denali and choose from a wide gamut of recreational activities, including a ranger-led hike, sightseeing around Denali, a river tour or whitewater rafting for the brave at heart.  This trip is the perfect combination of a stress-free organized tour with plenty of time for independent travel and exploration.
Check out our Web Specials for more information on Denali National Park tours and other trips offered by Gray Line Alaska.
Back to Blog