Must-see architecture for your next Alaska vacation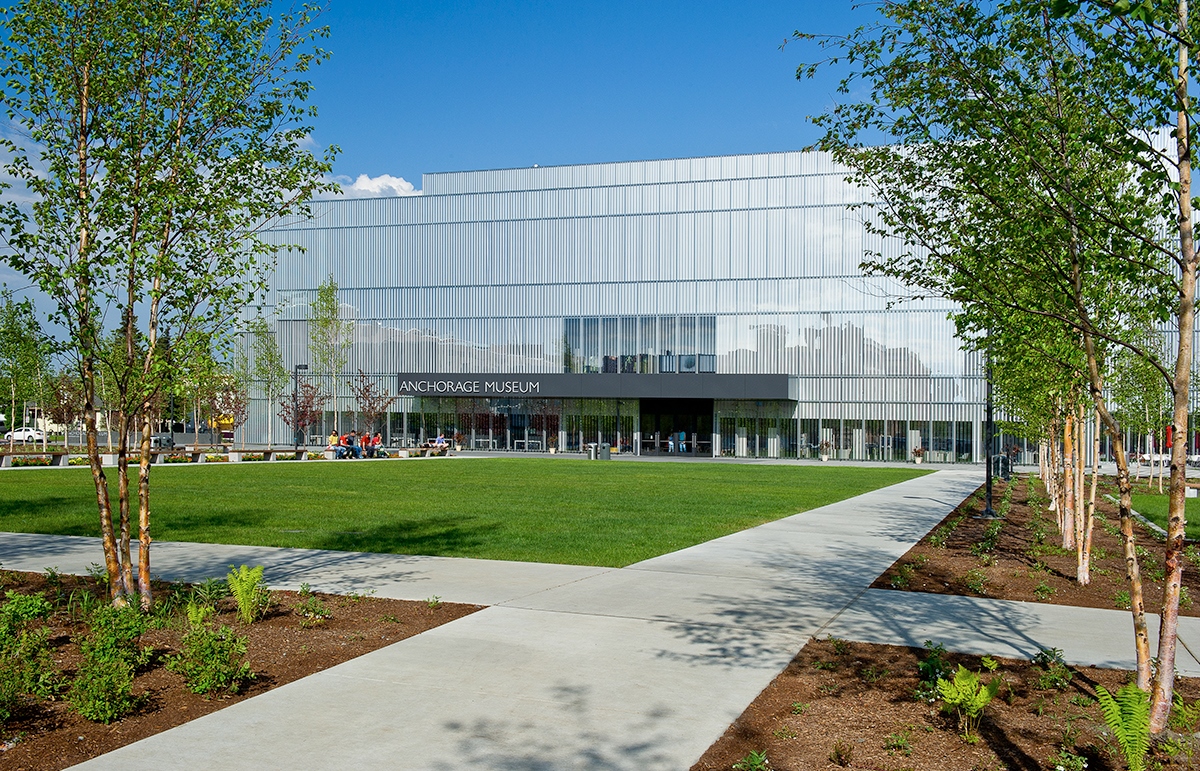 Anyone who is planning the ultimate Alaska vacation is surely paying attention to the state's unique natural beauty, but that's not all there is to see. An entire itinerary could be dedicated to a tour of Alaska's architectural highlights, and some of our favorite structures can be seen right along Gray Line Alaska tour routes.
The Anchorage Museum features an exterior façade as stunning as the exhibits that adorn its interior. Upon completing an expansion in 2009, David Chipperfield Architects wrapped the building in glass cubes, which reflect both the city and nearby Chugach Mountains. The building truly interacts with its environment. From the outside, a passerby can see the galleries inside. From the inside, visitors can see the surrounding mountains and watch the hustle and bustle of Alaska's largest city.
For more beautiful buildings and structures, check out:
The Ketchikan Public Library incorporates warm, natural elements while showcasing local art and Alaska Native culture.
The Aurora Ice Museum in Fairbanks is the world's largest year-round ice environment. Its indoor ice walls and sculptures were created from more than 1,000 tons of snow and ice.
The Golden North Hotel in Skagway was built in early 1898 and harkens back to the state's gold rush heritage. Originally a trading store, the building spent many years as a hotel before being converted into office buildings after 2002. The building's history is rich and its onion-domed tower is a sight to behold.
If your interest lies in the weird, wacky and unique, Alaska will always deliver. From the popular Salty Dog Saloon, attached to an old lighthouse in Homer, to the Hammer Museum in Haines, where you'll find the largest hammer you've ever seen, Alaska destinations are one of a kind. Perhaps one of the most interesting structures in Alaska is the Dr. Seuss House, aptly named for resembling an illustration from the pages of the children's author's books.
Find more of the truly unique by visiting:
Chicken, home to a giant chicken! Made from metal, the giant structure watches over Main Street and memorializes the humorous name of the town.
It's Christmas every day at the Santa Claus House in North Pole. Santa's sleigh remains parked out front, and the building itself is everything you ever imagined Santa's home to be.
When visiting Alaska, it's important to take some time to learn about its many indigenous cultures. The Alaska Native Heritage Center, located just north of downtown Anchorage, features an outside stroll that takes visitors around and inside traditional structures filled with artifacts that each group used in their daily lives. Culture representatives at each site can explain the use and design of each structure.
For more indigenous culture, visit:
The Walter Soboleff Building in Juneau, home to the Sealaska Heritage Institute. Visitors are greeted by 40-foot exterior panels designed by Haida artist Robert Davidson, representing a supernatural being called "Greatest Echo." The piece honors the building's namesake for echoing the past and bringing it to the present for people to learn from.
Totem Bight State Historical Park in Ketchikan is a 33-acre park filled with totem poles constructed using traditional tools and paints. While in town, visit the Totem Heritage Center, too, which is home to some of the world's oldest known totems.
Book your trip today and make sure to include some of these places on your itinerary.
Back to Blog