Photography Tips for Sightseers on Gray Line Alaska Tours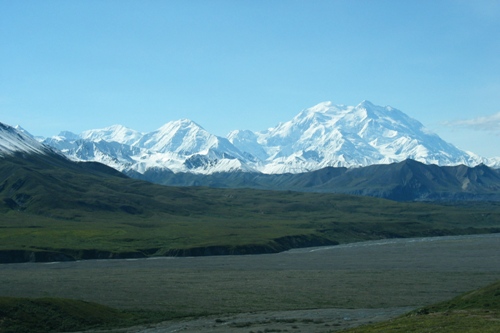 You just booked your Gray Line Alaska tour, and excitement is building for the trek north to see Alaska's mammoth peaks, larger than life animals and breathtaking scenery. But, how can you snap pictures of all the magnificent beauty from the comfy seat on board your Gray Line tour and put together a gorgeous slideshow to share with family and friends? Look no further! To help you document the trip of a lifetime, we chatted with two Alaskan photography pros and rounded up some photography tips and tricks of the trade to ensure you perfectly capture your Alaska experience in all its wonder.
First, pull out a map and your trip itinerary, and spend some time researching all the places and landmarks on your Alaska route. Familiarize yourself with your camera or any new accessories. Knowing how to use your camera and its equipment is half the battle in attaining that perfect shot. Now for some photography tips from the professionals:
 Whether you're using a point-and-shoot or a digital single lens reflex (SLR) camera, be sure to turn off the flash. Nothing will ruin a perfect view of Mount McKinley like glare from the bus or train window.
 Get as close to the window as possible without brushing your camera against the glass to minimize glare. If you are using a camera with a telephoto lens, consider purchasing a rigid or flexible rubber lens hood to cut down on the glare.
Shoot your photos at the highest shutter speed possible. If you're shooting with a digital SLR, use 500 seconds or above; and if you're using a point and shoot, choose the sports or action setting to capture your shot.
Manually adjust the focus on your camera. Some cameras don't "like" being so close to glass and may take longer to adjust the automatic focus, causing you to lose your shot as your tour moves onto the next breathtaking destination. By manually adjusting your focus, you cut down the chances of your camera having to readjust each time you want to snap a picture.
Turn up the ISO (film speed) on your camera. Some coaches and rail cars have tinted windows that can decrease the light source dramatically. If the ISO on your camera is not preset, you may want to turn the ISO up to 400 or more to ensure enough light. Turning it up too high will overexpose your shot so test it out to find the right setting for your location.
Look outside the box, or the lens so to speak. Don't be afraid to get creative with your photos. If you're having a rough time balancing your camera or steadying your hand, a backpack or jacket can make a great impromptu tripod.
Thanks to photographers Loren Holmes of the Alaska Dispatch and Brian Adams of Brian Adams Photography for sharing their photography tips and tricks. For more information on taking great photos, visit Dougall Photography Cruise Seminars.
Back to Blog