Safety in Alaska: maximize fun and minimize risk on your next visit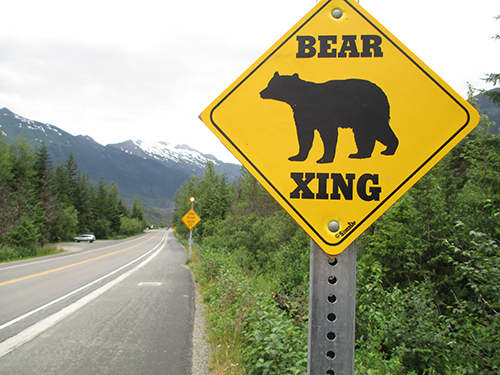 When visiting a state as full of wilderness and natural beauty as Alaska, you might find yourself in a few situations and locations you've never experienced before. We're here to give you some tips on your surroundings to ensure your trip is relaxing, fun and, most importantly, safe. Moose don't observe traffic lights and there's no lifeguard on duty on the nicest of lakes. Most often, all you need to do is be extra aware of a few key things and stay alert while out in nature.

Water safety
Alaska has more than 3 million lakes and 33,000 miles of shoreline. That's quite a lot of water, and where you'll be doing activities like kayaking, stand-up paddleboarding, canoeing, fishing and more. We can't stress enough the importance of simply strapping on a life jacket. Our northern water is cold, even in the nicest-looking lake or river, and the temperature can make it difficult for the strongest of swimmers to stay afloat. So make sure you carry out all water activities with some extra buoyancy in tow, it'll make any potential dip a little more relaxing.
If you're spending time on the coast in Southcentral Alaska, you'll probably notice many "beaches" are made entirely of mudflats. These are made of glacial silt and mud, but behave like quicksand under some circumstances. Getting stuck in the mud can be extremely dangerous as the water is cold, the tide is fast and help is usually more than a few minutes away. Our advice is to observe the mudflats from a safe distance.
Animal safety
In Alaska, we share our cities with some wild friends. While driving, always keep an eye out for moose. They have been known to dart across roads without warning so being aware of your surroundings is key. On a hike, make plenty of noise so animals aren't startled by your presence if you cross paths, and make sure not to leave any food behind as you trek along because it can attract bears or other critters. The best thing to do around wild animals is to keep your distance, whether in the Target parking lot or on a hike in the mountains, and brush up on the latest wildlife safety tips.

Natural safety
Say you're on a hike, and see a beautiful spread of berries growing from a bush. Please don't put them in your mouth if you're not sure what they are. As a rule of thumb, don't eat any berries in Alaska that are white – they are likely all poisonous. But if it's a highly recognizable berry like a blueberry or a raspberry, go for it – it's probably going to be delicious. It's always a good idea to carry a little pocket-sized book that details regional wild plants, noting which are edible and which are poisonous. These can be picked up at any local bookstore, and might really expand your snacking game which on vacation.
Back to Blog