Skate your Way Through the Last Frontier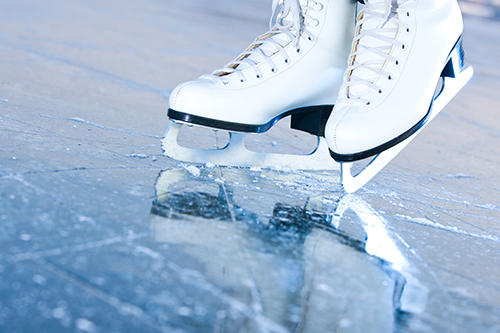 As an Arctic state, Alaska shines during the winter. Any local will tell you that outdoor activities are the best way to enjoy the season, and when winter gives you cold temperatures without much snow, ice skating is always the answer. So lace up those blades and get ready to channel your inner Michelle Kwan at some of our favorite Alaska skating spots.
One of Anchorage's top skating spots is Westchester Lagoon, a picturesque lagoon near downtown that is right on the coastal trail system. With views of the Chugach Mountains and the downtown Anchorage skyline, as well as burn barrels to warm your hands and roast marshmallows over, your quest for an iconic holiday activity could easily end here.
If you're looking for something with more of a wilderness feel that is close to Anchorage, head south on the Seward Highway to Potter Marsh. A popular wildlife viewing spot year-round, this marsh freezes over and creates an icy maze of frosted wetland plants, as well as areas that are big enough for a pick-up hockey game.
Further along the Seward Highway toward the Kenai Peninsula is Tern Lake, a popular scenic spot in the summer and a fantastic place for a quick skate in the winter. It's located at the junction of the Seward and Sterling Highways and has a small parking lot, a picnic area and restrooms – all the luxuries a skating trip might require!
If you're vacationing in the Yukon, watch this video of ice-skating on Tagish Lake for some inspiration. With glassy ice reflecting a clear blue sky and mountains all around, we're pretty confident it doesn't get much better than this.
When the temperatures really dip and skating outside becomes a bit too cold, try out some of Alaska's indoor rinks. Check out the Big Dipper Ice Arena in Fairbanks, a year-round facility that serves everyone from young children to senior citizens. In Anchorage, the Dimond Ice Chalet offers year-round skating to the public, as well as classes and a private room for parties.
As with any sport, always make safety a priority. Before you head out on a skating trip, it's important to ensure that the ice is safe for skating by checking out conditions on sites like this, or even asking locals in the area. If you're new to skating, a couple of kneepads and a helmet won't hurt either!
Back to Blog