Spend your winter vacation like an Alaskan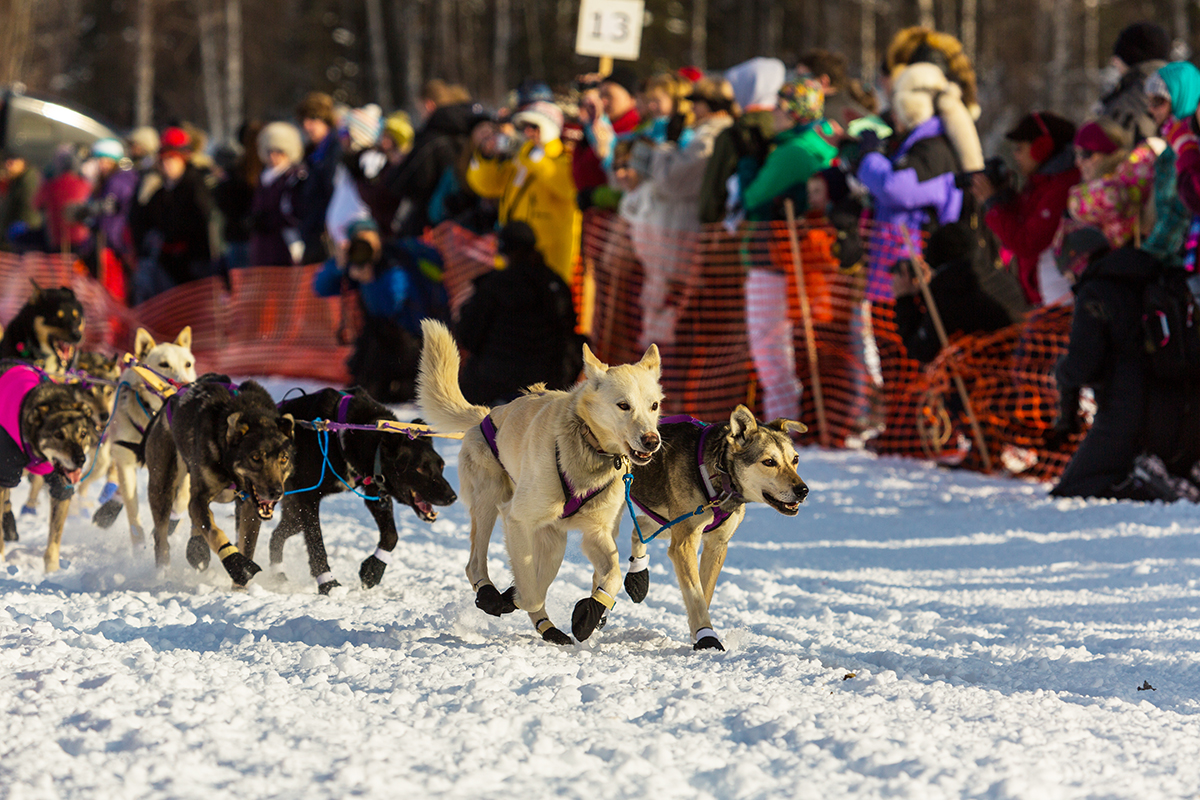 Alaska's peak visitor season might be summer, but Alaskans eagerly anticipate the snow starting to fly. The first snow, and every snowfall after, is truly something to celebrate. If there's one thing residents of the Last Frontier know how to do, it's having fun in the wintertime. Here are a few of our favorite winter events.
Fur Rendezvous Festival (Anchorage) – It doesn't get more classic Alaska than this! The annual Fur Rondy Winter Carnival has been entertaining Alaskans since 1935. From Feb. 22 – March 3, 2019, enjoy events like the state snow sculpture championships, a figure skating show, outhouse races, a snowshoe softball tournament, a costumed footrace and more.
Iditarod Ceremonial Start (Anchorage) – Although the race (usually) officially begins in Willow, the Iditarod Ceremonial Start is held in downtown Anchorage. On Saturday, March 2, during the second weekend of Fur Rondy festivities, this celebration is a favorite tradition of many Alaskans. Watch from downtown or from one of the community "trailgate" stations along Campbell Trail as the teams begin the Last Great Race.
Iditarod finish (Nome) – Watching the Iditarod begin is always exciting, but when you travel to Nome for the finish, you see history in the making and get a sense of small-town Alaska culture.
Alappaa Film Festival (Nome) – Also in Nome in early March is the Alappaa Film Festival, named for the Inupiat word for "it's cold." Nome has a surprisingly vibrant arts scene and a very active arts council that puts on this festival each year. You'll see films about life in the Arctic, wildlife, subsistence, history and more
Ice Worm Festival (Cordova) – Mark your calendar for Jan. 26 – Feb. 2, for the 2019 Cordova Iceworm Festival. What's an iceworm festival, you ask? It started in 1961 as a way for residents of Cordova (a place only accessible by boat or airplane) to have a little fun in the winter, and it has grown into a weeklong celebration attracting visitors from all over the world. This year, festivalgoers can enjoy a parade, fireworks show, variety show, cake competition, basketball tournament and even watch as the new Miss Iceworm is crowned.
Sitka Jazz Festival (Sitka) – Taking place Feb. 7 – 9, 2019, this world-class jazz festival features evening concerts, student concerts, daytime workshops on jazz history, theory and improvisation as well as after-hours jazz events. Stay tuned for the 2019 artists – this festival attracts musicians from across the nation.
BP World Ice Art Championships (Fairbanks) – This year, the World Ice Art Championships will take place at the Tanana Valley Fairgrounds in Fairbanks, from Feb. 14 – March 31. Visitors can see the most incredible ice sculptures, created by artists representing nations around the world, such as Russia, China, the United Kingdom and Iceland.
Whether it's music, film or dog mushing that sparks your interest, wintertime in Alaska is filled with events that are as unique as the 49th state itself.
Back to Blog