Summer Festivals That Show the True Colors of Anchorage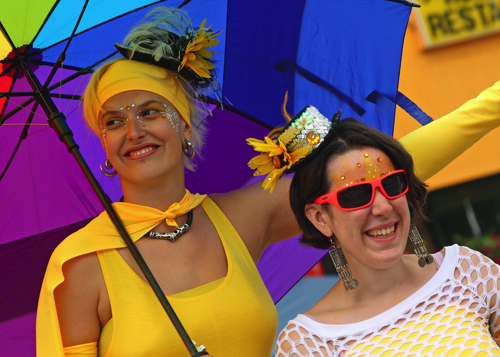 Image used under Flickr Creative Commons license from Frank Kovalcheck.
Anchorage in the summer is pretty epic: the wildflowers are blooming, the sun is out 18 hours a day, and mountain views are incredible. And if that's not enough, Anchorage is overflowing with festivals, many of which last the whole summer. Whether you're swinging through town for one day or need some evening plans to spice up your vacation, be sure to bookmark us for your complete guide to festival happenings in Anchorage this year.
Anchorage Market & Festival
May 10 – September 7 Every Saturday and Sunday during the summer season, Anchorage's 3rd and East streets open up to a cavalcade of food vendors, artisans, and musicians. Score handcrafted souvenirs, taste fresh local foods, and take in the free entertainment during a sunny summer weekend in Anchorage.
Festival of Flowers
May 31 This summer kick-off event runs from noon – 6 p.m. in Anchorage's Town Square Park. Quaff wine in the wine garden and browse the interactive arts and craft booths, all while enjoying a roster of live music. The Festival of Flowers also allows patrons to sponsor the beautiful hanging flower baskets that decorate Anchorage's streets through sponsorships and a silent auction.
Music for the Little Ones
June 2 – August 11 The season is right for dancin' in the streets, or in Peratrovich Park as the case may be. Pack up the kids every Monday at noon and head to the park. The fun-loving band Fiddle De Dee will provide an afternoon full of music that's sure to inspire dancing, jumping, spinning, and even singing along!
Music in the Park
June 4 – August 14 Relax with your picnic every Wednesday and Friday during the height of summer from noon-1 p.m. in downtown Anchorage's Peratrovich Park. This beloved locals' series spotlights local Alaskan bands on Wednesdays and performers from the Alaska Native Heritage Center on Fridays. And best of all, it's always free!
Alaska PrideFest Parade & Festival
June 7 – June 14 Anchorage's PrideFest celebration brings together the statewide LBGTQ community and their allies for a weeklong experience of fun and solidarity, including movies, barbecues, drag queen bingo, and a culminating parade along the Delaney Park Strip.
Live After Five Summer Concert Series
June 6 – August 4 Every Friday night during the summer, Anchorage residents get into the weekend spirit with a festive, free concert at Town Square Park. The concert lasts from 5-8 p.m. and is the perfect way to unwind after a busy day sightseeing or shopping. Food and drinks are served up as well. Check out this week's artists here.
Downtown Summer Solstice Festival
June 21 The solstice is a big deal in Alaska, and with good reason! On the longest day of the year, the state enjoys 22 hours of glorious daylight. Head to Anchorage's 4th Avenue from noon – 6 p.m. on the summer solstice for a diverse, family-friendly itinerary of activities. Festival highlights include The Hero Games (an obstacle course for first responders), the Children's Rainbow Factory—where kids can get hands-on in a kayak pool or giant sandbox—and a showcase for teen pro skateboarders.
July 4th Celebration and Downtown Parade
July 4 Lucky you if you get the chance to spend a 4th in Anchorage! The party kicks off with a hearty pancake breakfast followed by a parade along the downtown thoroughfares. After the parade, a festival including fair food, games, and rides continues until 6 p.m. Then, catch a free concert and grab a brew at the beer garden during the Live at Five show—also downtown—and break for dinner before settling down again to witness the spectacular 4th of July fireworks lighting up the sky.
Salmon Daze Festival
July 19 At this annual fête, one of Alaska's most precious natural resources, wild salmon, are toasted with festivities for all ages. From noon – 6 p.m., local artisans and musicians contribute to the quirky atmosphere at the Anchorage Museum Quad, where face painting, a fish pond, smoked salmon contest, and beer garden add to the fun and keep the crowds reveling.
Nearby…
If Anchorage's broad assortment of summer festivals hasn't sated your appetite yet, take a gander at these festivals within a reasonable drive:
Girdwood Forest Fair July 4 – 6
Bear Paw Festival July 9 – 13
Alaska State Fair August 21 – September 1
Girdwood Fungus Fair August 22 – 24
Make the most of Alaska's warm temperatures and long days at summer festivals that are ideal for families, live music lovers, or simply anyone who enjoys a "cold one" on a hot day. Anchorage's festivals bring together a community of locals and visitors alike for indelible memories. And even when the festivals end the vacation continues with luxury train tours throughout Alaska.
Back to Blog