The 4 Best Alaska Road Trip Ideas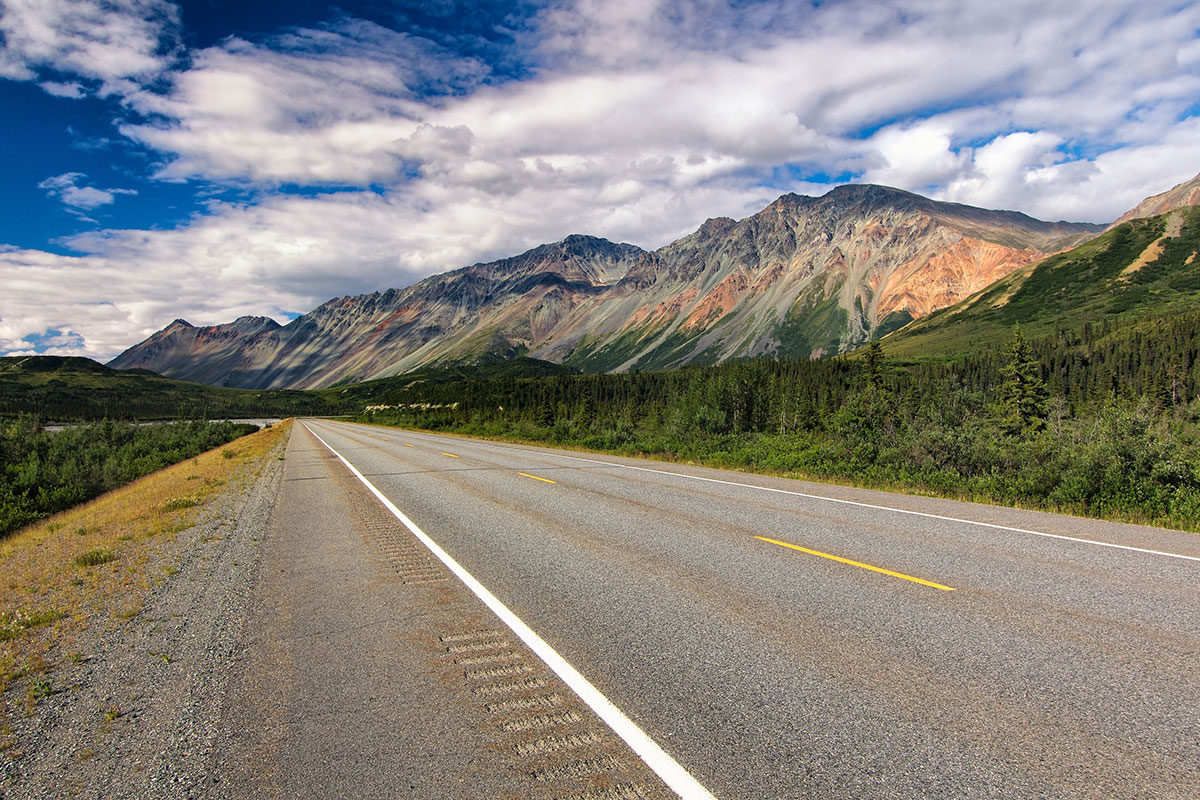 Did you know Alaska is twice the size of Texas? It's huge! Locals and visitors rely on motor transportation in order to get around the state with ease. From getting to know the road better, and exploring the quaint Alaska communities more intimately, buckle up and fill the gas tank for these fun Alaska road trips.
Whether you're heading north or south on an Alaska driving tour, we recommend starting in Anchorage where the beauty of the wild meets urban amenities. Take a wildlife tour, check out the cities trail system, and learn about the culture at the Anchorage Museum. After you've explored the city, it's time to hit the road.
1. Anchorage to Denali
237 miles | Four hours
About the trip
Have you ever wanted to have a chance to witness the tallest mountain in North America? Take a trip north from Anchorage where you'll arrive at the George Parks Highway. Commonly called the Parks Highway, this road stretches 323 miles to the Interior of Alaska. Around mile 160, you'll come across Denali National Park and all its glory! This is a great first place to stop and spend a few days.
Things to do once you're there
Check out our Denali Travel Guide and some of the top tours to embark on.

2. Denali to Fairbanks
126 miles | Two hours
About the trip
Continue the scenic adventure on the Parks Highway about 125 miles to reach Fairbanks, Alaska's second-largest city.
Things to do once you're there
Our Fairbanks Travel Guide will give you good points of interest and we recommend setting your sights on the following.

3. Anchorage to Seward
126 miles| Two and a half hours
About the trip
Head south on the popular Seward Highway that connects Anchorage to other small towns south of the city. The road coasts along the Turnagain Arm where you can pull over for picturesque views and try to spot an array of wildlife. It's the perfect mix of urban and wild!
Things to do once you're there
Once you arrive in Seward, one of Alaska's oldest towns, there is no shortage of activities to keep you busy!

4. Seward to Cooper Landing
104 miles | One hour 

About the trip
About a one-hour drive from Seward, pass through the charming town of Cooper Landing along the Kenai Peninsula which locals call "Alaska's playground." With seemingly never-ending areas to explore, this is the perfect route for all nature enthusiasts.
Things to do once you're there
Check out accessible fishing spots and wildlife experiences that will leave you wanting to come back for more!
Explore Kenai Fjords National Park.
Go fishing at Russian River Falls.
Wildlife viewing a whale watching.

Road trip planning tips to know before you go:
We know Alaska is big, but your packing list doesn't have to be! While we do recommend packing your clothes like an onion — lots of layers — we also have some must-haves to keep your trip successful.
Sunglasses: Alaska is bright, and you don't want to miss out on any views because you are always squinting.
Jackets: Prepare for the weather by bringing a rain, fleece, or down jacket. Always check the weather before you go!
Reusable water bottle: Stay hydrated and love the environment.
Bug repellent: If you are planning to spend time outside, you're going to want this.
Sunscreen: Don't let a low UV index fool you, summer days see around 20+ hours of daylight!
Roadside emergency kit: You can never be too prepared with jumper cables, flares, and a first aid kit.
Snack: No road trip is complete without something to munch on!
Back to Blog