10 Best Things to Do in Denali National Park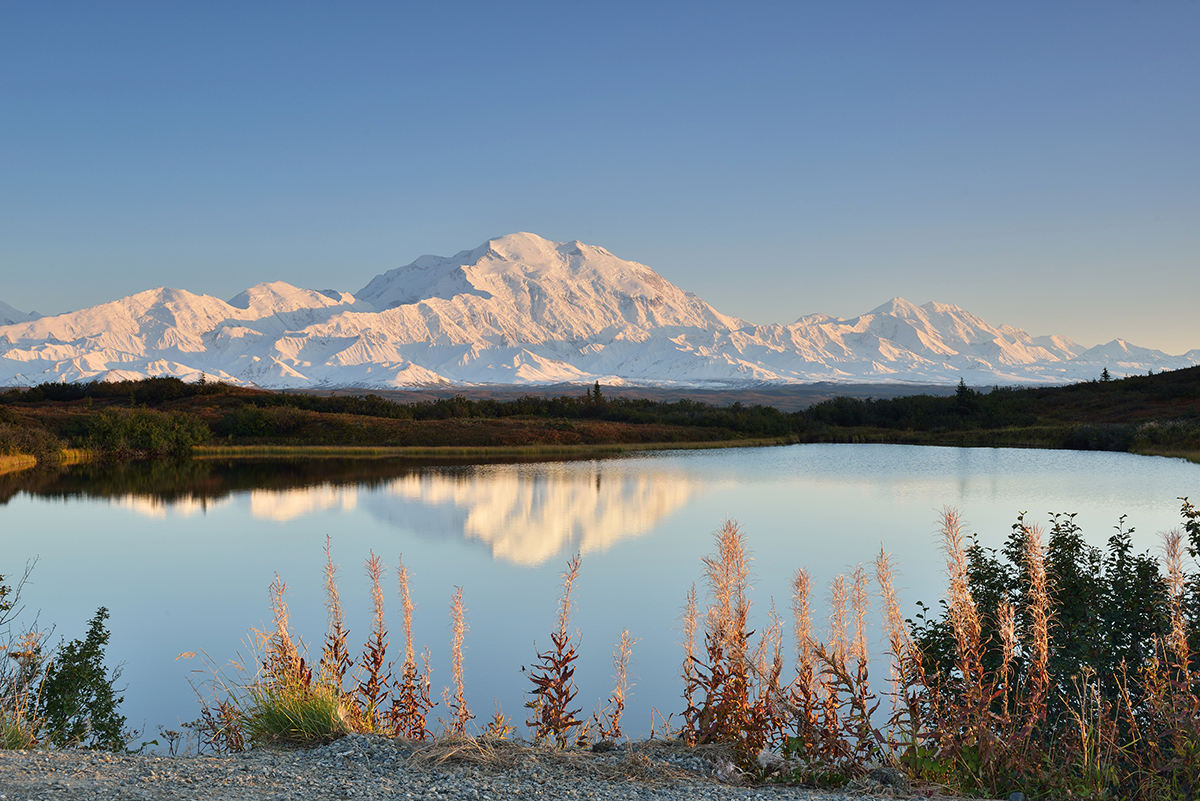 A trip to Alaska is simply not complete without traveling to Denali National Park and Preserve.
The tallest mountain in North America, Denali towers 20,310 feet above sea level. Denali's namesake comes from a Tanana Athabaskan word meaning "The High One," encapsulating the awe-inspiring natural wonder. The Tanana tribe and their ancestors have called this land home since just after the last Ice Age.
In the early 1900s, before the land was established as a national park, conservationists began advocating for the preservation of the region's natural beauty and wildlife. The area was established as a national park in 1917. Today, the 6 million acres of wildland are managed in cooperation with the Native people of the area, including the Tanana people who continue to carry on their cultural traditions. The park also features opportunities for visitors to learn about the history and culture of the land through tours, exhibits and programs.
In addition to Denali, the legendary park includes forested wonders, glaciers and tundra. It is home to a wide array of wildlife including moose, wolves, grizzly bears and more. On top of that, there is an abundance of natural beauty to see and things to do — making this stop a must-do bucket list destination in Alaska. To help visitors get the most out of their trip, we've compiled a list of the 10 best things to do in Denali National Park — and by the end of this blog, we can assure you won't be asking, "what to do in Denali National Park?"
1. Look for Alaska's big five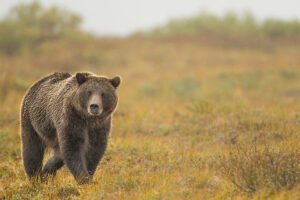 A huge reason people travel to Denali National Park is for the chance to spot Alaska's big five. Unleash your wild spirit and encounter Alaska's big five in the untamed beauty of Denali National Park. One option is to book a Denali Walking Tour. The adventure lasts approximately three hours and includes moderate activity levels. Tour guides help you look for wildlife and give insightful commentary while ensuring your safety. If you're looking for other things to do in Denali National Park, the fun doesn't stop there! Check out the multiple other hikes and sightseeing tours that Gray Line offers.
Read up on the big five to learn what to keep an eye out for:
Moose — The average moose stands about six feet tall, is brown all over, and tends to be found snacking on some birch or grass.
Caribou — These animals can be spotted traveling in herds and roaming around bushy areas.
Dall sheep — Keep your gaze upwards for these animals as they are mainly found on the side of a mountain.
Wolves — They may look like large dogs, but they're still wild, so keep your distance if you spot a wolf. Many people have been able to spot them along Denali Park Road!
Bears — In the park it's more common to spot a brown bear than a black bear. They can often be seen near streams and rivers or high-alpine areas.
2. Go hiking!

There are many trails to choose from for your hiking adventure. Here are our top five recommended hikes:
Horseshoe Lake Trail — Located near the Denali Visitor Center and the park entrance, this two-mile, round-trip trail is labeled as easy with a 300-foot ascent. The views are constantly changing as you walk along the Nenana River.
Savage River Loop Trail — A relatively easy, two-mile hike trail that wraps around in a loop and gives you beautiful views of the Savage River. This makes for a great day hike as there is a minimal ascent and can easily be done in one to two hours.
Mount Healy Overlook Trail — This moderately challenging five-mile trail will have you steeply climb through forests and alpine up to a captivating overlook. Once you get to the overlook you will have panoramic views of the park and can see the top of Denali on a clear day.
Triple Lakes Trail — This is another challenging trail and the longest hike in Denali. It's 18.5 miles round trip with an 1,800-foot ascent. Along the way, you will see where the hike gets its name from. Three lakes are located along the trail, each slightly different and beautiful.
McKinley Station Trail — Conveniently located near the Denali Visitor Center, this is a little over three miles out and back with a roughly 100-foot ascent. The narrow trail highlights include historic building remains, the railroad trestle and the opportunity to see plenty of wildlife.
If you don't want to go on your own, you may opt for a guided Denali Wilderness Hiking Tour with Gray Line Alaska. The four-and-a-half-hour hike takes you off the beaten path for a good workout and a provided snack. Either way, don't forget to pack sunscreen, bug repellant and water to keep you hydrated.
3. Camp overnight in the park
For those who are seasoned adventurers, there's no experience like immersing yourself in nature and the beauty of Denali National Park. There are six campgrounds in Denali that you can choose from. We always advise frequently checking the National Parks website for campground updates and making a reservation before your trip!
Riley Creek Campground — Nestled in a forest heaven, this campground invites you just inside the entrance of Denali National Park. There is easy access to scenic trails where you can hear the soothing sounds of rushing water in the nearby creeks.
Savage River Campground —Surrounded by towering mountains and pristine wilderness, this campground is located at Mile 13 on Denali Park Road and offers a rustic escape for all nature enthusiasts. You can pitch a tent or park an RV and embrace the spirit of Denali while taking in the scenes around you.
Teklanika River Campground — In a more remote location along the Teklanika River, this peaceful campground offers a wilderness retreat at Mile 29 on Denali Park Road. It is the second-largest Denali campground and welcomes tents and RVs.
Igloo Creek Campground — At Mile 35 along Denali Park Road, this campground has just seven sites, making it the smallest campground in Denali. This is a hidden gem for those who are willing to stray away from amenities and disconnect from all modern distractions.
Sanctuary River Campground — Also sporting just seven camp spots — this heavily wooded campground won't be accessible for RVs as the surrounding areas are brushy. Located at Mile 23, this campground is surrounded by nearby hikes and Denali views.
4. Drive the Denali Park Road

The Denali Park Road is the one and only road that goes in and out of Denali. Until 2024, Denali Park Road is closed to the public past Mile 43 due to the Pretty Rocks Landslide. The full road is 92.5 miles long. Starting at the main park entrance, the road runs parallel along the north side of the Alaska Range. Along the way, you can make stops at stunning viewpoints, scenic lakes and embark on numerous hikes.
Although private vehicles can only drive up to mile 15 along Denali Park Road, we strongly encourage all visitors to take advantage of the options that can take you beyond this marker. These options include a free shuttle, a non-narrated transit tour bus or a narrated tour bus that will leave you with plenty of new knowledge and views to take home.
Savage River Shuttle — Departing every 30 minutes from the Denali Visitor Center bus stop and the Denali Bus Depot, this is the perfect choice for those who are looking for a short bus ride experience.
Riley Creek Loop Shuttle — Linking all major visitor facilities every 30 minutes, this shuttle continuously circuits the entrance area. If you're looking to board this bus, look for the green or tan colored vehicles that read "Riley Creek Loop" on the side.
Sled Dog Demonstration Shuttle — This round-trip shuttle takes you to the sled dog demonstrations where there are no tickets needed! The bus boards at Denali Visitor Center bus stop about 40 minutes before demonstration time.
East Fork Transit — Those who are 15 years and younger ride free on this route but will still require a reserved bus ticket. This route makes regular restroom and wildlife stops and is mainly to help move people throughout the park.
Camper Bus — People 15 and younger also ride free on camper buses. These shuttles are designed specifically for campers with the rear seats removed to accommodate backpacks and bicycles.
Natural History Tour — This nearly five-hour tour focuses on the park's rich natural and cultural history. The tour travels to the Primrose Ridge at Mile 17 where along the way the driver will enlighten you on the historical landscapes and geology of the park.
Tundra Wilderness Tour — Slightly longer than the Natural History Tour, this five-and-a-half-hour tour takes you to the Murie Cabin near Mile 43 to experience where Adolf Murie lived while he was conducting historical research of Denali.
As always, we recommend frequently checking the National Park Service website for shuttle and bus tour updates, in addition to making a reservation in advance of your scheduled trip.
5. Visit an Iditarod sled dog kennel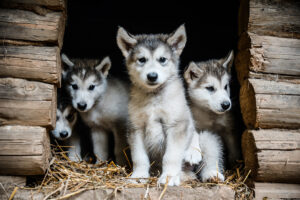 Experience the Gray Line Alaska DogGoneIt Kennel Tour. Hear the canine chores as Mike Santos brings you into his home for a 90-minute narrated tour, diving into all the details surrounding sled dogs and life in rural Alaska. The tour is approximately three hours and includes holding sled dog puppies in training and a 90-minute multimedia presentation that features video footage from the race. You'll get to hear about the successes and challenges that mushers face as well as have the opportunity to ask questions. You'll want to dress in warm layers and wear comfortable walking shoes as some of the tour and puppy holding is outside!
6. Explore the Savage River Area
The hidden gem of the Savage River Area features the breathtaking scenery of Denali National Park. It's located at the end of the paved and publicly-accessible portion of the Denali Park Road. There is a free bus service you can use to get there called Savage River Shuttle. Upon arrival at the destination, you can lace up your hiking boots and go adventure through the picturesque trails that wind through the lush forest. You'll want to bring water to keep you hydrated while moving your body, a snack to keep you adventuring, layers to peel off and put on depending on the weather and of course, a camera to capture all your smiles.
7. See Denali by air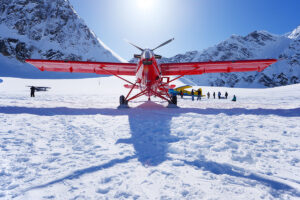 One of the best Denali activities — the opportunity to embark on an unforgettable aerial journey to see for yourself how majestic Denali is. Surrounded by the breathtaking mountain ranges of Alaska, seeing Denali from the air offers a perspective that can't be put into words. As you fly over the landscapes, the incredible perspective will captivate the true glory of this iconic peak. Along the tour, you will witness the immensity of the mountain's presence with the surrounding peaks as a beautiful dramatic backdrop.
You'll want to book this trip about six months in advance to ensure you get the tour and time you want. Especially if you're visiting during peak travel season! It is also important to keep in mind that since Denali is so large, the mountain creates its own weather — this means it's important to allow for your schedule to be flexible and anticipate possible weather delays. Companies such as K2 Aviation offer options for flightseeing over Denali. It should be noted that K2 Aviation operates out of Talkeetna, a small town about a two-and-a-half-hour drive from Denali National Park. No matter what, a flightseeing excursion will leave a lasting mark.
8. Go white water rafting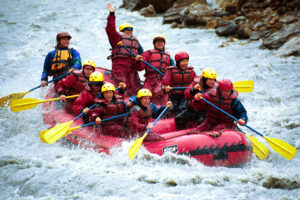 Denali is one of the best places to go white water rafting due to its pristine rivers, natural beauty and exhilarating rapids. The rivers of the park offer varying levels of difficulty which cater to both beginners and experienced rafters. You can catch the best waves from mid-May to early September when the weather is typically warmer and the daylight lasts longer. Weather and water conditions are always changing. It's best to check with tour operators for up-to-date information.
Much like flightseeing, if you are planning to travel to Denali and go white water rafting, we recommend booking your tour a couple of months in advance. The good news for you — Gray Line Alaska offers two incredible white water rafting trips.
Wilderness Wave Tour — The milder route of the two, this 11-mile journey will have you gliding down the glacially carved valleys and amazing vistas of the Nenana River. Along the way, you can gaze at the amazing views of Mount Fellows and the Nenana Canyon. You can expect to experience an occasional rapid, but don't worry — it's mellow enough for the whole family!
Canyon Wave Tour — This more challenging and adrenaline-pumping tour takes you 11 miles down the Nenana River. Along the way, you can expect to see amazing surrounding views of Denali National Park gems such as Mount Healy and Sugarloaf Mountain. This tour is perfect for adventurous beginners and intermediate rafters.
9. Practice photography
Denali National Park is truly a unique and special place for photography enthusiasts due to the remarkable landscapes, the abundance of wildlife and incredible lighting conditions. Photographers have the chance to encounter and capture the wild and raw moments of grizzly bears, moose, caribou, wolves and much more. When you can't find much wildlife movement, there is still plenty to be captured including the sweeping tundra, towering mountains and the movement of water systems.
Gray Line Alaska offers a Denali Photography Workshop. The nearly three-and-a-half-hour tour allows up to four participants to ensure you are getting the most out of your time spent. Your expert photo guides will take you to capture majestic panoramic landscapes, reflection ponds and much more. Always be prepared for changing weather, sometimes the rain encourages wildlife to pop out more.
10. Venture beyond the trailhead
Popular routes in the park for backpacking include Savage Alpine Trail, Triple Lakes Trail and Sugarloaf Mountain Trail. Before you go, you should obtain a free backcountry permit and learn more about the area you plan to go explore. It is important to remember that traveling in the backcountry can be a challenging adventure. You should always be aware of the risk associated with wildlife encounters, ensure you have bear spray, and check weather forecasts.
Know before you go

Important National Park information to consider:
Park entrance fees — For everyone entering into Denali National Park, there is a standard $15 per person fee. Youth 15 or younger get in free. This fee is a year-round fee and will give you a seven-day access pass to the park. For those who are interested in an annual pass, there is a $45 fee and will cover entrance for up to four adults.
Pets — You can bring your pet to Denali National Park, but they must be leashed at all times. This is to ensure that your pet and others are staying safe. Make sure you bring waste bags as you must clean up after them.
Cellular service — You can expect to have cell phone service up to three miles from the park entrance. Beyond these parameters, you should expect to have no cell phone service. To prepare in advance, you should be aware of where to contact rangers on patrol, find campground hosts and even bus drivers to report any emergencies.
Hours of operation — Although Denali National Park is open year-round, 24 hours a day, services are limited from 7 p.m. to 5 a.m.
How much time to spend in Denali
The average time spent in the park is two or three days. Denali is such a massive mountain that it creates its own weather system and some days the mountain hides behind clouds. To increase your chances of seeing the mountain in its full glory, consider extending your time in the park more than three days. There are plenty of adventures to be had!
When is the best time to visit Denali?
Denali National Park is a year-round Alaska destination, though the most popular time to visit is between June and August. These months bring warm temperatures, lush green mountainsides, more than 22 hours of functional daylight, and opportunities to spot wildlife such as grizzly bears, black bears and moose.
If you're interested in visiting Denali without the crowds, you should consider the park's shoulder season (mid-May to early June and mid-August to mid-September). There are several benefits to visiting Denali during the shoulder season, including fewer crowds, savings on travel and hotels, cooler weather and the opportunity to see the northern lights. Denali National Park is open in the winter, though most businesses are closed for the season.
Where to stay in Denali?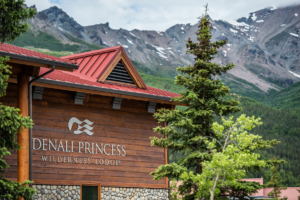 During your visit, you can choose accommodations inside or outside Denali National Park. Most park visitors choose to stay at accommodations just outside the park entrance. There are several hotels, motels, lodges and B&Bs available in the nearby communities of Healy and Cantwell and along the highway between them.
Lodging options available outside Denali National Park include:
Lodging options available inside Denali National Park include:
Back to Blog