Traveling with the Holiday Spirit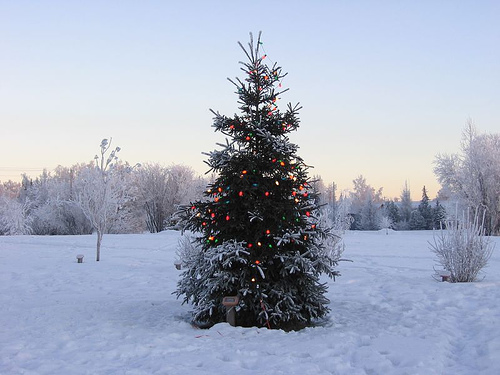 With Hanukah, Christmas and a new year not far away, most winter travel plans have already been made. But it's not too late to add some holiday fun to your plans! If you happen to be in Alaska or Yukon, we have some good news, there is no better place to be this holiday season. The combination of fresh snow on the ground and a busy schedule of events will jump-start anyone's holiday spirit!
Take the family to Alaska's Interior where it's Christmas year-round at the Santa Claus House in North Pole. Just a 20-minute drive from Fairbanks, Santa's house originally served as North Pole's first trading post in the 1950s, offering residents of the town basic necessities, postal services and a place to gather and mingle while sipping on flavored soda. While the store location and inventory have changed some since the 50s, the postal tradition at Santa Claus House lives on to this day as letters from Santa are postmarked and stamped from the North Pole with an official Santa seal. Today, the store includes a coffee shop, holiday gift items, a visit from Santa any time of year and the world's largest Santa statue, standing 42-feet-tall and weighing 900 pounds. Winter or summer, the elves at Santa Clause House deliver holiday spirit with the sharp scent of gingerbread, warmth and good cheer.
Speaking of the traditional, spicy smell of gingerbread that normally accompanies the holidays is also the main ingredient for Anchorage's Marina Village at the Hotel Captain Cook. Every year for the past 35 years, the hotel's pastry chef constructs an intricate and magnificent gingerbread village, displayed in the hotel's lobby. Preparations on the village begin in August and, with the help of 850 pounds of frosting, 65 baking sheets of gingerbread, 125 pounds of chocolate and over 100 hours of labor, the village is complete by late November. The village is on display through the holidays and is best seen with a hot eggnog latte in hand.
In the city of Whitehorse, Yukon lives the annual Winterval parade. Hosted by Yukon Educational Theatre, the 7th annual Winterval brings magic to Main Street, beginning with the Santa Claus Parade. Don't just be a spectator at this parade, dress up in your best holiday costume or bring your own instrument and join in on the marching fun! At 4:30 p.m. turn your attention to the Christmas tree-lighting ceremony at the White Pass Building. After the ceremony, head inside for the Waterfront Arts Festival and create your own lanterns, participate in a giant ice-cube mosaic or dress to impress for a picture with Santa.
There are plenty of other events around Alaska and Yukon throughout the holiday season. To find out more about what is happening in your area of travel, visit the local convention and visitors bureaus' calendar listings. From Gray Line Alaska, we wish you a happy holiday season, full of new memories with family, old friends and new ones made wherever your travels take you!
Back to Blog