Back to McKinley, Talkeetna Tours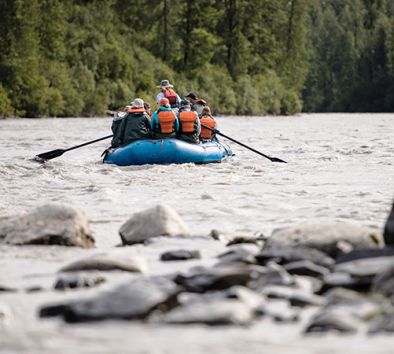 Chulitna River Rafting
Duration
Approximately 4 hours
Daily Departures:
May 15 - September 20
consult tour desk for departure times
Price from
Adult - $154.95
Child - $121.95
Moderate Activity Level
Most Popular
Shopping Opportunities
Eco-tourism at its finest! Enjoy an eco-friendly way to get to Talkeetna to enjoy shopping, eating, and the local sights. Embark on a peaceful and scenic float trip that takes you down the glacier-fed Chulitna River. Float through the stunning Chulitna Canyon which ends 19 miles downstream in the historic town of Talkeetna. Be sure to have your camera ready to catch a glimpse of Denali's (formerly Mt. McKinley) snow-covered peaks and the entire Alaska Range (weather permitting). Enjoy the sweeping, postcard-perfect views of the mountains, the lush and remote portion of the Chultina River that reveals a treasure trove of untouched wilderness eagles' nests and salmon streams share the river with bears, swans and moose.
Special Note
Minimum age is 8. Dress in warm layers. Bring a camera. There is no whitewater on the Chulitna River. Tour duration may vary depending on river conditions. Rain gear, personal flotation device and river boots will be provided. Wildlife sightings are likely but not guaranteed. Tour will operate rain or shine. Tour operates subject to meeting a minimum number of participants. Time spent on raft is approximately 4 hours. Raft from the Mt. McKinley Princess Wilderness Lodge to the town of Talkeetna. Guests will return to lodge on the Mt. McKinley Princess Wilderness Lodge Talkeetna Shuttle.
This tour can only be booked in conjunction with a Gray Line Alaska package. To add this tour to your package, please call 1-888-425-1737.