Back to Denali Tours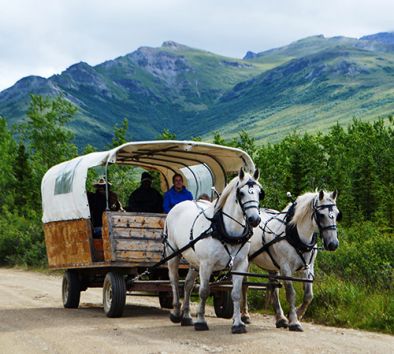 Covered Wagon Adventure with Backcountry Dining
Duration
Approximately 3½ hours
Daily Departures:
May 9 -September 14
7:15am, 10:45am, 2:15pm, 5:45pm, 7:15pm, 8:15pm
Price from
Adult - $94.95
Child - $44.95
Easy Activity Level
Meal Provided
Shopping Opportunities
Travel back in time during this splendid journey across Alaskan tundra on a horse-drawn covered wagon reminiscent of those used by pioneers while you explore the great Alaskan wilderness. The tour begins at a tranquil lake offering awe-inspiring views of Alaska's mountainous skyline. Climb aboard the roomy covered wagon and settle in as two beautiful draft horses lead the way through the tree-laden countryside. While soaking up breathtaking views of snow-capped mountains reflecting the sun, listen as your guide unveils this mining area's rich history. As you continue on the trail, discover a primitive cabin abandoned by an Alaskan old-timer and arrive near the Dry Creek riverbed home to Athabascan Indian artifacts. Breathe in the crisp air while watching for wildlife. Arrive at a rustic pavilion with unbelievable views to savor a freshly prepared family-style gourmet feast. After dining, greet and meet your horse team for a great photo or just a chance to pet your horse. This excursion is a relaxing opportunity to see and smell the great land of Alaska and is great for the entire family!
Special Note
Bring a warm jacket, hat, gloves and a camera. Dress in warm layers. Blankets are provided. Wildlife sightings are likely but not guaranteed. Wagon ride & backcountry dining portion is approximately 2½ hours.
This tour can only be booked in conjunction with a Gray Line Alaska package. To add this tour to your package, please call 1-888-425-1737.