Back to Denali Tours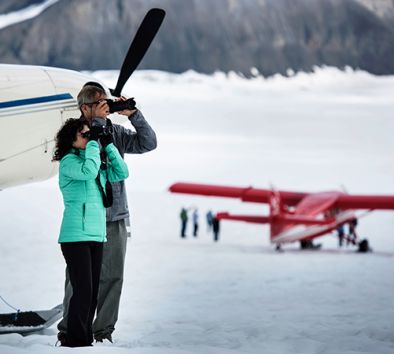 Denali Flightseeing with Glacier Landing by Airplane
Duration
Approximately 4 hours
Daily Departures:
May 13 - September 21
7:30am, 11:00am, 2:15pm, 5:15pm
Price from
Adult - $549.95
Child - $415.95
Get up close and personal with Denali (formerly Mt. McKinley), "The Great One," and get a chance to stand on its flanks during a mesmerizing flight-seeing tour no true adventurer should miss! Board a Turbine DeHavilland Beaver, ski-equipped airplane, and let the wonder unfold as you soar over more mountains, glaciers and eye-popping scenery than you could ever imagine. View the taiga forests, alpine meadows, fault-lines, granite spires and glaciers of Denali National Park (90% of the flight is over Park land). When you arrive at Denali (formerly Mt. McKinley), you'll feel the same sense of exhilaration a mountain climber feels. When your pilot comes in for a gentle landing on one of Denali's's most scenic glaciers, you'll be in privileged company indeed. Step out onto the ancient ice and immerse yourself in this astonishing world of towering rocks and shimmering ice. This will not only be the highlight of your Alaskan vacation, but also a lifetime highlight!
Special Note
Bring a jacket, sunglasses and a camera. Wear closed-toe shoes. Flight time is approximately 100 minutes with 20-30 minutes on the glacier.
This tour can only be booked in conjunction with a Gray Line Alaska package. To add this tour to your package, please call 1-888-425-1737.