Back to Denali Tours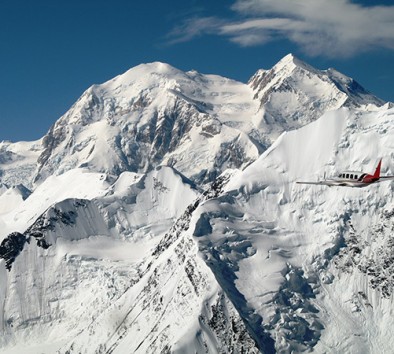 Denali Peak Flightseeing Adventure
Duration
Approximately 2 1/2 hours
Daily Departures:
May 13 - September 21
7:00am, 9:00am, 11:00am, 1:00pm, 3:00pm, 5:30pm, 7:00pm
Price from
Adult - $409.95
Child - $209.95
Located 90 miles from the park entrance, Denali commands a chain of rugged peaks, each a marvel of ice and stone. You will soar amongst the jagged mountaintops and over tumbling glaciers on a stunning 200-mile flight to get within ½ mile and circle Denali to see every spectacular corner of this massive mountain (weather permitting). This breathtaking flight will give you access to a remote corner of Alaska famous for its wild and majestic beauty. With the expert commentary of your experienced pilot, you'll gain insight into Alaska's grand mountaineering and aviation tradition. Let our highly experienced and knowledgeable pilots help you discover the highlight of your Alaskan vacation!
Special Note
Minimum age is 2. This tour is headset equipped, fully narrated and all seats are window seats. Precise flight routes are dictated by current weather conditions. Anticipated flight routes will be discussed with passengers during a pre-flight briefing. Flight time is approximately 1 hour.
This tour can only be booked in conjunction with a Gray Line Alaska package. To add this tour to your package, please call 1-888-425-1737.