Back to Kenai Tours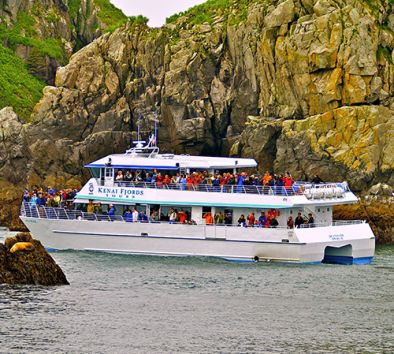 Kenai Fjords National Park Cruise
Duration
Approximately 10 hours
Daily Departures:
May 15 -September 15
9:00am
Price from
Adult - $249.95
Adult - $129.95
Easy Activity Level
Meal Provided
Wheelchair Accessible
Spend a day cruising the unspoiled wonders of Kenai Fjords National Park. The narrated tour begins when your vessel ventures out from Seward to Resurrection Bay. Then, you'll head out to the open waters of the Gulf of Alaska around Cape Aialik to the face of a tidewater glacier. As you marvel at the serene surroundings, listen for the thunder of "calving"—a process by which glaciers shed giant blocks and slabs of ancient ice and send it crashing into the still waters of this protected bay. Watch for a variety of marine life such as humpback whales, orcas, seabirds, sea lions, and otters. A complimentary lunch is served as you keep track of your route on flat-screen monitors.
Special Note
Bring your camera and binoculars. Dress in warm layers so you can spend time on the deck. This cruise will spend some time in open waters. If you think you may be susceptible to motion sickness, we recommend taking motion sickness medication the night prior to alleviate discomfort so that you can enjoy your sailing. Travel time is approximately 2 hours each way.
Please note that pricing and departure dates/times are subject to change.
This tour can only be booked in conjunction with a Gray Line Alaska package. To add this tour to your package, please call 1-888-425-1737.