Back to Anchorage Tours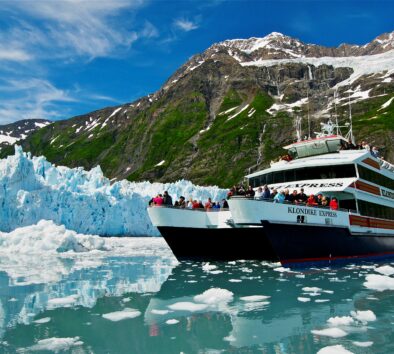 Prince William Sound 26 Glaciers Cruise
Duration
Approximately 10 hours (includes transfers)
Daily Departures:
May 29 -September 7
9:15am
Price from
Adult - $304.95
Child - $209.95
Easy Activity Level
Family Friendly
Meal Provided
Nature & Wildlife
Welcome Aboard! Travel by coach from Anchorage to Whittier as your experienced driver-guide points out the sights along Turnagain Arm and the scenic Seward Highway. Spend the day retracing the routes early explorers traveled during the Harriman Expedition. Your glacier cruise explores narrow fjords, calm passages and stunning scenery. From your catamaran, you'll come face to face with towering masses of ice, so close you can hear glaciers move while gazing upon their brilliant blue hues and towering spires. You will see different types of glaciers, including Alpine (hanging), Piedmont and Tidewater. It's not uncommon to see a glacier calve where pieces of ice break off into the water. To witness this massive movement of ice and hear its thunderous roar is truly an unforgettable experience! Yet, with the bounty of glacial wonders, it's not just about the ice. The wildlife is equally astounding. Enjoy sightings of sea otters, harbor seals, Dall's porpoise and Steller sea lions during the cruise. You may also spot whales, bears, mountain goats and bald eagles.
Professional narration about the geography, history, glaciers and wildlife is provided by a U.S. Forest Service Ranger and the Captain on your cruise. Phillips Cruises operates a fleet of high-speed catamarans with two indoor heated seating areas and outdoor observation decks. All decks have outdoor areas with plenty of room for everyone to get an up close view. Modern and stylish comfortable seating at tables is designated for 4-guests and 6-guests and large picture windows provide panoramic views from every seat. The bar offers Alaskan Ales, wine, spirits, light snacks, and a variety of gift shop items for purchase (at your own expense). Restrooms, complimentary hot coffee, tea and ice water at self-serve stations are available throughout the cruise. A complimentary hot lunch is served right to your table featuring wild Alaska smoked salmon chowder or a hearty vegetarian chili upon request. After your cruise, board your motorcoach for your return trip back to Anchorage.
Special Note
Tour departs from the Hotel Captain Cook. Bring a camera, binoculars, and dress in layers. Passengers with disabilities must notify our office at least 72 hours prior to the tour departure to ensure arrangements can be made to meet their particular needs. Complimentary hot coffee, tea, and ice water at self-serve stations are available throughout the cruise. A complimentary hot meal is provided for every guest. A vegetarian and gluten-free option is also available upon notice 48 hours prior. The boat is heated, and restroom equipped. Wildlife sightings are likely but not guaranteed. Travel time is approximately 2½ hours each way.
This tour can only be booked in conjunction with a Gray Line Alaska package. To add this tour to your package, please call 1-888-425-1737