Back to Anchorage Tours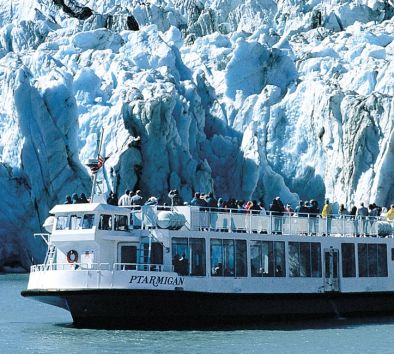 Portage Glacier Cruise Only (Self Drive)
Duration
Approximately 1 hour
Daily Departures:
May 14 -September 15
10:30am, 12:00pm, 1:30pm, 3:00pm, 4:30pm
Price from
Adult - $45.00
Child - $25.00
Easy Activity Level
Family Friendly
Nature & Wildlife
Get up close to Portage Glacier aboard the mv Ptarmigan on a one-hour cruise.  This tour is the perfect option for vacationers and visiting friends & family since it is only a one hour drive from Anchorage.
Five departure times are available every day, May 14 – September 15, 2022
Click on the departure time below to learn more and reserve your tour.  Online reservations must be made at least 5 days in advance.  For same day ticket sales, please purchase them on site at the Portage Glacier Cafe (401 Portage Lake Loop, Girdwood, AK 99587).
10:30am   12noon  1:30pm   3:00pm   4:30pm
Special Note
All online bookings must be made at least 5 days in advance.
For more information, the onsite phone number is 907.783.2687.
Safety is our top priority
Please be assured that we have made the necessary preparations to sail in a manner that complies with local and state guidance in order for guests to safely experience the beauty of Portage Glacier.  Our operational and cleaning procedures have been expanded with extra care and attention focused on the well-being of our guests and our employees.