Back to Anchorage Tours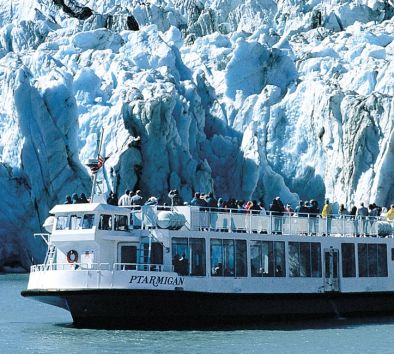 Portage Glacier Cruise & Tour (Self Drive)
Duration
Approximately 1 hour
Daily Departures:
May 16 - September 17
10:30am , 12:00pm, 1:30pm, 3:00pm, 4:30pm
Price from
Adult - $39.00
Child - $19.00
Easy Activity Level
Wheelchair Accessible
Venture on a spectacular cruise across Portage Lake, home to Portage Glacier, on this half-day tour. On your drive, you'll pass the Alaska Wildlife Conservation Center – a notable sanctuary that offers the chance to see native animals up close. Continuing on, board the mv Ptarmigan, the only boat operating on Portage Lake, for an unforgettable one-hour cruise across an iceberg-dotted landscape. Standing just 300 yards from a relic of the Ice Age, you'll watch for fractures of ice break off the glacier and crash into the water below. Portage Glacier is Alaska's second most visited attraction and once you see the pristine views in person, you'll understand why.
mv Ptarmigan Highlights:
mv Ptarmigan is the only boat operating on Portage Lake
Fully-narrated tour by an on-board representative of the U.S. Forest Service
Fully-enclosed, heated cabin
Expansive windows for the best views
Topside view deck offers a great vantage point for watching Portage Glacier "calve," and for visitors to enjoy the fresh, glacial air
Holds up to 149 passengers
80-foot vessel was built on site at Portage Lake to U.S. Coast Guard specifications
6.5-foot draft for minimal environmental impact
Operates on national Forest Service lands of the Chugach National Forest and is operated under a special-use permit from the USDA Forest Service
The mv Ptarmigan's sound system cannot be heard from the shore, ensuring preservation of this naturally peaceful setting for wildlife and for other visitors
Hull designed for safety in ice-filled waters
Cruise Portage Lake on Gray Line Alaska's dayboat mv Ptarmigan
Get up close to Portage Glacier aboard the mv Ptarmigan. This one-hour cruise includes narration from the National Forest Service. This sightseeing tour is a perfect option for vacationers and visiting friends & family since it is only a one hour drive from Anchorage.
Driving Directions to Portage Glacier
Take the Seward Highway south from Anchorage.
Turn left on Portage Glacier Road (milepost 78.9) approximately 48 miles out of Anchorage.
Travel 5 miles to fork in road, take the right-hand fork, travel a 1/2 mile, and turn left for the Portage Glacier Day Lodge to purchase cruise tickets.