Back to Anchorage Tours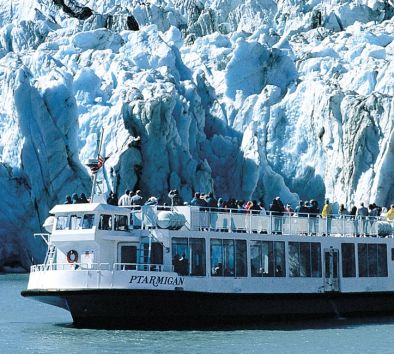 Portage Glacier Cruise Only (Self Drive)
Duration
Approximately 1 hour
Daily Departures:
May 28 -September 21
10:30am, 12:00pm, 1:30pm, 3:00pm, 4:30pm
Price from
Adult - $45.00
Child - $25.00
Easy Activity Level
Family Friendly
Nature & Wildlife
Get up close to Portage Glacier aboard the mv Ptarmigan on a one-hour cruise.  This tour is the perfect option for vacationers and visiting friends & family since it is only a one hour drive from Anchorage. Five departure times are available every day, May 25 – September 21, 2023.
Click on the departure time below to learn more and reserve your tour.  Online reservations must be made at least 5 days in advance.  For same day ticket sales, please purchase them on site at the Portage Glacier Cafe (401 Portage Lake Loop, Girdwood, AK 99587).
10:30am   12noon  1:30pm   3:00pm   4:30pm
mv Ptarmigan Highlights
      The only boat operating on Portage Lake

      Onboard narration

      Fully enclosed, heated cabin

      Expansive windows for enhanced viewing

      Topside view-deck offers a great vantage point for watching the glacier "calve," and for visitors to enjoy the fresh air

      Holds up to 144 passengers

      80-foot vessel was built on site at Portage Lake to U.S. Coast Guard specifications

      6.5-foot draft for minimal environmental impact

      Sound system cannot be heard from the shore, ensuring preservation of this naturally peaceful setting for wildlife and other visitors

      Hull designed for safety in ice-filled waters

      Operates on National Forest Service lands of the Chugach National Forest and is under a special use permit from the USDA Forest Service

If you're driving to Portage Glacier
Take the Seward Highway south from Anchorage

Take a left on Portage Glacier Road (milepost 78.9) approximately 48 miles out of Anchorage

 

Travel 5 miles to fork in road; take the right-hand fork and travel a 1/2 mile. Turn left at the Portage Glacier Café (401 Portage Lake Loop)

Arrive at 1500 Byron Glacier Road, Girdwood, AK 99587
Please note: Cruise operation is subject to weather conditions. Child price applies to age 12 and under.
Safety is our top priority
Please be assured that we have made the necessary preparations to sail in a manner that complies with local and state guidance in order for guests to safely experience the beauty of Portage Glacier.  Our operational and cleaning procedures have been expanded with extra care and attention focused on the well-being of our guests and our employees.