15 Ways to Entertain Children on Train Trips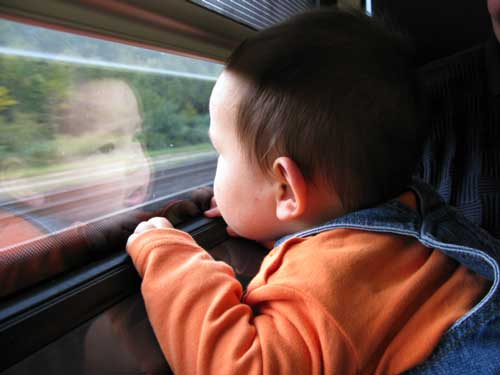 The mom purse. This large bag filled with goodies is the source of wonder for children and adults alike. Magically bottomless, this carryall contains drinks and snacks, hankies and toys—it is the key to any successful vacation. Here are some activities to pack in your mom purse to make your family's Alaska train journey relaxing and educational.
Animal Bingo
Create bingo boards with pictures of animals you might see through the large, domed windows on your journey (Or download these Printable Animal Bingo cards). Whoever gets five in a row first wins! This is a great way to engage your child with train trips. For round two, ask the kids to draw their own boards.
Mad Libs
Turn train trips into grammar adventures with this classic word game. Create your own fill-in-the-blanks pages with details from your travels or use these Mad Libs downloads. Your kids will learn the parts of speech while writing fun stories.
Train Books
Thomas the Tank Engine is a favorite train book for the younger kids and The Boxcar Children mystery series brings the romance of the rails home for older ones. With any luck, you'll have time to finally read Murder on the Orient Express.
Tic Tac Toe
Paper + pen = hours of enjoyment.
Tour the Train
Indulge your kids' adorable curiosity and make new friends by asking the train staff if they give tours of the train. Plus, if the train is long enough, the kids might just be ready for a nap at the end of their tour.
Magnetic Checkers (or Chess)
One board does it all. Teach your kids strategy while playing these timeless games.
Solitaire
Rumor has it there are 1,001 ways (or more) to play solitaire. Bring along a deck of cards and a rule book to see how many your kids can master. The cards will also come in handy for games of Go Fish, Old Maid, and War.
Scavenger Hunt
Create a list of sights you might see along your trip and ask your kids to keep watch over who fills their list out first.
I Spy
Enhance your child's verbal skills while playing a game and keeping them busy. I spy with my little eye—a happy family vacation.
Twenty Questions
Logic and reasoning are the real stars of this game, but your kids will think they are merely solving a mystery. Sometimes the most fun is figuring out the answer to the first question: animal, vegetable, or mineral?
Tangrams/Tangoes
Tangrams (aka Tangos), a game of arranging the seven tiles to form geometric shapes is a great mental exercise for people of all ages. It's one game where children and adults are often on a level playing field.
DIY Cartography
Give your kids a map of the route then ask them to draw their own. Have a conversation about what pieces of information are important to include (Trees? Cows? Mountains?). You'll stretch your thinking and theirs.
The Alphabet Game
A is for Anchorage. B is for Bison. See how many items you can spot and say in alphabetical order.
Hangman
This is another great game for practicing language skills on train trips. For added fun, pick out words that are specific to where you are.
Portable DVD Player
You don't want this electronic gadget to be your go-to for soothing the kids, but in some cases, nothing else will do.
What secret wonders do you pack in your mom purse to keep your kids entertained?
Back to Blog