Tour Alaska's Top Five Most Beautiful Ice Caves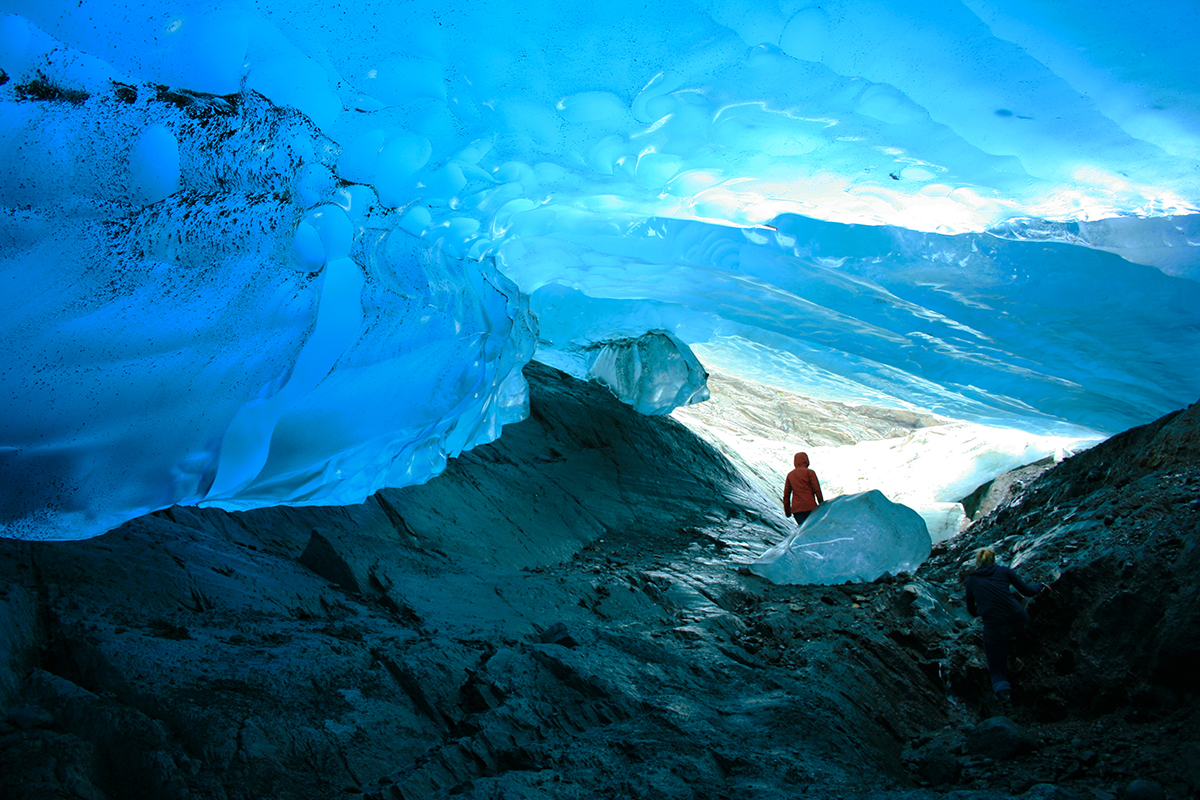 Alaska holds a secret world beneath its icy glaciers — enchanting ice caves that captivate adventurers from around the globe. Few sites on the planet can rival the wonder of ice caves, and plenty can be found in Alaska's wide-open spaces.
What are glacier ice caves?
Glacier ice caves are natural formations that occur within glaciers, typically found in regions with extensive ice masses such as Alaska. These caves are carved out by the movement of meltwater streams beneath the glacier, which can create intricate tunnels and chambers. The formation process results from a delicate balance between ice melt and refreezing, creating a dynamic environment inside the glacier. Because of this, caves are seasonal and can change from season to season or even in the middle of a season.
Venturing inside glacier ice caves can be risky and is not recommended without proper safety measures and guidance. The cave's structural stability is ever-changing, making it essential to know the glacier's current conditions and the expertise to assess its safety. The risk of collapsing ice or shifting formations can pose serious dangers and it's crucial to prioritize safety when exploring these remarkable but unpredictable subglacial wonders.
Best Alaska ice caves
Spencer Glacier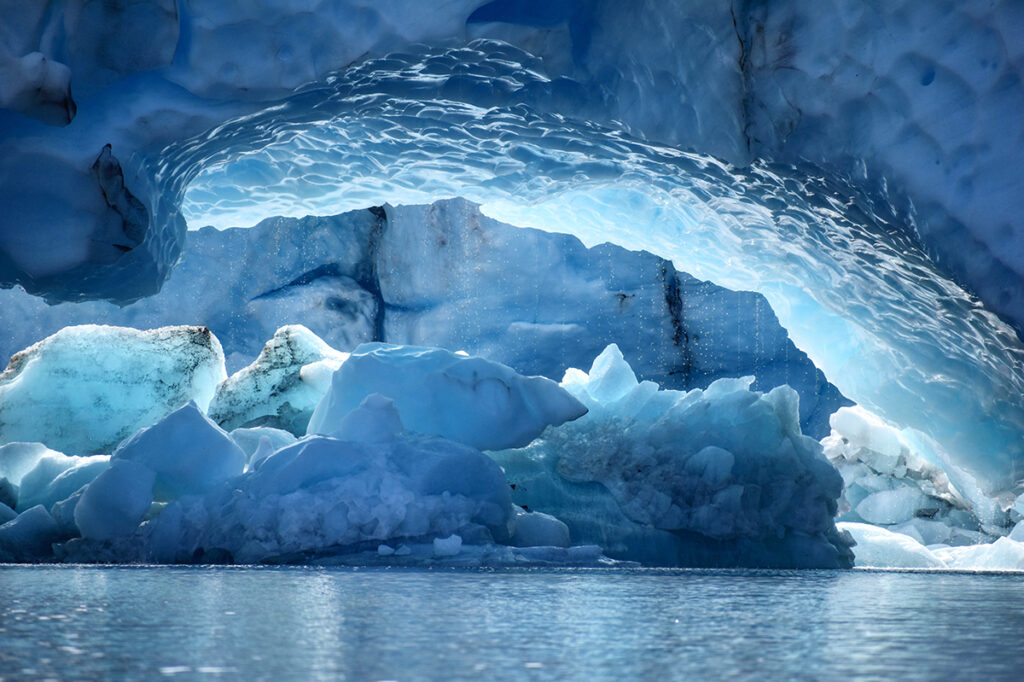 For ice caves near Anchorage, check out Spencer Glacier. It's about 60 miles south of Anchorage and sits in the Chugach National Forest. The glacier terminates in Spencer Lake, surrounded by alpine mountain vistas. Experienced guides can help travelers explore Spencer Glacier ice caves and formations.
Accessible only by train, the USDA Forest Service partners with the Alaska Railroad to offer views of Spencer Glacier through hiking or kayaking tours from the Spencer Whistle Stop. If venturing into the caves, caution is advised.
If viewing a glacier from a safe distance is more your style and you'd like to get an overview of the different types of glaciers in Alaska, book the Prince William Sound 26 Glacier Cruise with Gray Line. This tour departs from Anchorage.
Matanuska Glacier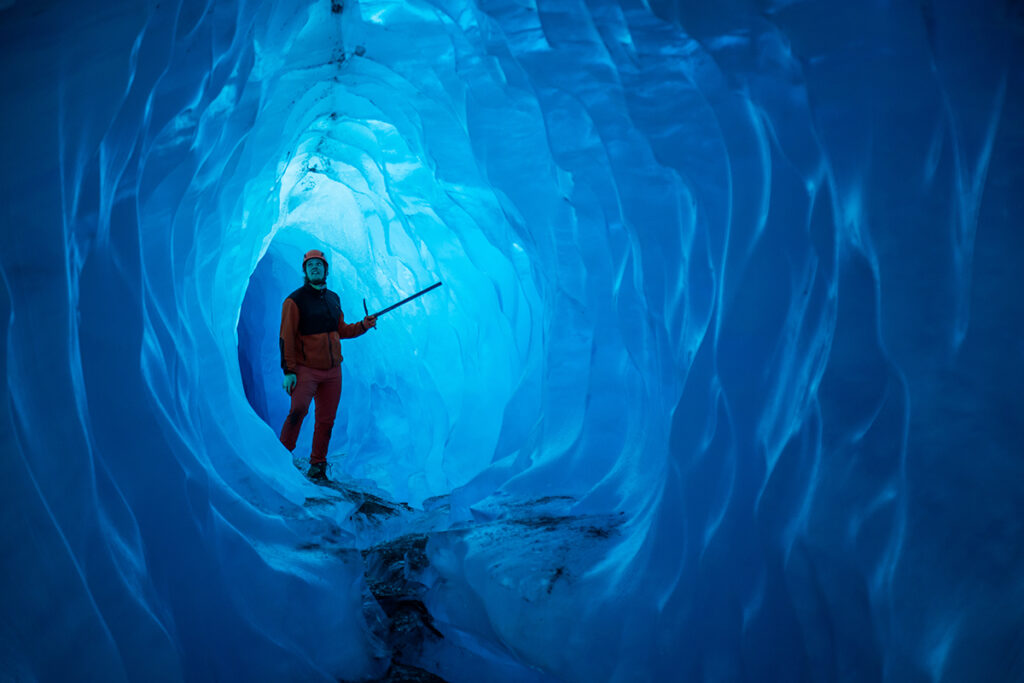 The stunning and massive Matanuska Glacier is a two-hour drive from Anchorage. This active glacier advances about a foot daily, causing its features to slowly change over time.
The water that flows from it creates the wild Matanuska River. The glacier, visible from the Glenn Highway (pro tip: the best view is at Mile 101), is 27 miles long, four miles wide, and only accessible through Matanuska Glacier Park. If you want to do more than look at this glacier, a tour must be booked. Thankfully, there are tours offered multiple times daily to help you safely explore this sea of blue.
Byron Glacier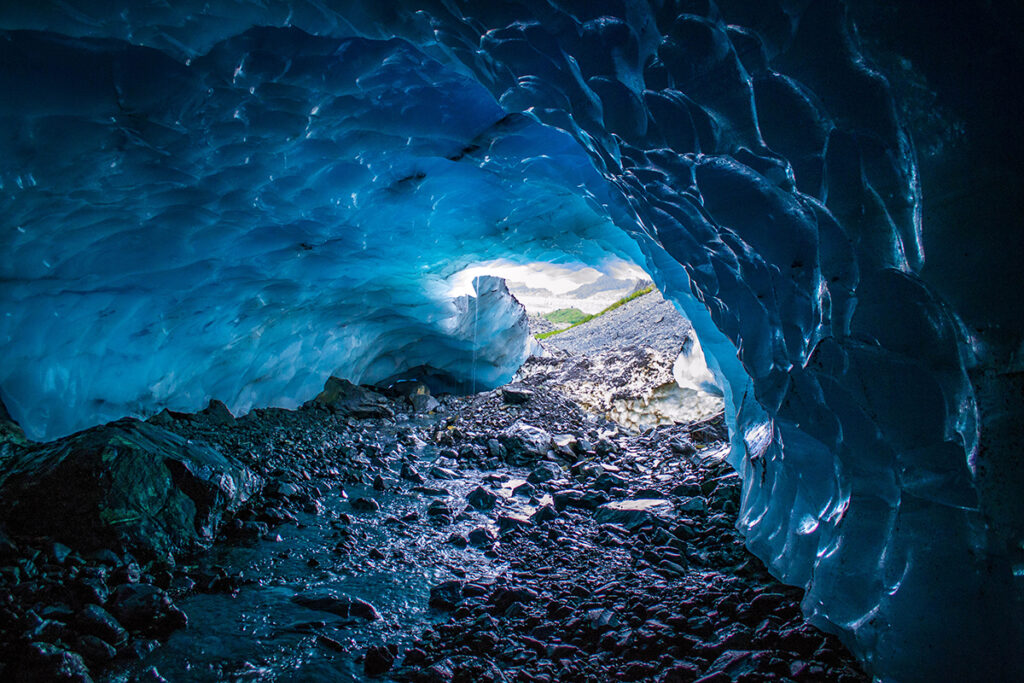 Located just over an hour from Anchorage, Byron Glacier can be reached via a short and family-friendly trail. The maintained trail to a great glacier viewpoint is about one mile each way and relatively flat. Though the trail stops, you can continue on to explore the glacier if you'd like — be prepared, you may have to cross large rocks and small streams to make it all the way to the glacier.
Upon reaching the glacier, you can walk around and explore at your own pace. The combination of the beautiful surrounding landscape and the glacier's proximity to the Chugach Mountains make it a picturesque and relatively easy glacier adventure. Remember while exploring, the glacier is active and unpredictable, so venturing into caves or climbing the glacier should be done only with vigilance, experience and appropriate gear.
Castner Glacier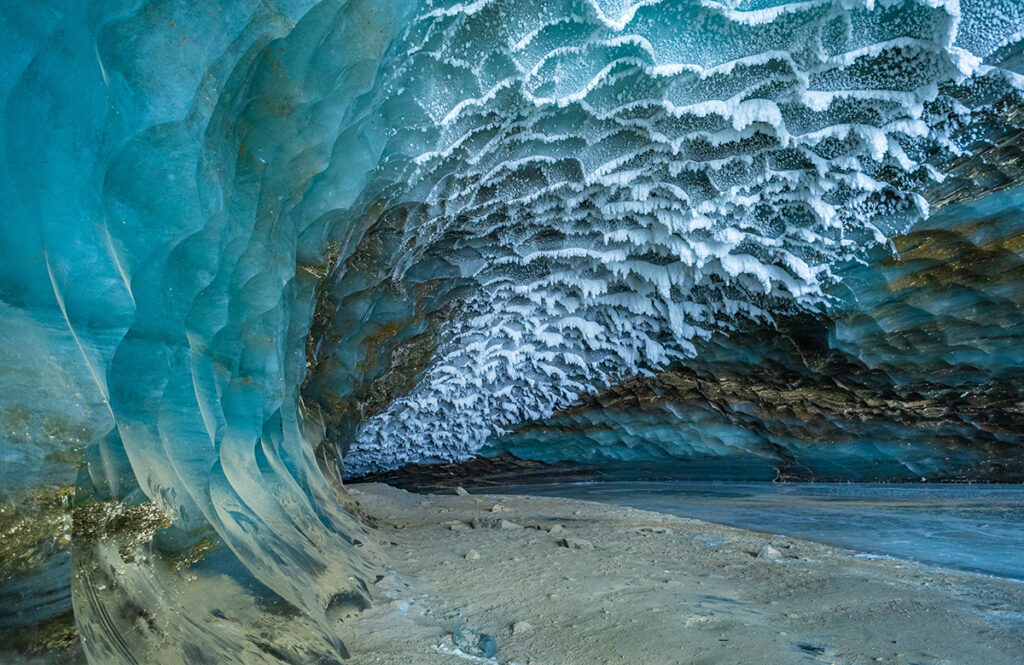 Situated around four-and-a-half hours from Fairbanks is the Castner Glacier. To reach the cave, visitors hike along Castner Creek — this is easier done in the winter when the land and creek are frozen. The hike is relatively short, a little over a mile one way, but depending on the conditions it can be challenging because the trail is not well maintained. Guides can enhance the experience by providing insights into the cave's conditions and safety. Ice caves at this glacier are characterized by impressive ice formations, including delicate ice stalactites and stunningly clear ice.
Root and Kennicott Glaciers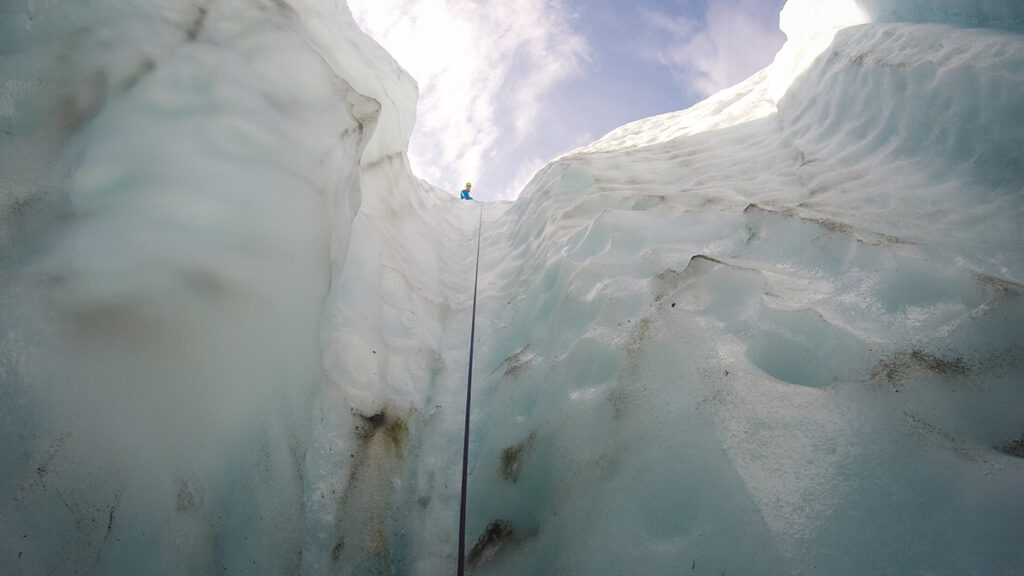 The enchanting Root Glacier is in America's largest national park, the 13.2-million-acre Wrangell-St. Elias National Park and Preserve. A visit to Root Glacier includes views of Donoho Peak and the rock-covered Kennicott Glacier, which might not look glacial, but there is actually ice underneath the dirt and stones. Due to the challenging terrain and the need for glacier travel expertise, guided tours are highly recommended for safety.
While visiting Root Glacier, you'll have the chance to explore tide pools on the glacier's surface and its ice caves. A guided tour will show you all there is to offer. Kennecott Glacier is 24 miles long, offering multiple opportunities to explore caves beneath its surface. A half-day tour is perfect for exploring this glacier.
A stay at the Copper River Princess Wilderness Lodge puts you just four miles from Wrangell-St. Elias National Park's main visitor center in Copper Center, Alaska, which is about a three-hour drive northeast of Anchorage. Glacier tours are available from the abandoned mining town of Kennecott, where you can also tour the historic mill.
General tips for visiting ice caves
Ice caves can be dangerous
Ice caves are unstable and can be dangerous, so know the risks and your own skill level before attempting to trek to these frozen vistas.
Here are six safety precautions to consider:
Check weather and glacier conditions. Avoid periods of heavy rain, rapid temperature changes or times of elevated risk for avalanches.
Inform someone of your plans and a schedule to follow in case they don't hear from you.
Travel with a group or guide. Make sure to have someone experienced in your group. A guide will be well worth the cost.
Wear appropriate safety gear. We offer a list below of necessary equipment and guides will often provide much of the gear during a tour.
Stay aware of cave conditions. Be cautious of potential falling rocks or ice, unstable formations, and cracks in the ice.
Trust your instincts and don't be afraid to speak up if you think something feels too risky.
Best months to visit ice caves
Due to the glaciers' ever-changing nature, late winter is the best time of year to explore ice caves. At this point, the glaciers should be more stable and frozen, minimizing the risk of movement.
Wear warm clothes and proper footwear
Alaska and glaciers are cold, so we recommend the three-layer approach — a base layer to protect you from moisture, a mid-layer for warmth and an outer layer for the elements. You can't go wrong with synthetic or wool long-underwear, a fleece or down jacket, and a windbreaker outer layer. Remember sturdy hiking shoes and wool socks for warmth. Remember, if you're exploring ice caves you may get a little wet and a little dirty, plan accordingly!
Bring any necessary equipment
If we haven't stressed it enough already, glaciers can be dangerous and unpredictable as much as they are beautifully breathtaking. Here is a list of the gear for your adventure:
Crampons
Ice axe
Helmet
Headlamp
Rope
Gaiters
Backpack
First aid kit
Navigation tools
Communication device (you may not have cell service)
Shovel
Whistle
Snacks and water
Sunscreen
Emergency shelter
If planning on descending into deeper sections of the cave, a harness, carabiners and belay device are a must-have.
Follow Leave No Trace principals
To do our part in protecting these special phenomena, it is good to practice Leave No Trace.  This concept involves seven principles — plan ahead and prepare, travel and camp on durable surfaces, dispose of waste properly, leave what you find, minimize campfire impacts, respect wildlife and be considerate of others. By exercising these principles, we reduce our overall footprint on the environment and ecosystems around us.
Now that you've been inspired to visit the unparalleled beauty of Alaska's stunning ice caves, be sure to peruse Gray Line Alaska's exciting Alaska tour offerings to complement your visit to one of the most beautiful places on Earth.
Back to Blog