5 Essential Winter Camping Resources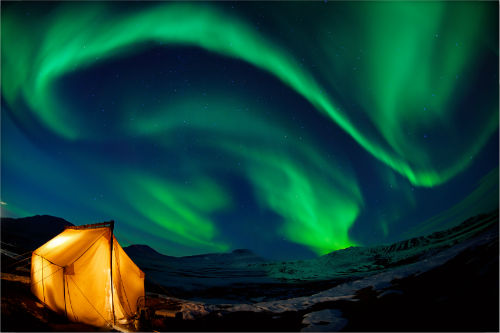 Camping during Alaska's winter is a truly magical experience. The cold air is crystal clear, the landscape is covered in untouched snow, and the northern lights are out in all their glory. Most of the wildlife is hibernating and there are no bugs in sight.
You have Mother Nature all to yourself. All you have to do is plan ahead and know how to survive the cold. When you prepare wisely, you can enjoy experiences like creating your own custom snow kitchen and viewing more stars than you thought imaginable in the night sky.
To help you in your snowy ventures, we've compiled some of the best online resources for winter camping. After learning how to build an igloo and keep your toes toasty warm all night, grab your friends and get out there!
Writer Steve Howe tells us everything from how to prep for the trip to building an igloo. It's an all-inclusive guide that will inspire you to pack up, gather your friends, and head out into the great white for a weekend of snow-filled bliss.
SNOW CAMPING MOTIVATION:
The Seattle Times published this morsel of inspiration written by winter camper Kathryn True. This great little piece is full of simple tips like knowing when to turn back due to weather or terrain. But in addition to useful information, it also includes blissful snow scenes like skiing around a frozen lake under the light of a full moon. Let's go!
This entertaining list of simple tricks will help keep you warm and dry. Tips include using car windscreen heat reflectors to insulate your sleeping bag and putting boiled water by your feet when you sleep. They're useful, quirky tips to use on your first winter camping trip. They're also great nuggets of wisdom to drop at your next get-together with friends. You'll sound like the MacGyver of winter camping, which is always a good thing.
Although published by REI, this post isn't just a sales pitch. It has lots of great ideas on how to plan out your trip so your experience is truly awesome. There are a few obvious product placements to scroll through, but afterwards await some great tips to building a camp and shelter waiting after all the jackets and boots.
There's also a brief layout of cold weather health concerns to look out for. Learn the symptoms of hypothermia, dehydration and frostbite, as well as the best ways to keep your camp sanitized. Reading those may save your life or the lives of your friends, so keep them in mind.
This brief list is written by Sebastian Copeland, a record-setting Antarctic explorer who knows the value of staying warm. From insulating our ski boots to eating our bacon, we're more than happy to take the advice Sebastian doles out for winter campers.
After reading through all these, congratulations! You have become a winter camping expert. Now it's time to take all that knowledge (along with a few friends) to the snowy mountains. Be careful and have fun out there. If we missed your favorite winter camping guide, let us know in the comments.
Back to Blog