5 Tips for Photographing the Northern Lights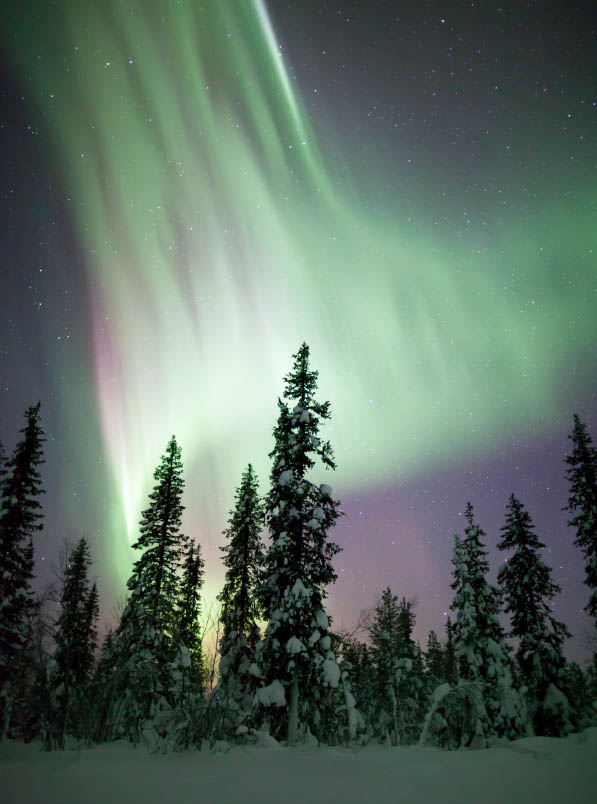 When it comes to capturing images of the northern lights, a real camera is in order. Smartphones are handy in a million different ways, but as a tool for photographing the aurora borealis, they simply won't cut it. The most brilliant display of green and red dancing lights will appear as faint, smudgy blobs at best. Many professional photographers spend their entire careers perfecting their techniques for shooting the aurora, but after implementing these tips, you'll be well on your way to taking award-winning photos of Alaska's most breathtaking natural phenomenon.
1. Make sure they're out there
Photographer David Murrow notes in his northern lights photography tutorial that above anything else, would-be aurora chasers must check the northern lights forecast, make sure the skies are clear and find a place with as little light pollution as possible. Luckily, even in the biggest city in Alaska, locations with little to no light are easily accessible.
2. Bring a "real" camera
A camera with manual settings is imperative to capturing northern lights imagery. This isn't something you can photograph with automatic settings and a flash. Photographer William Gray, author of the Northern Lights Travel Guide, suggests setting the ISO between 400 and 1000, the aperture as wide as possible to a setting of f2.8 and the shutter speed to around 30 seconds. You'll also need a tripod, because the more light you allow in through the shutter, the steadier you'll need the camera to be for a clear image.
3. Bundle up
Good photography can require long stretches of waiting for the perfect shot, and when that shot is of the northern lights, chances are you'll be waiting in some pretty cold temperatures. In order to stay comfortable, William Gray emphasizes the importance of keeping your body (especially your hands and fingers) warm with plenty of extra layers.
4. Be prepared!
Photographer Patrick J. Endres suggests bringing extra camera batteries on your excursion along with a few other staples such as hand warmers and a headlamp for navigating your way to your location and back. In Alaska, one can never be too prepared.
5. Watch it with your own eyes
Remember to take time to look away from the camera every now and then and enjoy the aurora with your own eyes. It's not every day you get to sit back and watch nature's most magnificent light show.
Back to Blog