Build Your Perfect Day in Anchorage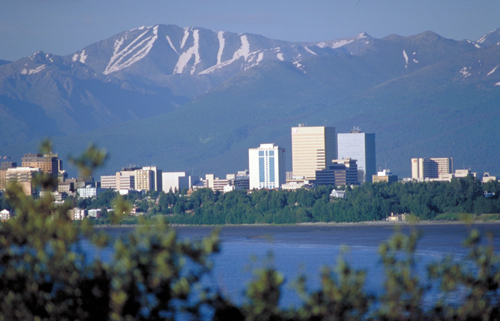 Alaska's largest city offers a long list of actions and attractions — you can't see it all in one day. But if you've got limited vacation time in Anchorage, you can build the perfect day from the options below.
A Morning in Anchorage
Anchorage rises early, so there's plenty to do in the morning hours.
Straying from your hotel, find delicious Anchorage breakfasts across the city. Check out a local favorite like the Snow City Café or Muffin Man Café 817. You'll want a nice, big breakfast to energize your day in Anchorage.
Enjoy a walk through one of Anchorage's spacious parks to explore the city's nature. The large acreage of Campbell Creek Park and Kincaid Park offers plenty of room to roam.
An Afternoon in Anchorage
There are several wonderful attractions in Anchorage that provide fun for the whole family. Take one of the many Anchorage day tours that hit several of the city's highlights, or spend some hours at one of the excellent family destinations.
See bears, elk, moose, musk ox, bald eagles, caribou and more at the Alaska Wildlife Conservation Center (AWCC) an hour's drive south of Anchorage. The AWCC is a nonprofit organization preserving Alaska's wildlife. A wide variety of Alaska's native animals find homes at the AWCC, which is a refuge for many orphaned, injured, and ill animals. Witness the beautiful animals in a natural environment, and learn about the Alaskan wilderness.
If the trip to the AWCC is too far, substitute a visit to the Alaska Zoo. In the south end of downtown Anchorage, you'll find many of Alaska's native animals, including polar bears and musk ox. The roaming areas for many of these animals is much more limited than the AWCC, but the Alaska Zoo offers many informational exhibits to learn about the native habitat of Alaska's wildlife.
A Night in Anchorage
After a long day filled with Anchorage day tours and other excitement, wind down at the perfect night spot. Moose's Tooth Pub & Pizzeria has long been hailed as the best pizza in Anchorage. But you might want to save some room to try out Wild Berry Park's unique ice cream flavors "Polar Bear," "Midnight Madness," and "Glacier Silk." Adults can find refuge at theMidnight Sun Brewing Company, where they offer a huge selection of Midnight Sun's collection including the Kodiak Brown Ale and Arctic Rhino Coffee Porter.
Create the perfect day in Anchorage for you and your family. If that seems impossible, then you better stay here longer!
Back to Blog