Day Trippers' Delight: Adventures from Anchorage by Car or Train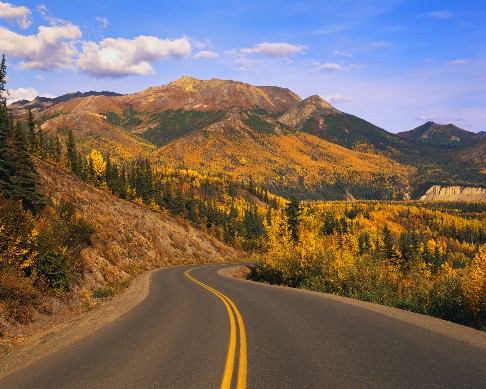 Just because you're in Anchorage doesn't mean you're anchored down. The stunning scenery of Alaska beckons you to take a day trip – by car or by train—to a nearby dream destination. Here are our top picks for soaking up the only-in-Alaska sights, all within a day's drive or ride from Anchorage.
Points South
GIRDWOOD
About an hour by car on the scenic Seward highway is the resort town of Girdwood, boasting dining hot spots, world-class skiing, glacier tours, hiking and more.
After a beautiful 40-mile drive, tuck into a delicious meal in one of Girdwood's many restaurants. Whether your tastes run to sushi or steaks, burgers or Cajun cuisine, you'll find it all in this bustling little town. Fortified, you're now ready to explore the best that Girdwood has to offer.
PORTAGE GLACIER
In summer, set sail on the comfortable MV Ptarmigan for towering Portage Glacier. Motor past bobbing icebergs as a U.S. Forest Service ranger outlines the highlights of the ride.  If you're lucky, you might witness the rumble and crash of a chunk of glacier calving into the waters of Portage Lake.
ALASKA WILDLIFE CONSERVATION
Not far from the turnoff to Portage Glacier is the Alaska Wildlife Conservation Center, where staff and volunteers care for injured and orphaned animals, including the baby animals born on site. Outfitted with walking shoes and camera, you're likely to encounter musk oxen, moose, coyotes and elk. The center is the new home for the wood bison (once thought extinct), which will be reintroduced to the Alaska wilderness in 2015.
CHUGACH MOUNTAINS
Visiting in winter?  Don't pass up the chance to pilot your own snowmobile into the backcountry with Glacier City Snowmobile Tours.  Running on private, groomed trails, this adventure takes you into the Chugach Mountains (the site of many a feature film), where you'll come nose-to-nose with glaciers, icebergs, ice caves and maybe even the local wildlife.
WINNER CREEK TRAIL
Ready to stretch your legs? Check out the newish Winner Creek Trail, a mostly flat, 5-mile hike through the Winner Creek Gorge that features a hand-operated tram. Take on this trail, and you'll earn bragging rights that you pulled yourself across a raging river in Alaska.
SPENCER GLACIER BY TRAIN
Leave the driving and navigating to the experts when you board a train bound for the heart of the Kenai Peninsular.  You'll roll down the shores of Turnagain Arm and through the Chugach National Forest, stopping at Spencer Glacier in a wildlife area that's home to moose, bears, wolves and coyotes. Just a few hours from Anchorage, you'll depart the highway corridor and reach an Alaska that's inaccessible by car. Not bad for a day trip from a busy international city!
Points North
CHUGIAK AND THUNDERBIRD FALLS
Pack a lunch in Anchorage and head 30 minutes up the Glen Highway to Chugiak and Thunderbird Falls. A short, family-friendly hike leads to a view of the towering 200-foot waterfall. In winter, the falls freeze into a spectacular ice sculpture.
EKLUTNA LAKE AND HISTORICAL PARK
From the falls, it's a quick hop to Eklutna Lake, where you can earn your outdoor adventurer badge: Hike, bike, snowshoe or ski the 27-plus miles of trail; kayak the placid lake (the primary source of drinking water for the city of Anchorage); or just relax by the shores, enjoying the views of glaciers and the Chugach Mountains.
Jump back in time when you visit Eklutna Historical Park, where Alaska Native and Russian Orthodox cultures blend in a colorful array of spirit houses (built by Native families after a person's death) and distinctive Orthodox iconography. Be sure to tour the historic St. Nicholas church—the oldest standing building in the Anchorage area.
It's a Trip Within a Trip
Rich in scenic wonders and teeming with wildlife, the highways and railways of the Anchorage area pack more "oohs" and "ahs" per mile than all the Lower 48 combined. We hope that this short sampling has whetted your appetite for a trip within a trip. For more ideas, check out our list of sightseeing tours for every type of explorer.
Back to Blog