Denali Rail Tours in Alaska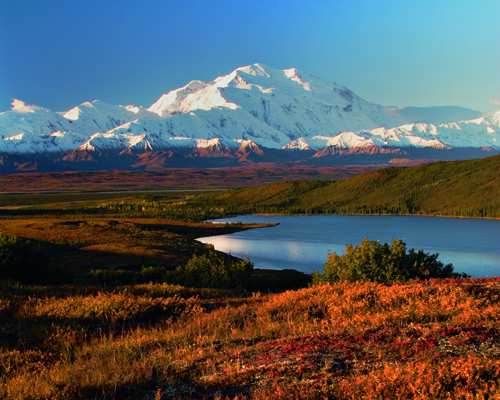 Don't let the word "tour" in Gray Line Alaska's Denali Rail Tours fool you. The only pre-planned aspects of the multi-day Denali train tours is the transportation to and from Denali National Park and Preserve from one of several Alaska destinations and the lodging. The rest is up to you and just how adventurous you want to be. These Denali National Park Rail Tour packages include travel and accommodations, and can be easily added to an existing Alaska travel itinerary.
Denali National Park Rail Tours
Offering the flexibility of independent travel and the convenience of letting someone else handle logistics, a Rail Tour to Denali National Park is a thrilling travel experience. Denali National Park takes its name from the Athabascan word Denali ("the great one"), which is what the area's indigenous people named the 20,310-foot peak in the heart of the park. Weather permitting, majestic Denali can be seen from hundreds of miles south and at several viewpoints along the rail from Seward, Anchorage or Fairbanks to the park. Gray Line's Denali Rail Tours include plenty of free time to explore the area and Denali National Park. A variety of wildlife can be discovered at Denali National Park: grizzly and black bears, caribou, and moose are common sights in the park, as well as smaller animals such as arctic squirrels and foxes. One of the most popular ways to experience the park is by hopping on a wildlife viewing tour such as the Tundra Wilderness Tour or the Denali Natural History Tour.
See Denali Your Way
To minimize traffic and interruption of natural habitat and wildlife, private cars are not allowed past mile 15 of the park's only road which meanders 92 miles into the park. Instead, bus tours bring visitors deep into the heart of Denali for unparalleled wildlife viewing opportunities including moose, bears, caribou, fox, wolves, owls, eagles and countless other critters.
Choose from a narrated tour bus or, for the truly independent traveler, consider a non-narrated shuttle bus. You can get dropped off and picked up anywhere along the road in case you want to take a longer hike into the backcountry of the park.
Visitor Centers
The Denali Visitor Center has a large exhibit hall with regular showings of the park film "The Heartbeats of Denali," and is also the starting place for all National Park Service ranger-led programs, including discovery hikes, dog-sled demonstrations, the Junior Ranger Program, and field seminars. Two more visitor centers – Toklat Visitors Center and Eielson Visitors Center – are located inside the park at miles 53 and 66 respectively and offer more information, interpretive exhibits, and a bookstore.
Spanning 6 million acres of wilderness, it's nearly impossible to see and learn everything there is to know about Denali National Park, but the Murie Science and Learning Center is another good resource. Located near the park entrance, the center combines science and research from national parks around the country and the latest information gathered through a wealth of projects managed by participating scientists and organizations.
Visit Talkeetna
Several of our Denali rail tours also stop in Talkeetna, a quaint mountain-climbing town south of the park. Every year, hundreds of climbers attempt to clamber to the top of Denali, the tallest peak in North America. Most of them begin in Talkeetna, where flight-service operators transport climbers to the mountain's base camp. Talkeetna-based tour options include riverboat trips; Jeep safaris; a zipline canopy tour with a view of the Alaska Range; and other recreational activities can all be booked from businesses along Talkeetna's main road.
What adventures do you hope for from Denali rail tours? Leave us a note in the comments.
Back to Blog