Ice cream: Alaska's favorite dessert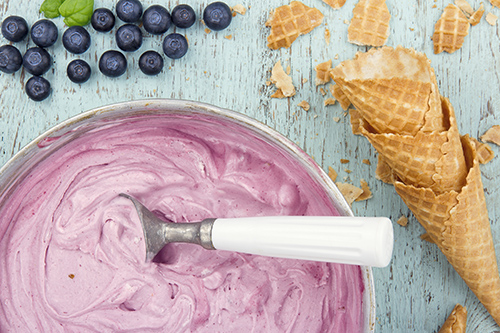 It's been claimed that Alaska consumes more ice cream per capita than any other state in the country. This is surprising information to many people, considering it's the northernmost state and famous for snow and winter. Perhaps it's Alaskans' proximity to snow that makes them so fond of ice cream, or maybe they eat so much of it because the long, sunny summer days. Whatever the reason, the love is here to stay, and so are these incredible local flavors.
The Mint Chip
If this mint colored truck doesn't make you come running, its ice cream flavors will. An Anchorage ice cream truck for adults and kids alike, The Mint Chip makes organic, handmade, small-batch ice cream and popsicles. Mint chip is the signature flavor, made with real mint grown in owner Laura Aubry's garden, plus dark chocolate flecks. Other flavors feature ingredients like Alaska cherries, Alaska rhubarb, grapefruit and rosemary.
Wild Scoops
Wild Scoops is an Alaska "microcreamery" that showcases local products in its creative process. Popular flavors include Yukon gold, a mixture of sweet cream ice cream, handmade Alaska potato-chip toffee with a fudge swirl; spruce tip ice cream made from local spruce tips; and currants & cream, made with red currants from Birch Creek Ranch. Its ice cream can be found at local farmers markets in the summer months, and they have a few permanent ice cream freezers in Anchorage at La Bodega, a specialty wine, beer and spirits store, and Summit Spice & Tea Co., a haven for homemade tea and spice blends.
COPPA
COPPA is an ice cream shop and café in Juneau with an ever-evolving roster of flavors like smoked peach, lemony snicker doodle, apple cinnamon walnut and the classic Alaska rhubarb sorbet. The shop won of the Anchorage Economic Development Corp.'s 2014 Pitch on a Train competition, standing out for its savvy idea of adding a mobile location to cater to summer cruise ship passengers. Stop into the café for coffee, lunch or a snack, but don't even think about leaving without some ice cream.
Akutaq
Sometimes known as Eskimo ice cream, akutaq isn't really ice cream at all. In fact, it's a traditional a mixture of fish, Crisco, sugar and Alaska berries. A favorite in the Alaska Native culture, the dish is creamy and delicious—some will whip this dish by hand for an hour to get the perfect fluffiness. The consistency of your akutaq is a great source of pride, and it's a dearly loved recipe passed down to family members for years to come.
Next time you're in Alaska, try a few of these exciting flavors and see why we eat more of ice cream than anyone else around.
Back to Blog