Light Up the Night: Viewing the Northern Lights with Gray Line Alaska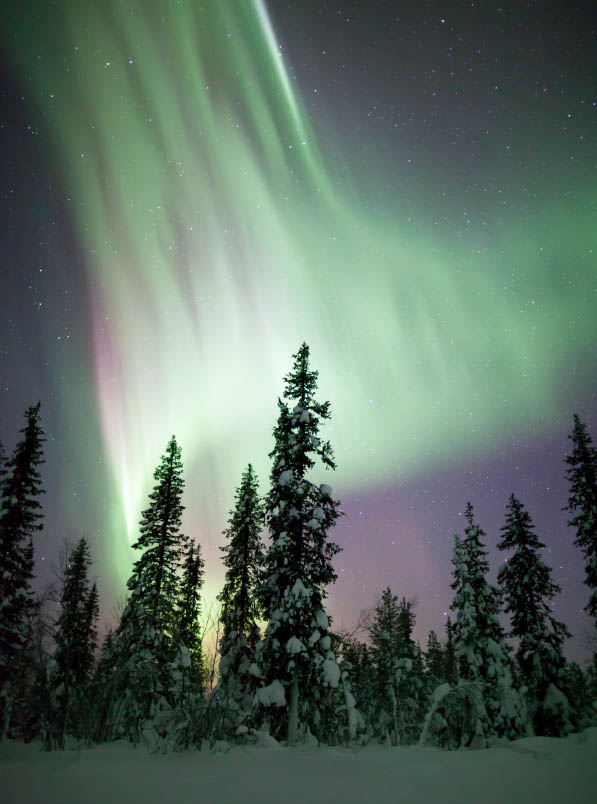 The northern lights, nature's ultimate light show, are caused by the collision of charged electrons and protons from the sun with particles in our atmosphere. There you have it. When you delve into the science of it all it's really quite interesting, but it also takes away some of the mystery. And yet, even knowing there is a very logical explanation for the gleaming lights prancing across the heavens, when you see them in person it's just pure magic.
There are no guarantees to see the northern lights (also known as the aurora borealis) when planning a trip North, but there is a lot that can be done to up your chances. When the lights are active, the farther north you go and the darker the night sky, the likelier you are to get a glimpse on a clear night. At Gray Line Alaska, some of our 2015 tours offer great opportunities to see this cosmic display.
The Luxury Denali Park Train Tour is one of our 2015 packages, taking travelers from Anchorage to Fairbanks. The Golden Heart City is surrounded by easily accessible wilderness, perfect for parking a few chairs under the stars. This roundtrip tour also stops at Denali National Park and Preserve and the city of Seward on the Kenai Peninsula, but Fairbanks and Denali are where visitors will have the best chances to view the lights due to their northern locales. Included in the package is an excursion to Chena Hot Springs, a resort known for its hot pools of mineral waters that some say possess healing qualities. Relaxing in the steaming water under the night sky might be one of the most incredible (and definitely the most comfortable) ways to experience the northern lights.
Our Multi-Day Alaska Land Tours and Sightseeing Tour Packages cover ground all over the state and even venture to the Yukon. The self-drive tours direct travelers to locations such as Denali and Talkeetna, both considered hot spots for northern lights viewing due to their distance from bright city lights.
While the northern lights are active year-round, you really can't see them if the sun is out, making summers less optimal for viewing in the Land of the Midnight Sun. So book your trip as late in the season as possible. Once you're here, be sure to check the aurora forecast to see what kind of activity is expected each night; weather permitting, the forecasts are quite accurate.
Remember: check the forecast, hope for a clear night, find a dark spot away from lights and be patient. It's worth the wait! And most importantly, whether the lights make an appearance or not, we are confident your trip will be unforgettable either way. And if you miss them the first time, you've got a great excuse to keep coming back.
Back to Blog