What You Need for Crossing the Canadian Border from Alaska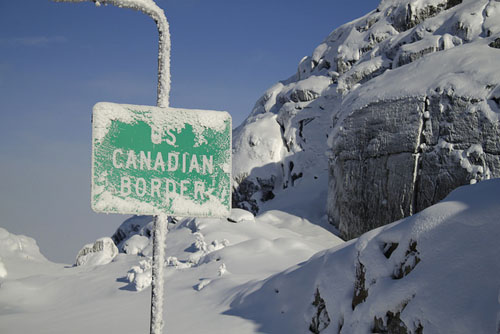 You're ready to visit Yukon from Alaska, or you're headed there from "outside" (what Alaskan residents call the lower 48 states). Travel across the border is a fairly uncomplicated process, and Canadians are friendly and happy to have you visit. But remember you'll need your passport (yes, even Americans) and maybe have a few other things to consider, depending on whether you're entering the country by plane, train, bus or car, and if you're visiting from somewhere other than the states. Here's what you will need and what you might expect when you're visiting Yukon.
For Americans: Your passport
If you're an American citizen who's visiting Canada, you can pack light: All you need is a valid passport. American visitors don't need a visa for visits of less than 6 months. But remember that most countries now require your passport to be valid for 6 months after you plan to visit – so if your passport is going to expire soon, it's better to renew. Various fees apply depending on the type of renewal, but in general, adult renewals cost $110. If you need it processed quickly, that's extra.
If your vacation is a family trip, keep in mind that minors age 16 to 18 are required to have passports unless they're traveling with a school group, sports team or similar organization. Children ages 15 and under must have a birth certificate. Divorced and separated parents should bring documents showing legal custody of the children.
Crossing the border to visit our Canadian neighbors is mostly simple and straightforward. However, there's one thing to note: If you have a criminal record outside Canada, you might have trouble entering the country – even if you were convicted of a misdemeanor or alcohol-related offense. You might first need to obtain an "approval of rehabilitation." Find out here whether you need to take action and how to proceed, and learn all of the ins and outs about traveling to Canada here.
If you're visiting from another country
If you're not American and you're ready to plan your visit to Canada, you will need a valid passport and you will probably need a visa as well. The type of visa you need depends on the purpose of your visit – business or pleasure? You might need to apply for a visa in person at an embassy or consular in your country. Some foreign visitors can apply for visas online or by mail. Check VisaHQ.com for the most current visa requirements. The site has a searchable database by nationality and country of residence to help you determine what the requirements are for entry to Canada.
What happens at the border
When you're entering Canada by air, you'll have to fill out a CBSA (Canadian Border Services Agency) Declaration card, which will be given to you by flight attendants. Some travelers entering the country by bus, boat or train also will receive these cards, which seek information about you, why you're visiting and what you're bringing into the country. Your family will only need to fill out one card collectively.
If you're entering by car, a border patrol agent will ask to see your valid travel documents and may ask questions about your travel plans and what you may be bringing into the country. If you're traveling with your pet, make sure you check Canada's travel requirements for pets before you go. Canada has special requirements for animals entering Canada, even if you're just passing through. In general, dogs and cats need proof of rabies vaccination to enter Canada.
Check on current border wait times here.
If you're a frequent visitor
You like to hop into Yukon and catch a show at Diamond Tooth Gertie's every now and then. It might behoove you to apply for the NEXUS card, a special travel card for low-risk, pre-approved travelers, produced through an agreement between the U.S. and Canadian governments. The card expedites your border crossings and simplifies your frequent travel to Canada. The NEXUS card is accepted at border crossings from key entry points to Canada from the lower 48 and at many Canadian airports.
Now that you're ready to plan your visit to Alaska and Yukon. You'll be glad you planned for this simple trip across the border.
Back to Blog