Why Denali is Best Experienced on the Back of an ATV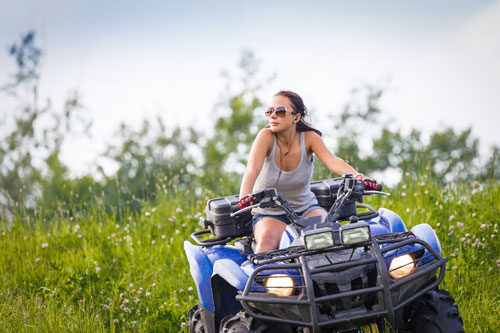 At six million acres, Denali National Park is so expansive that one of the best ways to cover the most ground is on the back of a four-wheeler. Driving your own ATV lets you see all the sights while also having a blast cruising through the picturesque landscapes. Here's why an ATV adventure tour might be the best option for your Denali visit.
You'll see wildlife
Off the main park roads, you'll have a better chance to see Denali's "Big Five," or grizzlies, wolves, Dall sheep, moose and caribou. The park's wildlife residents are diverse, including foxes, marmots, squirrels and many species of birds. Stop the ATV now and then to listen to who might be nearby, observing your progress through the park. Commonly seen species of birds include the ptarmigan, ravens and gray jays.
If you don't see the elusive grizzly or brown bear, you might instead find the black bear. The Black Bear ATV Adventures pairs you with experienced nature guides who can help point out tracks and favorite black bear feeding grounds as you watch for wildlife. Wild creatures will likely be more nervous about you than you are about them, but it's always best to keep a respectful distance, even when you have the advantage of a quick getaway. Remember, you're visiting their territory.
You can get up close to Alaska history
Some tours like the Black Diamond ATV Adventure will take you to places where you can see historical artifacts you might not have otherwise seen. You might travel along old coal mining roads established by early prospectors, see old crumbling cabins, or stop by archeological dig sites where Athabascan artifacts were found. Alaska has a rich and varied Native Alaskan history as well as its history as a mining and prospecting frontier. Learn about it while you're wheeling through Denali's spectacular vistas. Or combine a history lesson with a search for a geocache and hidden goodies during an ATV treasure hunt tour.
You'll see Alaska's backcountry
Unless you're a serious backpacker, you'll likely stick to roads and trails when you tour Denali. But you can rev up that four-wheeler. Getting on that ATV gives you an active wilderness experience without carrying your life with you on your back. Most tours allow you to be independent and stop whenever a photo opportunity presents itself. Plus, you can get a little closer to the earth (as in creeks and mud) than if you stayed on the tour bus. Check out this blog by a Denali Princess Lodge employee who took an ATV day trip himself. Or try your own tour, like the Stampede Wilderness ATV Adventure, which uses amphibious ATVs to gives riders a special off-trail experience. What better way to get that perfect Denali photo op?
Remember, not all ATV adventures are the same. Some aren't appropriate for people who have neck and back problems, are pregnant, or are too young. Ask the Gray Line tour experts which ATV tour through Denali is right for you and book your adventure today!
Back to Blog