A Voyage through Alaska's Scenic Byways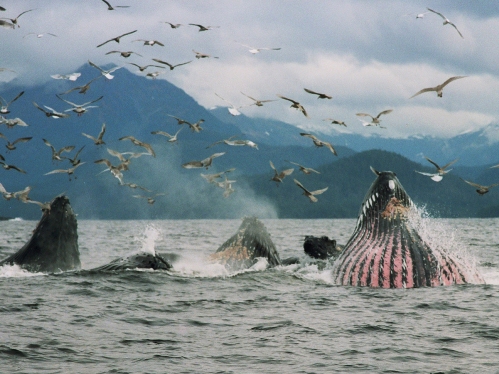 Much has been written about the beauty of Alaska, and for good reason: there are not many places like Alaska. The 49th state is so large and diverse with unfathomable amounts of unspoiled land and wildlife. Much of this splendor is accessible by motorcoach or rail on a Gray Line Alaska tour. Five of Alaska's highways received both state and national recognition for their scenic qualities. When you book a Gray Line Alaska land tour, you are guaranteed to visit at least one of the Alaska scenic byways – several of them are featured in the company's tour portfolio.
Seward Highway

The highway with the most designations is the Seward Highway. This 127-mile route originates in Anchorage and travels south along Turnagain Arm. It skirts the base of the Chugach Mountains before entering the Kenai Peninsula and continuing on to its end at Seward, a quaint fishing town that serves as the gateway to Kenai Fjords National Park.
This world-renowned route was designated a scenic byway by three separate entities: the USDA Forest Service, the State of Alaska and the National Scenic Byway Program which recognized it with its highest designation level – All-American Road. It is the only highway in the state with triple designation. Its sights will accompany you onboard a luxurious motor coach on a number of Gray Line Alaska tours – including the Escorted Great Land rail and coach tour.
Glenn Highway
If your trip begins in Fairbanks or takes you north to Denali National Park and Preserve from Anchorage, you will travel along two other Alaska scenic byways: the Glenn Highway – a stunning traverse through Southcentral Alaska Interior that bisects the state east to west from Anchorage to Glennallen – and the George Parks Highway which runs north south from Wasilla to Fairbanks.
George Parks Highway
The George Parks Highway passes through Denali State Park and Denali National Park before reaching the state's second-largest city, Fairbanks. The Parks Highway also offers the best view of Mount McKinley towering above the rest of the Alaska Range. Both the Glenn and the Parks Highways received national and state scenic byways designations.
Can't decide which area you would like to see most? Gray Line Alaska's eight-day Escorted Great Land rail and coach tour includes the Seward, Parks, and Glenn highways, stopping along the way at several must-see destinations including Denali National Park, the Alaska Wildlife Conservation Center and a tram ride at Alyeska Resort in Girdwood.
Choose from activities like sightseeing or a riverboat tour in Talkeetna, and in Seward, venture out deep into Kenai Fjords National Park on a glacier and wildlife cruise that is part of the tour package. Dozens of other Gray Line tours feature one or more of the state's scenic byways, so choose your tour and prepare to be amazed.
Back to Blog