19 Parks Highway Highlights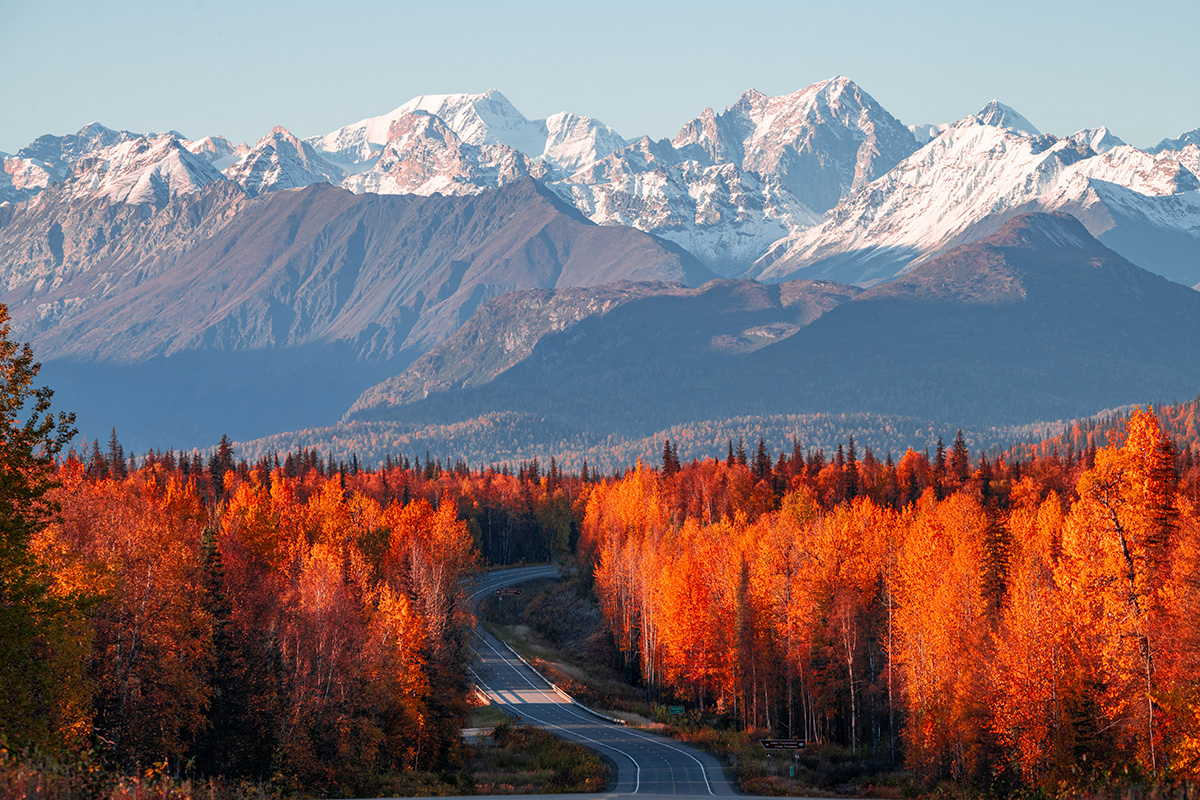 The Parks Highway in Alaska was completed in 1971 and named for former territorial governor George Alexander Parks in 1975. Also called Highway 3, the Parks Highway stretches 362 miles through gorgeous Alaska scenery and offers the best access to Denali National Park and Preserve  — making it one of the best road trips in Alaska!
You can make the full trip in about six hours without traffic or stops. But we prefer a leisurely pace, allowing you to explore some of Alaska's famous and lesser-known offerings. Keep an eye out for the countless wildlife you might spot, including moose, bears, and caribou!
Whether driving from Anchorage to Denali or all the way to Fairbanks and back, special stops along the Parks Highway give you the real Alaska experience. Here are a few of our favorite places to stop and stretch along the Parks Highway, from Anchorage to Fairbanks.
Stops between Anchorage and Denali
1. Mile 12: Eagle River Nature Center
Eagle River Nature Center offers a perfect introduction to Alaska's natural wonders. Check their calendar for upcoming programs or events and explore the four trails catering to hikers of all levels. Immerse yourself in the stunning mountain and nature views as you begin your journey along the Parks Highway.
2. Mile 42: Wasilla
Stock up on snacks if needed and explore Wasilla's rich history. Visit the Dorothy G. Page Museum, dedicated to the "Mother of the Iditarod," and the Iditarod headquarters, where you can experience sled dog rides and learn about the famous race. Additionally, the Museum of Alaska Transportation & Industry showcases the development of Alaska's technology and transportation systems.
3. Mile 42 Hatcher Pass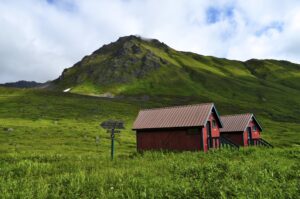 A little bit out of the way but worth every extra mile. Take a detour in Wasilla for a stop at Hatcher Pass. During the summer, you can drive through the entire pass, which typically opens around July 4 and remains accessible until snowfall in September or October. This adventure offers breathtaking scenic views, opportunities for hiking, berry picking and more. Also located in Hatcher Pass is the Independence Mine State Historical Park.
4. Mile 67: Nancy Lake State Recreation Area
At mile 67.2, you'll find the serene 22,685-acre Nancy Lake State Recreation Area. Take a break from driving and relax amidst the pristine forests and lakes. Enjoy canoeing, fishing, or camping in this idyllic setting.
5. Mile 69: Willow
Willow serves as the official restart location of the Iditarod dog sled race. During summer, you can take kennel tours and enjoy rides in wheeled carts. Engage in fishing, boating, and camping activities.
6. Mile 90: The Dr. Seuss House
At mile 90, you'll encounter a unique attraction known as the Dr. Seuss house or Goose Creek Tower. This architectural marvel is a must-see, showcasing a whimsical and unconventional design amidst the Alaska landscape.
7. Mile 99: Talkeetna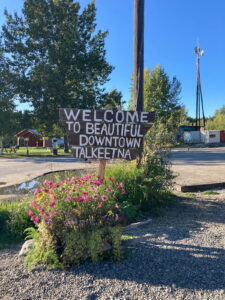 A 14-mile detour off the main highway takes you to the charming town of Talkeetna, which served as the model for the television show "Northern Exposure." It's a great place to stop and refuel (your car and yourself) on your way to Denali. Some local favorites for food include Talkeetna Spinach Bread, a tasty food truck; Denali Brewpub; and Mountain High Pizza Pie. Check out Conscious Coffee or Flying Squirrel Bakery and Café in the morning if you stay the night. For a drink, Denali Brewing Company has something for all, with beers, ciders, cocktails, and food!
There are plenty of things to do in Talkeetna. For a memorable experience, consider taking a zipline tour or a river float.

8. Mile 134.8: Denali View South
Marvel at the majestic view of Denali, North America's highest peak, at Mile 134.8. This vantage point offers a breathtaking sight that will leave you in awe. The nearby Mt. McKinley Princess Wilderness Lodge provides a comfortable stopover for those seeking an elevated experience amidst the Alaskan wilderness.
9. Mile 135.4 K'esugi Ken
Nestled in the breathtaking K'esugi Ken Valley is the perfect starting point for exploring Denali State Park and tackling the renowned K'esugi Ridge Trail. The K'esugi Ken Campground offers well-equipped campsites, picnic areas, and facilities so visitors can enjoy a comfortable stay. The challenging 27-mile K'esugi Ridge Trail offers hikers panoramic views of majestic mountains, including Denali, as they traverse diverse landscapes, from meadows to forests and alpine tundra. Wildlife encounters, such as moose and caribou, add an extra touch of magic to this adventure. Just be sure to carry some bear spray with you!
10. Mile 147: Alaska Veteran's Memorial
The Alaska Veteran's Memorial is the first to honor the state's veterans. Erected in the summer of 1982, this memorial consists of five 20-foot concrete panels representing the Army, Air Force, Navy, Marines, and Coast Guard. A plaque was added in 1999 to honor members of the U.S. Merchant Marines during World War II.
11. Mile 163: Denali View North
Mile 163 offers another viewpoint to catch a glimpse of Denali. From here, you can witness the grandeur of the mountain and capture stunning photographs.
12. Mile 174: Hurricane Gulch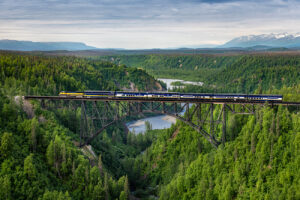 Driving along the Parks Highway, you will cross Hurricane Gulch. There is a road bridge and a railroad bridge, both engineering marvels that span a deep and narrow canyon, offering incredible views of the surrounding landscape.
13. Mile 188.5 The Igloo
Roadside attractions add an element of whimsy to any road trip, and the Igloo is no exception. This abandoned 80-foot unfinished hotel has become an attraction for its oddball and sadly crumbling appearance. Developers had big dreams in the 1970s but were unable to meet building codes.
14. Mile 210: Cantwell
At mile 209.9, make a stop in Cantwell, known for its annual Cantwell Music Festival, which typically takes place in early July. Enjoy the festivities and summer buzz. If you're up for an adventure, consider diverting to the old Denali Highway (Highway 8), a gravel road known for its breathtaking mountain views and wildlife spotting.
15. Mile 237: Denali National Park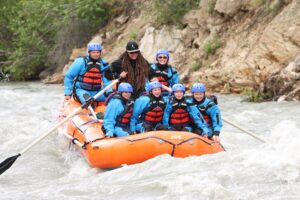 We know this stop isn't exactly a secret — but you might not know you can ditch your car for a while and join dozens of Denali sightseeing tours while visiting one of Alaska's favorite parks. Try pack rafting, mountain golfing, fly fishing, or dinner at a musical theater. You can experience the park the way you would most enjoy — whether by high adventure or low-key, relaxed fun. The park's visitor center offers hop-on, hop-off bus tours during the summer that take you further on the park road than you can travel by car. The tours range from five hours to 12 and offer fantastic wildlife viewing opportunities.
Stops between Denali and Fairbanks
16. Mile 249: Healy
Originally a coal mining town, Healy is now home to significant coal industries and is a popular tourist destination due to its proximity to Denali.
17. Mile 283.5: Anderson
Check out this small community and their Bluegrass Festival during the last weekend in July.
18. Mile 304: Nenana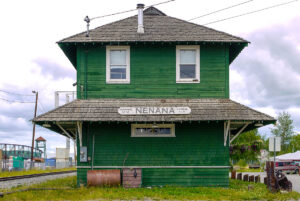 Nenana is home to the Alaska State Railroad Museum, located at the Nenana Depot. Immerse yourself in the rich history of Alaska's railroad system and learn about its impact on the state's development.
19. Mile 344: George Parks Highway Memorial
The last stop before Fairbanks offers the chance to learn more about the man for which the highway is named at the George Parks Highway memorial. This stop presents stunning scenery along with a plaque dedicated to George Parks.
You will reach Fairbanks at mile 356.
Frequently Asked Questions
Is there cell service along the Parks highway?
Cell service availability varies along the route. While major towns like Wasilla, Talkeetna, and Fairbanks have cell coverage, areas such as Hatcher Pass, deep into Denali National Park, or campgrounds and hiking trails may have limited or no service.
What is the distance from Fairbanks to Anchorage?
The drive is 359 miles, it takes a little over six hours if you don't make any stops.
Is Fairbanks or Anchorage closer to Denali?
Fairbanks is closer. The distance from Fairbanks to Denali is 120 miles, a little over a two-hour drive. From Anchorage to Denali is 240 miles, so double the distance.
What are the road conditions?
The road conditions are well kept along the Parks Highway. If diverting off the main highway, the conditions vary with some gravel or unpaved roads.
Can I drive the Parks Highway in the winter?
Yes, just be prepared. We recommend having extra blankets, warm layers, snow shovels, and other emergency supplies to be safe. We also urge having snow tires and four-wheel drive to handle snow or ice. Remember many attractions may be closed during winter months from September or October until April or May, so plan accordingly.
Where to stay between Anchorage and Fairbanks

Campgrounds
Nenana RV Park and Campground: This campground is just before Fairbanks and offers many amenities.
Nancy Lake State Rec Area: A popular spot for recreation, they have cabins as well as tent and RV camping.
Willow Creek State Rec Area: In the Susitna River Valley, this campsite is surrounded by lakes, ponds, and wildlife.
Montana Creek Campground: This is a popular spot for fishing and offers proximity to Talkeetna.
Talkeetna RV and Boat Launch: Right in downtown Talkeetna, this campground is perfect for spending the day exploring the town.
K'esugi Ken Campground: Located past Talkeetna, K'esugi Ken is known for the K'esugi Ridge hike as well as stunning views of Denali.
Byers Lake Campground: This campground is in Denali State Park, with canoe and kayak rentals available.
Riley Creek Campground: The closest campground to Denali, this is the best spot for exploring the park and mountain.
Hotels and Lodges
Denali Princess Wilderness Lodge: Located a mile away from Denali National Park, this lodge is ideal for relaxing and enjoying your Denali adventures.
Mt. McKinley Princess Wilderness Lodge: For views of Denali, a shuttle service to Talkeetna, and various excursions, the Mt. McKinley Princess Wilderness lodge is a true wilderness retreat.
McKinley Chalet Resort: This lodge provides a cozy and comfortable stay near Denali National Park, allowing guests to immerse themselves in the natural beauty.
Fairbanks Princess Riverside Lodge: This riverside retreat offers a tranquil ambiance for exploring, while being close to all Fairbanks has to offer.
Westmark Fairbanks: This hotel combines modern comforts with Alaskan hospitality and is conveniently located right downtown.
Back to Blog