Tour Alaska's Top 4 Most Beautiful Ice Caves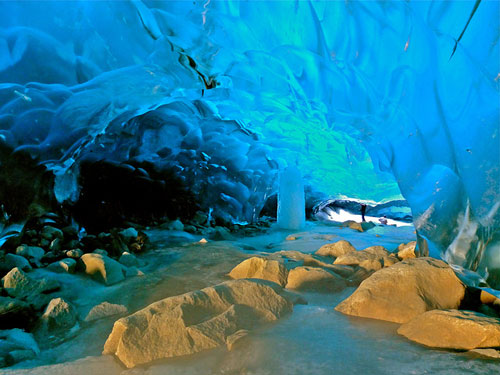 Few sites on the planet can rival the wonder of glacier-fed ice caves, and there are plenty to be found in Alaska's wide open spaces. Visits to popular glaciers can sometimes include tours of these beautiful ice caves. And while you're planning your excursions, browse through these Alaska tours to make your adventure complete.
A word of warning: the very nature of glaciers make ice caves unstable and dangerous, so know the risks and your own skill level before attempting to trek to these frozen vistas by yourself.
Mendenhall Ice Caves
The Mendenhall Glacier ice caves are among the world's most stunning, with their eerie, swelling blue domes that resemble the underside of a rapid river, flash-frozen. They're found in Southeastern Alaska's rainy Tongass National Forest, but once you arrive you might think you've somehow traveled beyond Alaska and ended up in a fantasy land far, far away.
Like hidden treasure, these caves take a lot of skill to find, and professional guides are strongly recommended.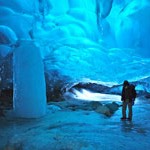 It is a six- to eight-hour hike to reach the iconic cave and you must bring the necessary glacier-travel equipment such as crampons and an ice axe. The land route is unmarked and can be steep and slippery. However, if you've got cold-water paddling skills, the caves can be accessed by lake.
Check with Tongass park officials about local guide companies that can take you there. If you are among the skilled and adventurous explorers who decide to go it alone, tell someone where you're going and then brag about it when you get back.
Spencer Glacier, Chugach National Forest
This massive glacier is about 60 miles from Anchorage, south of the Turnagain Arm area of the Kenai Mountains in the Chugach National Forest. The glacier terminates in Spencer Lake surrounded by alpine mountain vistas.
Accessible only by train, the USDA Forest Service partners with the Alaska Railroad to offer views of Spencer Glacier through hiking or kayaking tours that leave from the Spencer Whistle Stop. Visitors can explore and learn about glacial features such as crevasses and ice caves. Again, caution is advised: the glacier was named for a railroad employee who disappeared in 1905 while trekking on the ice.
If viewing a glacier from a safe distance is more your style, and if you'd like to get an overview of the different types of glaciers in Alaska, take the Prince William Sound 26 Glacier Cruise that departs from Anchorage.
Matanuska Glacier Cave
A quick drive from Anchorage and even quicker drive from Palmer, you can view the stunning and massive Matanuska Glacier. This active glacier advances about a foot daily, slowly changing its own features. The water that flows from it creates the wild Matanuska River. The glacier itself, visible from the Glenn Highway (Pro tip: the best view is at Mile 101) is 27 miles long and four miles wide and accessible through the private Matanuska Glacier Park. For a hike to the caves, bring along a local guide who can ensure you're stocked with the appropriate gear.
Root & Kennicott Glaciers
The enchanting Root Glacier is located in America's largest national park, the 13.2 million-acre Wrangell-St. Elias. A visit to Root Glacier includes views of Donoho Peak and the rock-covered Kennicott Glacier, which might not look glacial, but there is actually ice underneath the dirt and stones.
While visiting Root Glacier, you'll have the chance to explore tide pools on the surface of the glacier as well as its ice caves, deep ravines, and moulins – the holes that melting water cut into the ice. The Jumbo Creek ice cave in Root Glacier lets you stand inside a gorgeous space enclosed by blue-ice.
A stay at the Copper River Princess Wilderness Lodge puts you just four miles from Wrangell-St. Elias National Park's main visitor center in Copper Center, Alaska, about a three-hour drive northeast of Anchorage. Glacier tours are available from the abandoned mining town of Kennecott, where you can also tour the historic mill.
Now that you've been inspired to visit the unparalleled beauty of Alaska's stunning ice caves, be sure to peruse the exciting Alaska tour offerings from Gray Line Alaska to complement your visit to one of the most beautiful places on Earth.
Back to Blog