Family-friendly day trip from Anchorage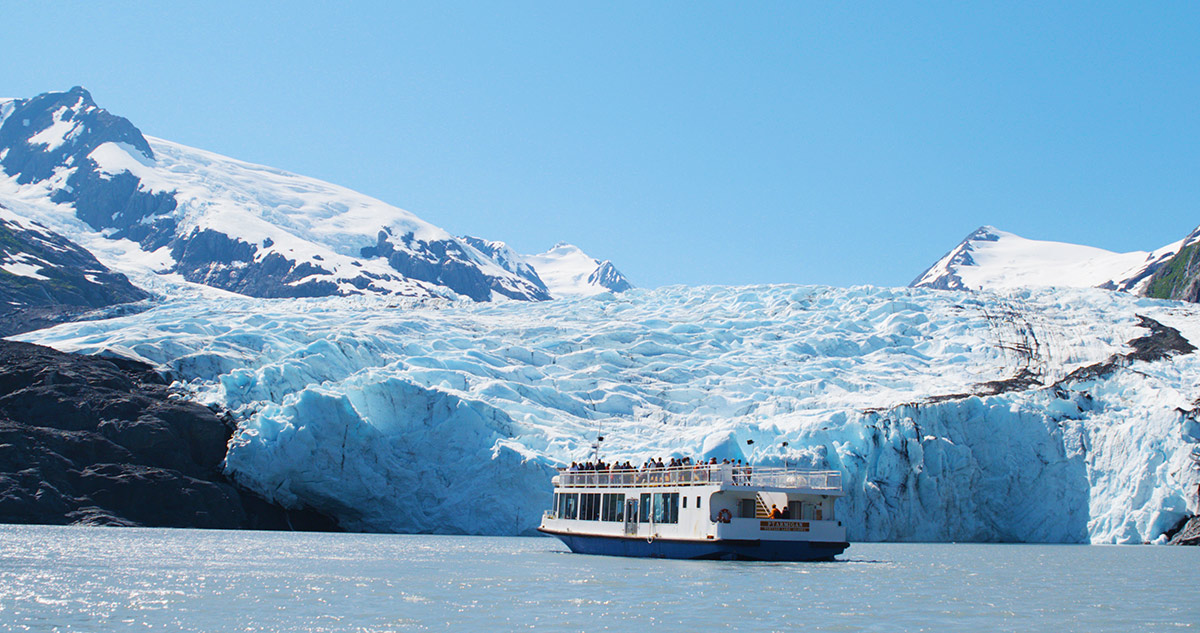 Taking a trip with the whole family? A day trip just south of Anchorage with Portage Glacier Cruises is a great family activity to consider. Add in some of our other favorite stops and make a whole day out of it!
Portage Glacier Cruises, located on Portage Lake, is about an hour drive from Anchorage, just past Girdwood. The cruise is the only of its kind on Portage Lake, bringing guests up close to the face of a live glacier. The cruise departs multiple times a day, offering guests a rooftop viewing area or a seat in the heated cabin. In addition to the glacier views, passengers are treated to wildlife viewing and often see bears, goats and several species of birds.
Make sure to stop at Portage Glacier Cafe for lunch, a coffee or ice cream cone on your way to the boat. While you're there, shop the gift shop for Alaska treasures to bring home.  This is also where you can buy tickets for the cruise if you have not purchased them ahead of time.
On the way to Portage Lake, visit the Alaska Wildlife Conservation Center. It is home to several native-to-Alaska animals. Favorites include the black and brown bears, moose and wolves. The animal habitats are all accessible by foot or car, making it a fun outing regardless of the weather. There are even options for one-on-one interactions with certain animals, and depending on the time of day you visit, you may be able to catch a bear at meal time.
After the cruise, drive on to visit the town of Whittier. To get there, you'll drive through North America's longest tunnel, the 2.7-mile Anton Anderson Memorial Tunnel. Check out Emerald Cove Trail in Whittier to enjoy more Alaska scenery. This approximately 7-mile trail brings hikers past several waterfalls and concludes at a beach cove. It's appropriate for all ages but can be muddy at times. There is also excellent berry picking along the trail in the late summer!
On your way back to Anchorage, stop in Girdwood for dinner at a local restaurant. Coast Pizza is located right next to the highway for a convenient grab-n-go option, or venture into town to dine at Spoonline Restaurant, Jack Sprat, The Bake Shop and more!
As you drive the scenic highway to and from your Portage day trip, keep your eyes open for the Turnagain Arm Bore Tide, a wave formed when low tide and high tide crash into each other. On a good day you might even catch surfers out catching the wave!
Book your glacier cruise today with Gray Line Alaska.
Back to Blog