Get up close to one of Alaska's most famous rivers of ice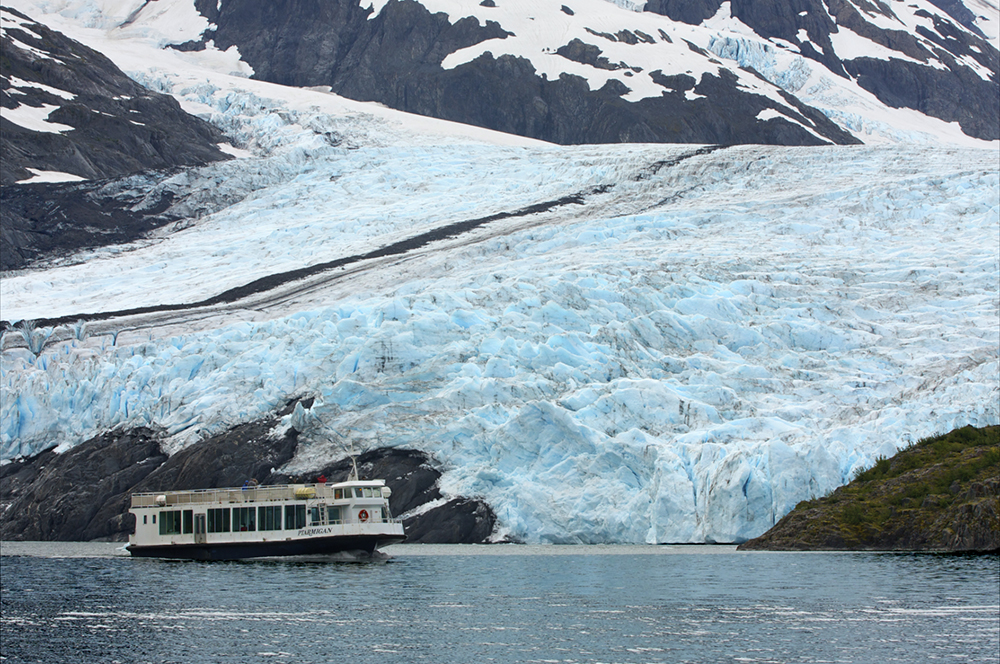 If experiencing nearly indescribable glacier views is on your Alaska bucket list, Portage Glacier Cruises is a must. You don't have to take our word for it; the excursion has been awarded the 2017 TripAdvisor Certificate of Excellence. To be awarded the certificate means that Portage Glacier Cruises has regularly been given great reviews by travelers on TripAdvisor. As a multi-year Certificate of Excellence winner, we think you'll see why this excursion is a favorite of so many travelers.
A Portage Glacier cruise offers one of the best views of this mighty Alaska glacier. The mv Ptarmigan is the only boat operating on Portage Lake, and since the massive glacier has receded out of view, it is one of the most accessible ways to view the face of Portage.
Located just 50 miles outside of Anchorage, a venture to Portage Glacier is perfect for a day trip. The driving route takes travelers down the scenic Seward Highway. With steep mountains on one side and Cook Inlet on the other, wildlife like Dall sheep, moose, swans, whales and more can often be spotted. To buy tickets for the hour-long cruise, stop by the Portage Glacier Day Lodge. The family-run lodge is also a gift shop that sells everything from trinkets to Alaska-made Lighted Forest candles and Alaska Native art. Serving cafeteria-style food and hand-dipped ice cream, it's also the best place in the area to eat.
The cruise itself is narrated by an onboard U.S. Forest Service representative so, along with the views, travelers will get an education about all of the things they see on their trip. Locals will say that the glacier valley is often cloudy and rainy but, not to fear! The mv Ptarmigan has a fully enclosed, heated cabin as well as a topside viewing deck offering the best vantage points for watching the glacier calve in any condition. (Pro tip: don't cancel the trip because the weather is bad – cloudy and rainy conditions actually bring out the glacial blues for even better photo opportunities!)
The mv Ptarmigan was built on site at Portage Lake for Portage Lake; the hull is designed for safety in ice-filled waters and operates daily mid-May to mid-September.
Back to Blog