Must-See Stops on Your Parks Highway Driving Trip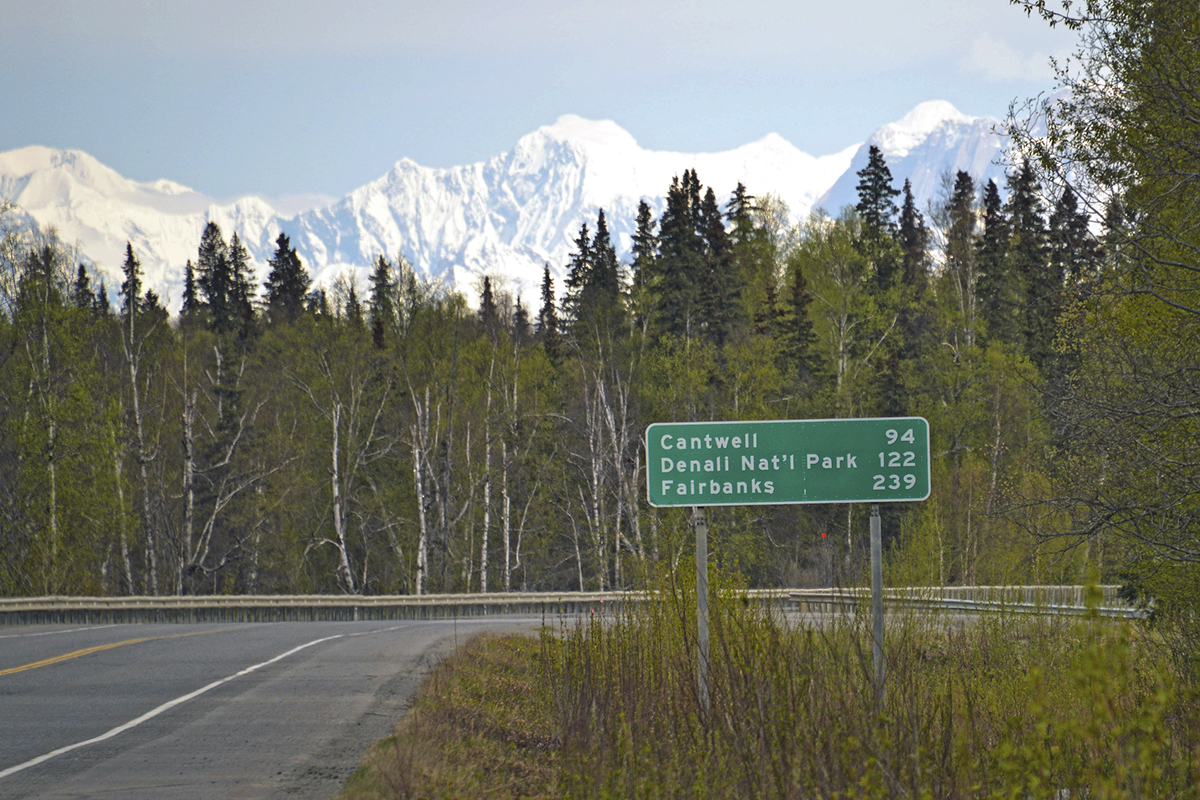 Whether you're driving from Anchorage to Denali or all the way to Fairbanks and back, there are special stops along the Parks Highway to give you the real Alaska experience. You can make the full trip in about six hours without traffic or stops. But we prefer a leisurely pace, allowing you to explore some of Alaska's famous and lesser-known offerings. Here are a few of our favorite places to stop and stretch along this historic and famous highway.
About the Parks Highway
The Parks Highway was completed in 1971 and named for former territorial governor George Alexander Parks in 1975. Also called Highway 3, the Parks Highway stretches 362 miles through gorgeous Alaska scenery and offers the best access to Denali National Park. You can see Denali – formerly known as Mt. McKinley – from the highway. Check out The Milepost's quick reference log of main roadside attractions along the Parks Highway. And be sure to watch out for moose.
Wasilla
Travel north from Anchorage on the Glenn Highway (Highway 1) to catch the Parks Highway east of Wasilla. Wasilla is both the best place to stock up on snacks at the beginning of your trip and a historic gem to explore. Driving west, you'll find the Old Independence Mine, a state historic site that also allows gold panning on the property. You'll also find a historic town site and museum dedicated to Dorothy G. Page, "Mother of the Iditarod." Watch for special events and celebrations in 2017, Wasilla's centennial.
Nancy Lake State Recreation Area
At mile 67.2 from Anchorage, you'll find the 22,685-acre Nancy Lake State Recreation Area. If you're looking to relax with canoeing, fishing or camping, this pristine forest-and-lake land is an idyllic setting. It offers campgrounds and 13 rustic cabins for rent on a nightly basis.
Willow
Find the Miner's Last Stand Museum at mile 68.7 and peruse artifacts of Alaska's history. Willow is also the official restart location of the Iditarod dog sled race.
Talkeetna
Find the Talkeetna spur road at mile 98.7 and follow it 14 miles to this quirky town that's populated with interesting shops, taverns and restaurants. The town was the model for the television show "Northern Exposure." It's also a great place to stop and refuel (your car and yourself) on your way to Denali.
The Igloo
If you enjoy roadside attractions like Carhenge or the World's Largest Ball of Twine, you'll want to get a glimpse of the Igloo, an abandoned 80-foot unfinished hotel that's become an attraction for its oddball and sadly crumbling appearance. Developers had big dreams in the 1970s but couldn't meet building codes. Find it at milepost 188.5.
Cantwell
At mile 209.9, visit Cantwell, home of the Cantwell Music Festival, normally planned for the weekend following July 4. You also can divert along the old Denali Highway (Highway 8), a gravel road. The fantastic views of mountains and glaciers are worth the rough ride.
Denali National Park
We know this stop isn't exactly a secret – but you might not know you can ditch your car for a while and join dozens of Denali sightseeing tours while you're visiting one of Alaska's favorite parks. Try pack rafting, heli-hiking, mountain golfing, fly fishing or even dinner at a musical theater. You can experience the park the way you would most enjoy it – whether it's by high adventure or low-key relaxed fun. If you get hungry while you're near Denali, try 229 Parks, a restaurant serving local, fresh and sustainably harvested cuisine located at Milepost 229.7.
Anderson
Check out this tiny community, located at mile 283.5, and visit the Anderson Bluegrass Festival during the last weekend in July. Campsites are available.
Monderosa Bar & Grill
If road-tripping makes you hungry, you'll find the Monderosa Bar and Grill in a log structure at mile 308.9 just outside of Nenana. The restaurant claims to serve the best burgers in Alaska.
George Parks Monument
Learn more about the man for which the highway is named and enjoy a scenic Alaska viewpoint at mile 344.2. You'll reach Fairbanks at Mile 356.
Now that you have a few ideas about places to stop on your driving trip through Alaska, you can plan your trip – or you can let Gray Line do the driving!
Back to Blog