10 Things to Do in Talkeetna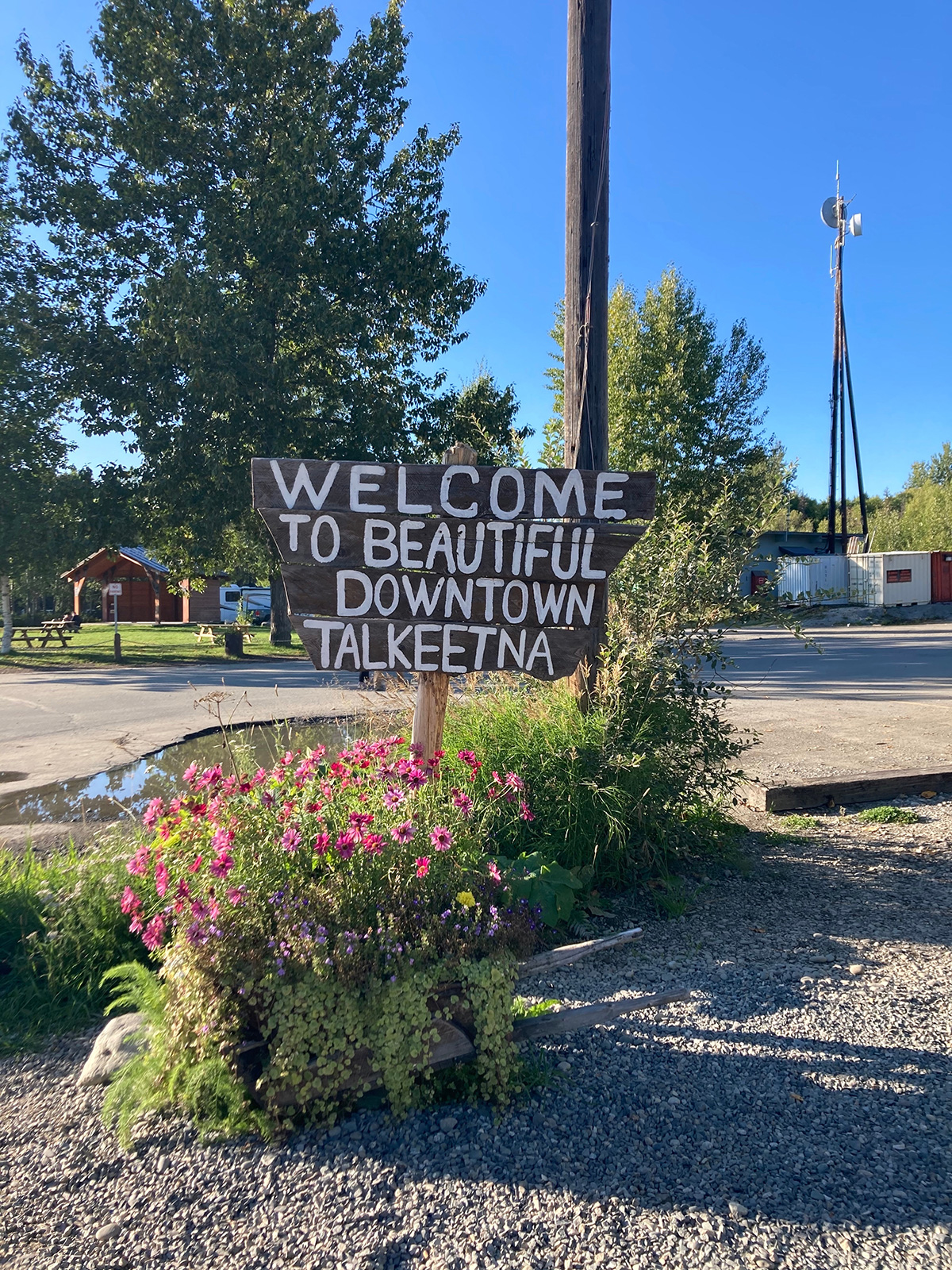 Alaska has more than its fair share of small, eclectic towns. However, Talkeetna, roughly a two-hour drive north of Anchorage (and a stop on many Gray Line Alaska tours), delivers something more. There is a rural yet worldly vibe to this community —one that might be explained by the town's role as the starting and ending point for international mountain climbers on their way up or down Denali, North America's highest peak.
Talkeetna is situated at the confluence of three rivers — the Susitna, Chulitna and Talkeetna. It's rumored to be the town that inspired the 1990s television series Northern Exposure due to the fun and funky character that the town resembles in the series.
Talkeetna is known for its picturesque downtown area and its Main Street. The town's quaint shops and art galleries are characterized by historical buildings, making for the perfect visitor walk to discover local treasures. If you are wondering what to do in Talkeetna, check out our Talkeetna Visitor Guide to get the full scoop on the best of the town and keep reading to see the 10 best things to do!
1. Stroll down Main Street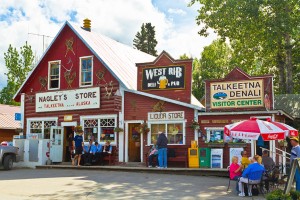 A stroll through downtown Talkeetna will take visitors past restaurants, galleries, bars and even the quaint, small-town convenience store. If you have the time, we recommend checking out all of them as each establishment offers its own unique flair that you won't want to walk past.
As you pass by the buildings, keep an eye out for local history. A two-by-three-block area of downtown Talkeetna is on the National Register of Historic Places and there are 13 contributing buildings. To enjoy the full historical experience, download the walking tour app and visit all the sites of note.
2. See Denali by air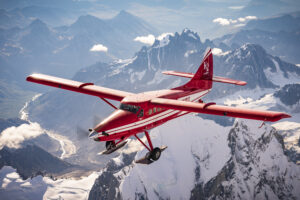 Taking a flightseeing tour out of Talkeetna to see Denali and the surrounding mountain range offers a truly extraordinary experience. Flightseeing tours provide access to remote areas that are otherwise inaccessible by road, foot and train. Exploring the vast expansion of Denali from a birds-eye view also allows visitors to witness the true wilderness of Alaska's backcountry landscapes such as glaciers, deep valleys and icy blue lakes. The sights of the untouched wilderness are sure to leave a lasting impression with you.
Not only does a flightseeing tour allow you to see the ground from above but it also allows you to view larger areas in a shorter amount of time. If you are looking to take a flightseeing tour, check out K2 Aviation or Talkeetna Air Taxi for a great experience with skilled pilots who ensure safety is the first priority
3. Float, kayak, raft, or jet boat down the river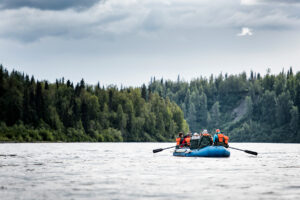 During the summer months, there is no shortage of people and boats on the water. On warm summer days, the lakes and rivers have served as a refreshing destination, making for fun kayaking, canoeing and fishing. Getting out on the water is a fun activity for any adventurer. Gray Line Alaska offers a number of ways to enjoy the local rivers and there's sure to be an option for every type of traveler.
Talkeetna River Float
Embark on a two-hour environmentally friendly river float down the Talkeetna River. As you glide six miles along the unspoiled waters, an expert guide will handle the paddles, steering you in the direction of relaxation.
Chulitna River Rafting
Take this tour to enjoy three and a half hours of uninterrupted relaxation floating down the Chulitna River. Guests often catch views of wildlife and Denali on a clear day.
Denali Kayak Tour
Grab a life jacket and sit on top of a single or tandem kayak while you enjoy the peaceful waters of Byers Lake. If you've never been kayaking before, don't worry. There are expert guides to give you a quick rundown on how to have a fun and successful time.
Chulitna Gorge
Starting your three-hour, 60-mile river adventure on a fully enclosed jet-boat, you won't want to forget your camera on this adventure. You'll speed past amazing scenery and enjoy a true river adventure. At the end, you get to explore the shores of the Chulitna Riverbank.
Wilderness Jet Boat Adventure
This two-hour exhilarating boat excursion takes you on a thrilling ride past everchanging landscapes. You'll make a stop to explore the area including a lesson about local salmon and wildlife and the edible wildflowers and plants used for cooking and medicine.
4. Visit the Talkeetna Museum
For a deeper understanding of the rich history of Talkeetna, check out the Talkeetna Historical Society Museum which provides visitors with a glimpse into the small town's past. The museum is home to a variety of artifacts and exhibits that highlight the culture of Talkeetna. The building used to be the Talkeetna School building which was opened in the 1936-37 school year.
During the summer season, the museum is open from 9 a.m. – 5 p.m. and beyond sharing cultural artifacts, they also share the history of mountaineering. One of the museum buildings features the "Mountain Exhibit" and shows room-sized models of Denali and the surrounding Alaska Range.
5. Go Hiking
Talkeetna offers a great opportunity for hiking enthusiasts. The small town is surrounded by towering peaks, dense forests and winding rivers that make it a paradise for outdoor exploration. Before heading out on the trail, you always want to ensure that you are prepared. You'll want to make sure you have the proper clothing for any sudden weather changes, including a hat. No hike is complete without a snack and some electrolytes so make sure you carry a bag that can accommodate that for you. Lastly, you'll want to be equipped with bug spray and some bear spray in case you encounter a wild animal.
Here are some of our favorite trails close by:
6. Zipline through the mountains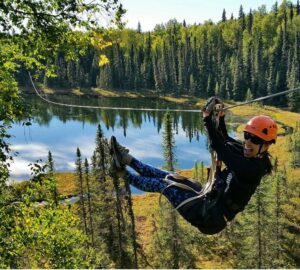 If you are a thrill seeker, ziplining is something you must try at least once — and there's no better place to try it than Talkeetna. During a zipline adventure, you can marvel through the natural sights along the way. This adventure, including a short hike crossing a suspension bridge and multiple zip line platforms, lasts around three hours.
The course starts with a safety briefing and as you zip through the Alaska wilderness, you'll pass by panoramic views and sights such as the Alaska Range, the foot of Ruth Glacier and the Chulitna River.
7. Taste Talkeetna
When you're coming off a long day of adventures, you're going to be hungry! Good thing Talkeetna has no shortage of good eats. With a blend of delicious cuisines and charming atmospheres, nothing compares to getting a taste of Alaska in Talkeetna.
Check out the list below for when you're looking for some good food and good times.
8. Go fishing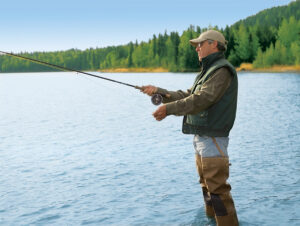 Nothing says Alaska like fishing. If you are looking to catch trout, Dolly Vardan, grayling, or any type of salmon, book a sportfishing tour. For about five hours, expert guides will help you live out your Alaska fishing dreams.
On the tour, you will be provided with top-of-the-line fishing gear and any additional gear that you might need like a rain jacket. You'll want to make sure that anyone 16 years or older has a fishing license and if you're fishing for trout, you can opt in for a "Cook my Catch" option.
9. Tour an Iditarod sled dog kennel
The famous Iditarod race first began in 1973 and is considered one of the most challenging and iconic races in the world. It covers almost 1,000 miles of Alaska terrain — starting in Anchorage and stretching to Nome. The annual races have been a long-standing tradition in Alaska for over 50 years and locals and visitors alike gather at various points along the trail to witness firsthand the impressive grit of mushers and dogs on the trail.
During the summer in Talkeetna, Sun Dog Kennels offer a one-and-a-half-hour tour to check out one of the training grounds that mushers use to prepare for the race. During the tour, visitors can learn about the winter training programs and have the chance to hold future sled dog champion puppies.
10. Attend the Friday Live at Five music series
Friday Live at Five is a free event that takes place weekly right at the entrance of downtown Talkeetna, as local and visiting musicians play their tunes for everyone's listening delight.
If you're visiting Talkeetna, this is a community event you don't want to skip. It is a great opportunity to experience the local culture and create memorable experiences with other visitors and locals. Talkeetna is known for its vibrant community spirit and various events that help highlight the small town's charm.
Know before you go
The central location of Talkeetna in Alaska makes it accessible from major cities like Anchorage and offers visitors a wide range of transportation choices.
If you are traveling from Anchorage, Denali or Fairbanks, you can take a train or rent a car to get to and from Talkeetna. From Anchorage, Talkeetna is located about 115 miles north. From Fairbanks, Talkeetna is located roughly 160 miles south. And from Denali, Talkeetna is about 110 miles southwest. Additionally, the small town is accessible by air with the small Talkeetna Airport.
Where to stay in Talkeetna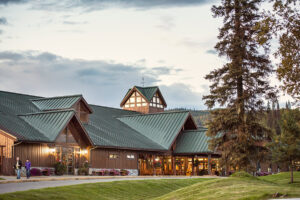 We recommend booking your stay nearby at the Mt. McKinley Princess Wilderness Lodge. The lodge is situated in a picturesque setting in Denali State Park and features wonderful views of the Alaska Range and Denali on a good day. Immerse yourself in the tranquil surroundings of the wilderness and take in all of the Alaska beauty.
Back to Blog