Whale Watching in Kenai Fjords and Anchorage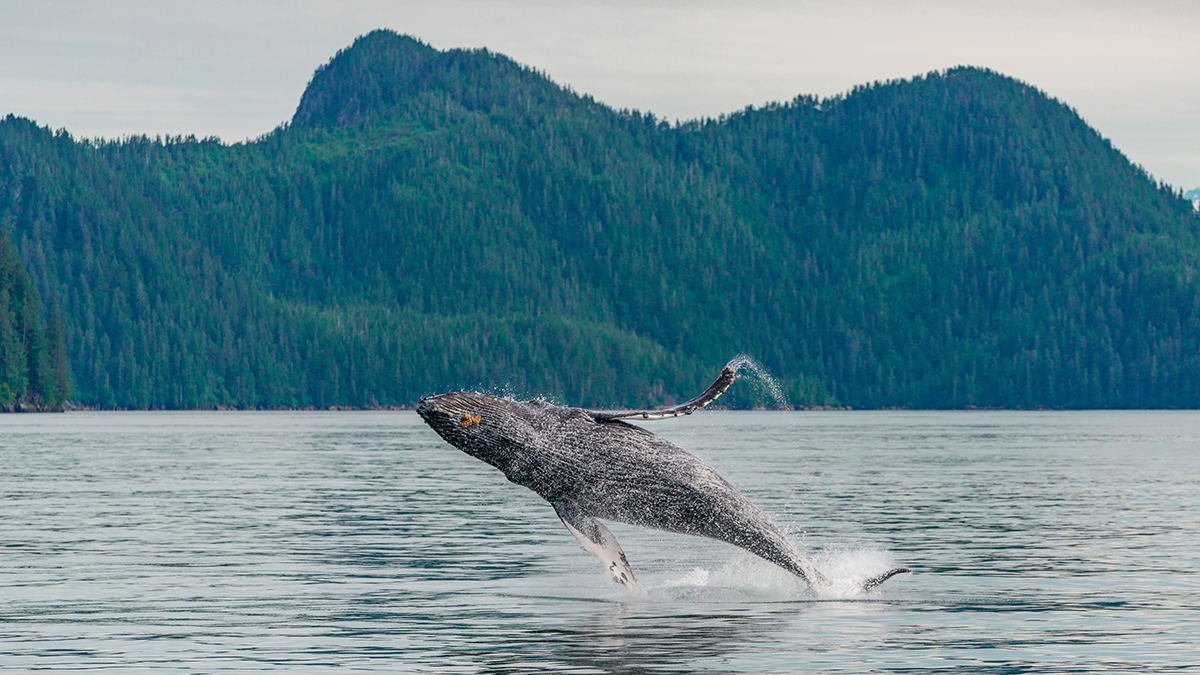 As the warmer months and longer days bring more color to the landscapes of Alaska, under the water, the changing conditions bring whales back to their summer home along the coast of Alaska. Alaska is one of the best places to go whale watching due to the accessibility of multiple viewing options and excursions. This is an all-age activity that can be done in groups or solo. Read up on our whale watching guide and plan your itinerary today!
When is the best season to see whales in Alaska?
The whale watching season stretches from May to September. April and May are great months to go whale watching as they migrate back into Alaska's waters. The beginning of the season is the best time to see gray whales, while the middle and tail end of the season is the best time to see beluga whales. The fun isn't limited to just those whale species. You can also spot active humpback and orca whales throughout the bulk of the season.
When is the best time to buy a cruise ticket for whale watching?
It never hurts to book ahead. Many of the cruising adventures start in late May and sail through mid-September. We recommend planning as far as possible in advance to guarantee a spot on the cruise you desire!
Where can I whale watch in Anchorage?
Beluga whales can be spotted in Anchorage out in the Cook Inlet and are most commonly seen from mid-July through August. A favorite local activity is to grab a pair of binoculars and head to the Tony Knowles Coastal Trail. Both feature multiple viewpoints that overlook the Cook Inlet.
If you have access to a car, head south about 15 miles out of Anchorage, where along the Seward Highway, you can make a stop at Beluga Point. This highway pull-off features 180-degree views of the Turnagain Arm and multiple spotting scopes to peek through at the water.
What are tips for whale watching from land in Anchorage?
Keep your sights directed toward the shores, where you can search for whale tails or fins peeking out of the water. Many whales, especially belugas, spend the summers feeding on salmon and hooligan fish that swim close to the shore.
What do you pack for a whale watching tour near Anchorage?
While many of the viewing points will have public spotting scopes and platforms to stand on, we recommend getting your hands on a pair of binoculars to get the best views. It is also recommended to wear sunscreen, bring a camera, and pack a coat if the wind picks up! It also does not hurt to keep a stash of snacks on hand and something to keep you hydrated.
How does whale watching on land differ from whale watching on a cruise?
Whale watching from land is accessible and can be done on your own schedule. Land viewing can become tricky if you don't know what to look for. Whale watching from a cruise will increase the likelihood of seeing whales up close. Whales are curious creatures and will often get close to boats to investigate. Your cruise guide will know the best spots to increase your likelihood of spotting a pod.
How best can you prepare for whale watching on Kenai Fjords & Prince William Sound Cruises?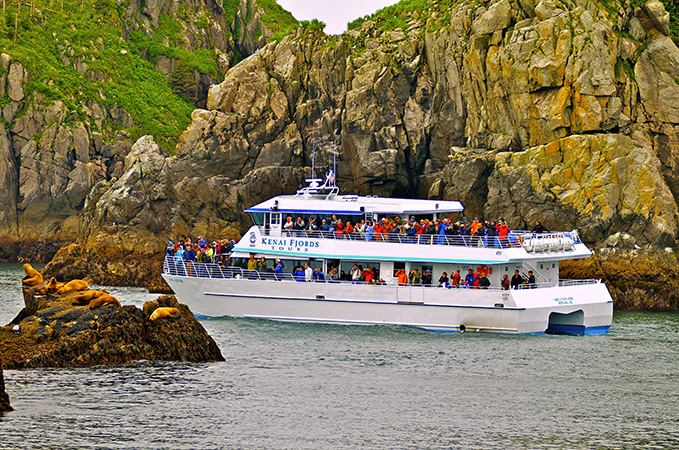 Preparing for the Kenai Fjords National Park Cruise or Prince William Sound 26 Glaciers Cruise is done best by first checking the weather to see what you can expect and dress accordingly. It is always recommended to pack warm layers if you plan to spend time on the outdoor deck. You will also want to pack your camera and a pair of binoculars, as the cruises spend a reasonable amount of time out on the open waters where wildlife can be spotted in any direction.
How long is each whale watching cruise?
The Prince William Sound 26 Glaciers Cruise is approximately 11 hours in duration. This includes the commute time to get away from the shorelines and the voyage back to land. The Kenai Fjords National Park Cruise is approximately 10 hours long and consists of a two-hour travel time away from land and back.
While spring and summer are the more common times to seek out a whale watching adventure, you can always come back as the shoulder season of fall approaches, and the whales begin their southward journey to warmer waters for the winter!
Back to Blog