Denali-Kenai Explorer – Tour 3KN
Denali-Kenai Explorer – Tour 3KN
Denali - Kenai Explorer - 3KN Itinerary
Experience some of Alaska's most spectacular destinations throughout this 7-day motor coach and rail tour with the perfect mix of urban sightseeing and wilderness exploration. Discover all that Anchorage has to offer, from superb dining and a vibrant art and culture scene to a multitude of outdoor recreational opportunities before heading north to Denali National Park and Preserve. Immerse yourself in the solitude and uninterrupted beauty of the six-million-acre park as you travel over the highly restricted 95-mile Denali Park Highway, accompanied by naturalist guides. Enjoy dinner and a show at the Music of Denali Dinner Theater at McKinley Chalet Resort featuring family-style dining and a spirited original musical about the first men to reach the summit of Denali. The second half of your Alaska adventure takes on another of the state's picturesque highways as you travel along Turnagain Arm on the Seward Highway south to the quaint port community of Seward and its magnificent views of Kenai Fjords National Park. Bring along a pair of binoculars for a once-in-a-lifetime whale and glacier-viewing cruise.
Included in your Tour:
6 nights hotel accommodations
Portage Glacier Cruise
Travel on the Alaska Railroad route aboard luxury, glass-domed railcar from Anchorage to Denali
Music of Denali Dinner Theater at McKinley Chalet Resort
Guided tour into Denali National Park
Kenai Fjords National Park Tour with Lunch
Travel on the Alaska Railroad from Seward to Anchorage
Airport, hotel and rail transfers
---
Unless noted, tour is not escorted and does not include meals, sightseeing or home city air.
Day1: Anchorage
Upon arrival in Anchorage, shift into vacation mode with a relaxing day of independent exploration of Alaska's largest city, nestled between the Chugach Mountains to the east and Cook Inlet to the west. We will transfer you from the airport to your hotel and the rest of the afternoon is yours to tour the city at your pace. Enjoy the shops and restaurants in the vibrant streets of downtown, stretch your legs along Anchorage's many trails, hike in the Chugach Mountains or take a seat and enjoy a local brew and some live music in town. Several activities are available for purchase as well. Overnight in Anchorage.
Day2: Anchorage
Grab a coffee and some breakfast and hop onto our deluxe motor coach for a scenic drive south to Portage Lake. As you leave Anchorage, keep your eyes peeled for pods of beluga whales swimming in the waters of Turnagain Arm or see the dramatic tides as they come in over glacial mudflats. Board the mv Ptarmigan at Portage and cruise among the many icebergs dotting the lake, situated in a heavily glaciated valley at the foot of the impressive and actively calving Portage Glacier. Next, get your first glimpse of Alaska's four-legged inhabitants at the Alaska Wildlife Conservation Center. Not your typical zoo, the conservation center lets you safely get up close to these rehabilitated or orphaned animals and view them interacting and roaming around as they would out in the wild, thanks to their large, natural enclosures. Stroll along the BEARS boardwalk in the brown bear enclosure and, if you're lucky, you may get to see a feeding while you're there. Return to Anchorage for the evening and let the day's events set in over a hot dinner and drinks. Overnight in Anchorage.
Day3: Anchorage – Denali
Departs From:
Anchorage,9:15 AM (Train Departs Anchorage Depot)
Arrives At:
Denali,4:50 PM (Train Arrives Denali Depot)
Hop aboard a luxury glass-domed railcar for a leisurely ride to Denali in the Interior region of Alaska. Once settled in the comfort of your lodge near the park entrance, the rest of the day is yours to explore the surrounding wilderness through one of many optional excursions offered around the park. Bike rides and guided hikes are a great way to explore the pristine outdoors. This evening, enjoy an unforgettable dinner experience at Music of Denali Dinner Theater at McKinley Chalet Resort. Overnight Denali-area hotel. (D)
Day4: Denali
Spanning six million acres of rolling tundra-covered hills, low elevation taiga forests and glistening bodies of water, Denali National Park and Preserve is no average park. With the majestic Denali towering above, a tour through this scenic gem is Alaska's own unique safari. Keep your eyes open and your camera near as you travel along the park road on board the Denali Park Tour bus. The park's wildlife inhabitants include grizzly and black bears, moose, caribou, foxes, arctic ground squirrels, marmots, Dall sheep and bald eagles and any or all of these wild creatures could appear by your window at any given moment! For the second half of the day, choose to cast your rod on a fly-fishing excursion, practice your swing on the golf course, or brave the whitewater rapids of the Nenana River. Wind down at the hotel or enjoy a ride aboard a horse-drawn covered wagon and a hot dinner at a forest pavilion. Overnight at a Denali-area hotel.(S)
Day5: Denali – Seward
Wake up to a new morning in Denali and take the bus back to Southcentral Alaska, past Turnagain Arm and down through the Kenai Peninsula to the community of Seward. The route along the Seward Highway is a destination in and of itself and was named by the U.S. government an All-American Road thanks to the magnificent views of forested, snow-capped mountains, green slopes, canyon creeks and sparkling lakes that accompany your ride along the way. The town of Seward is no less impressive, nestled on the coast of Resurrection Bay and Kenai Fjords National Park. During summer months, Seward's harbor is the place to be; bustling with life and offering exciting adventures such as sea kayaking, salmon and halibut fishing charters and glacier cruises. Don't pass on an evening or afternoon stroll down Fourth Avenue in downtown Seward and sample fudge, gelato or scrumptious baked goods at the eclectic shops and galleries along the way. Overnight at a Seward hotel.
Day6: Seward – Anchorage
Departs From:
Seward,6:00 PM (Train Departs Seward Depot)
Arrives At:
Anchorage,10:15 PM (Train Arrives Anchorage Depot)
Explore more of Seward on your own with one of many optional excursions or take a stroll by foot along the beach down to the bustling harbor. It's highly likely that a cute sea otter will float by on its back feasting on salmon, or a seal might pop its head out of the water in curiosity. You will have another opportunity to view marine mammals onboard a wildlife and glacier cruise for the second half of your day in Seward. Enjoy lunch on the go on this narrated tour through the mountains and glaciers of Kenai Fjords National Park. The crew will point out whales, seals, sea otters, porpoises and other colorful species of seabirds along the way. Don't be surprised if the boat veers off course to witness the magic of a breeching humpback or killer whale. Halfway through the cruise, the boat will pull up to an active calving glacier. Be sure to dress warm and step out on the deck to hear the thunderous sound of ice crashing into the water! Arrive back in Seward and board the Alaska Railroad for a scenic train trip back to Anchorage. Overnight in Anchorage. (L)
Day7: Anchorage
On the final day of your trip, our crew will take you from your hotel to the airport before bidding you farewell.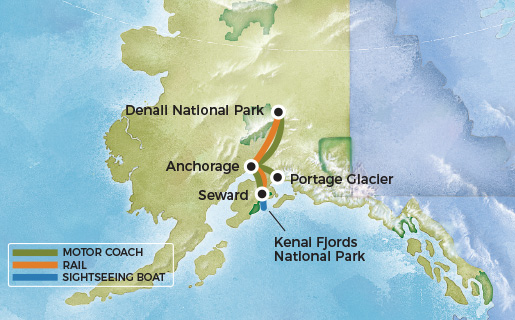 Prices (per person, double occupancy)
Save $400 per Couple (May Value):
$2,049.00
Value Rate:
$2,249.00
Peak Rate:
$2,349.00
Save $400 per Couple (Peak):
$2,149.00
Save $400 per Couple (Sept Value):
$2,049.00
Availability
Check Dates:
Book Now
← Back to Tours