Blue Denali Rail Tour – 1 Night – Tour 71A
Blue Denali Rail Tour – 1 Night – Tour 71A
← Back to Tours
Blue Anchorage / Denali / Anchorage Rail Tour - 71A Itinerary
The ideal package for Anchorage-based travelers short on time, who want to visit Denali National Park. Relax in our glass-domed railcars and take in the scenic wilderness along the way, with views of towering mountains and rushing rivers.
Included in your Tour:
1 night hotel accommodations near the Denali National Park entrance
Rail and hotel transfers in Denali National Park
Travel on the Alaska Railroad route aboard la uxury railcar
---
Unless noted, tour is not escorted and does not include meals, sightseeing or home city air.
Anchorage accommodations and travel to and from the Anchorage railroad depot are not included.
Day 1: Anchorage – Denali
Departs From:
Anchorage, 9:15 AM (Train Departs Anchorage Depot)
Arrives At:
Denali, 4:50 PM (Train Arrives Denali Depot)
Board the train at the Anchorage depot. Your journey traverses sparkling rivers and the legendary Matanuska Valley. Arrive in Denali National Park with an afternoon free for a wide range of optional Alaska tour activities — sightsee via jeep, ATV or river raft. For an entertaining evening, catch the frontier spirit at an optional Music of Denali dinner theater excursion. Overnight Denali-area hotel.
Day 2: Denali – Anchorage
Departs From:
Denali, 9:15 AM (Train Departs Denali Depot)
Arrives At:
Anchorage, 5:15 PM (Train Arrives Anchorage Depot)
Reboard a luxury railcar for the return journey to Anchorage. Watch for Denali and other landmark sights. Your vacation in Alaska comes to a close at the railroad depot in Anchorage.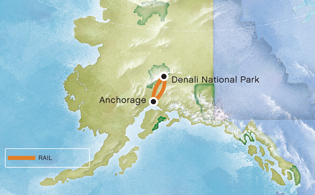 Fares
Per person, double occupancy