Blue Denali Rail Tour – 2 Nights – Tour 72J
Blue Denali Rail Tour – 2 Nights – Tour 72J
Blue Fairbanks / Denali / Mt. McKinley / Anchorage Rail Tour - 72J Itinerary
Experience our luxury domed railcars traveling from Fairbanks to Anchorage. With a night in Denali National Park, and a night at Talkeetna, there's ample time to experience the abundant wildlife and to visit viewpoints for the "Great One". This tour includes rail travel aboard luxury railcar to the Denali National Park rail depot, rail travel to Mt. McKinley/Talkeetna, transfer and baggage handling to and from a Denali area lodge and the Mt. McKinley Princess Wilderness Lodge, 1 overnight at a Denali area hotel, 1 overnight at Mt. McKinley Princess Wilderness Lodge and rail travel to Anchorage.
Included in your Tour:
1 night hotel accommodations near the Denali National Park entrance
1 night hotel accommodations at Mt. McKinley Princess Wilderness Lodge
Travel on the Alaska Railroad route aboard luxury railcar
Rail and hotel transfers in Denali and Mt. McKinley
Available during check-out:
Upgrade your rail experience from Fairbanks to Denali for $100 per person. The standard tour features Alaska Railroad's Adventure Class for this rail component of the tour. When you choose the upgrade, you will travel aboard Alaska Railroad's GoldStar service instead. Adventure Class railcars do not feature a dome and meals are available for purchase. GoldStar service is aboard Alaska Railroad's domed railcars and breakfast aboard the train is included.

With the standard option, rail travel from Denali to Talkeetna and Talkeetna to Anchorage is aboard our own luxury, glass-domed rail service (meals not included, but available for purchase) and the upgrade applies only to the portion of the trip from Fairbanks to Denali.

To learn more about Adventure Class, click here.

To learn more about GoldStar service, click here.
---
Unless noted, tour is not escorted and does not include meals, sightseeing or home city air.
Anchorage accommodations and travel to and from the Anchorage railroad depot are not included.
Day 1: Fairbanks - Denali
Departs From:
Fairbanks, 8:15 AM (Train Departs Fairbanks Depot)
Arrives At:
Denali, 12:15 PM (Train Arrives Denali Depot)
Board the historic Alaska Railroad at the Fairbanks rail depot. On your journey to Denali National Park, pass by the University of Alaska and the gold mining town of Ester. Take in sights like the Mears Memorial Bridge outside the town of Nenana, site of the famed Nenana Ice Classic. By afternoon you arrive at Denali National Park where you'll transfer to your comfortable accommodations. Visit the tour desk to discover the many optional excursions available to you in Denali. Overnight Denali-area hotel.
Day 2: Denali - Mt. McKinley
Departs From:
Denali, 9:15 AM (Train Departs Denali Depot)
Arrives At:
McKinley, 1:40 PM (Train Arrives Talkeetna Depot)
You'll continue your journey to Talkeetna on our domed railcars. You'll stay at the beautiful Mt. McKinley Princess Wilderness Lodge, featuring quite possibly the most awesome view of the "Great One" in the state. Once there, you'll have time for optional activities such as hiking and river tours. Overnight Mt. McKinley Princess Wilderness Lodge.
Day 3: Mt. McKinley – Anchorage
Departs From:
McKinley, 1:55 PM (Train Talkeetna Denali Depot)
Arrives At:
Anchorage, 5:00 PM (Train Arrives Anchorage Depot)
Wake up for optional morning activities. Later, re-board the train and begin the journey to Anchorage. Your vacation in Alaska comes to a close at the railroad depot.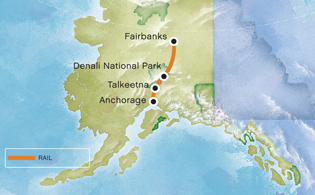 Prices (per person, double occupancy)
Peak Rate:
$699.00
Availability
Check Dates:
Book Now
← Back to Tours